Barilla Is Gearing Up For National Pasta Month In A Big Way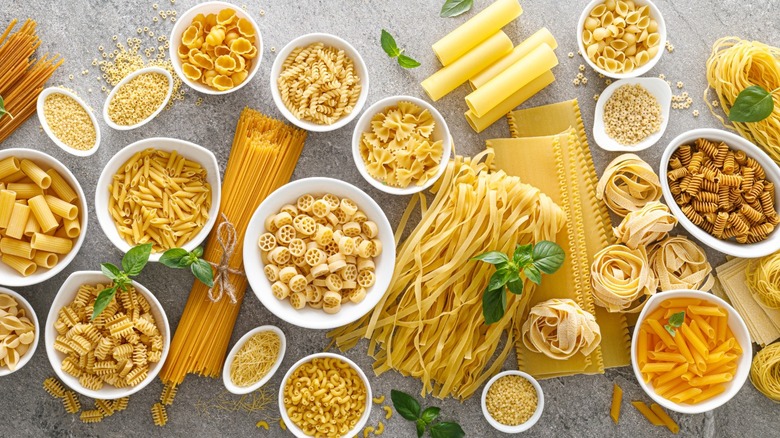 Sea Wave/Shutterstock
The Italians have a stronghold on carbohydrates. Pizza, bread, and, above all, pasta, are central to the country's cuisine. Founded in 1877 in Parma, Italy, Barilla was ranked the number-one pasta brand worldwide by Bell Italia, making up more than 40% of the Italian market and 25% of the U.S. market for the pantry staple. 
Pasta is one of the most exported products in the world. Italians alone eat roughly 26 kilograms (more than 57 pounds) of it every year per capita. Barilla may have Italian origins, but the company is prevalent in many other countries, from Japan to The Netherlands. It's so well known that Barilla has practically become synonymous with pasta itself, per Great Italian Chefs.
The brand performed well on the Mashed list of popular pasta brands ranked worst to best, with the list citing Barilla's variety of shapes as several reasons for the prime spot. With National Pasta Month on the horizon, this pasta giant is showcasing its many offerings with something new for carb lovers everywhere.
Barilla gives away beaucoup blue boxes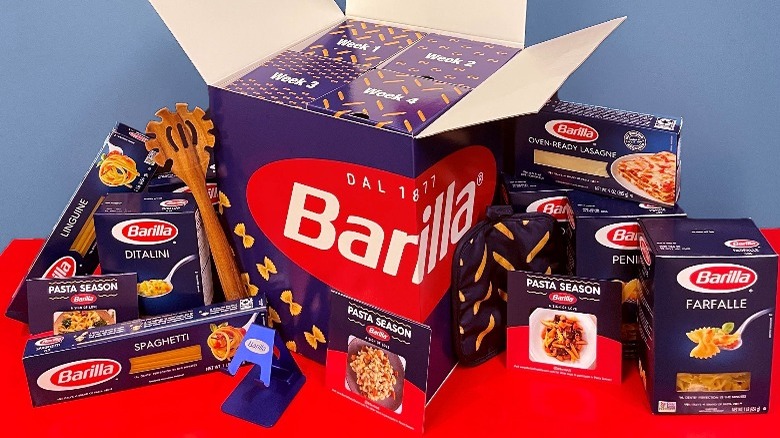 Barilla
October 1 marks the beginning of National Pasta Month in the U.S., and Barilla has plans to celebrate accordingly. Though Americans only eat about a third of the quantity of pasta that Italians put away each year, they still dish out an average of 20 pounds per person, according to Share the Pasta. Barilla wants to foot the bill for some of those plates. Throughout the fall, the brand will give away a plethora of pasta in the Barilla Pasta Season Pack, according to a press release.
Each kit contains two boxes of Barilla pasta for every week of Pasta Month for a total of eight different shapes of pasta. The kit also includes kitchen items to help you prepare your pasta, recipe inspiration, and some recommendations for getting the most out of your leftovers. It will be available starting at noon on September 26 on a first come, first serve basis at www.BarillaPastaSeason.com, while supplies last.