The Aldi Pretzels That Arrived Just In Time For Oktoberfest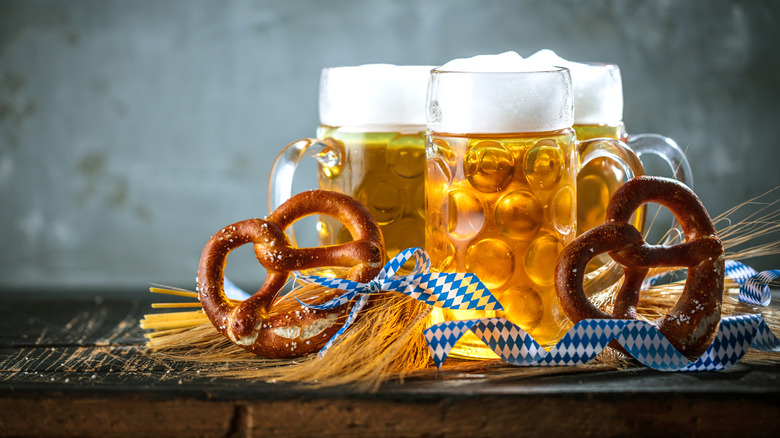 KarepaStock/Shutterstock
To some Americans, Oktoberfest means beer, beer, and an excuse for more beer. But despite the massive amount of beer that is actually consumed during Oktoberfest, there is more to this German celebration, including many ways you can celebrate it without guzzling pilsener. Oktoberfest has become a worldwide celebration of Bavarian culture, which, yes, includes a lot of light beer. However, it began as a wedding celebration 200-plus years ago for the Bavarian Crown Prince Ludwig, according to Time. Thought it became an annual celebration, the original event involved multiple days of "drinking, feasting, and horse racing."
While you won't find horse racing at most modern interpretations of the celebration (if any), modern interpretations still celebrate traditional Bavarian food, and in American versions of the holiday, German food more broadly (per Britannica). Not to mention the Bavarian brass band or polka music and famous folk costumes (via Nashville Oktoberfest). This fall, Aldi is bringing some low-key ways to celebrate the holiday (beer optional).
Oktoberfest at Aldi
It's not surprising that German-owned grocer Aldi has got something to celebrate Oktoberfest (per University of Missouri St. Louis). In fact, they've got a whole range of Oktoberfest products. Their weekly ad proclaims "It's German week!" and offers deals on a host of items from their Deutsche Küche line (via Aldi). This line includes everything you need to celebrate Oktoberfest at home (short of the lederhosen and polka band), like cheese spaetzle, warm potato salad, German pickles, sauerkraut, the perennially popular bratwurst, and the less common schnitzel.
One treat sure to please all palates is Aldi's Deutsche Küche Bavarian Soft Pretzels. Soft pretzels are actually a traditional German food (per The Spruce Eats). That's right, while Auntie Anne's may be celebrating Oktoberfest in the best way with their succulent pretzels, these salty treats didn't actually get their start at the mall. They date back to medieval Germany. Available in the frozen food section, Aldi's authentic soft pretzels are sure to pair deliciously with a zesty mustard or honey mustard. Or if you're really craving that mall pretzel vibe, why not bring in some nacho cheese sauce? It may not be authentic Oktoberfest, but who's keeping track.