What Happened To Stasher After Shark Tank?
Food storage containers have become something of a hot topic in recent years. People no longer want to settle for the humble tupperware or assorted flimsy plastic bins with mismatched lids that you can never find when you need. Target alone sells more than 600 types of food storage containers, many with cheerfully colored silicone lids or liners. Today's consumer wants food storage containers that are as beautiful as they are functional. Sadly, many just don't deliver.
But, the trend is driven by more than aesthetic changes. People want more sustainable food storage. It used to be that little bits and pieces went in single-use disposable plastic bags, but they add up in the landfill. And, if you're packing kids' lunch boxes every day — with three or four single-use bags for each lunch — that adds up in your wallet, as well. 
While reusable bags have been popping up for a decade or so, they've often been more hassle than their worth, requiring time-consuming hand washing and air drying. The shape of these bags makes them difficult to wash and they often trap liquid inside, unless you give them pride of place on the drying rack. These products, often made of thicker plastic, are also prone to retain odors. Reusable beeswax products like Beeswrap may look cute, but they have all the problems of a reusable plastic, plus a short shelf-life.
Successful contestants who've brought their products to ABC's "Shark Tank" have found a need in the marketplace and come up with a solution. No, we're not talking about what happened to Souper Cubes after Shark Tank. Season 9's Stasher creator Kat Nouri spotted this hole in the market and a genius way to fill it.
Stasher on Shark Tank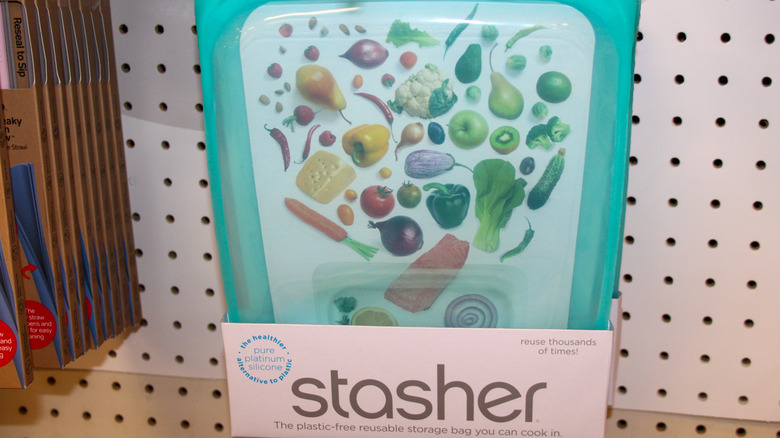 Wirestock Creators/Shutterstock
It was during the routine task of packing her kids' lunches that the idea for Stasher bags came to creator Kat Nouri (per Stasher). Nouri already had a background in silicone and — when wanting something more eco-friendly — the idea for a reusable silicone bag was born. In addition to being reusable, the bag adds to its eco appeal by donating a portion of each sale to non-profits dedicated to cleaning up the oceans. Definitely one of the best kitchen tools we've seen on Shark Tank, these bags are freezer, microwave, and boiling water safe, which means they can be used for sous-vide cooking (via All Shark Tank Products). In fact, the bags can hold up to an incredible 400°F.
Nouri asked for $400,000 for 5% of her company, during the 2018 episode (per "Shark Tank" via Hulu). Sharks Lori Greiner and guest brand-expert Rohan Oza were both interested, but Nouri only had eyes for Mark Cuban. In an unheard-of "Shark Tank" event, Nouri made him an offer rather than the other way around! And then another one, and another one, and another one, until they landed on a mutually agreeable $400,000 for 15% plus a $400,000 credit line (via The Shark Tank Blog). Nouri is particularly interested in the credit line, so she can fulfill larger orders. She plans on turning this into a $100 million company. Stasher is also a certified B corporation.
Life after the Tank
Did she turn it into a $100 million company? Not quite, but founder Kat Nouri certainly found success with her extra-pure silicone plastic storage bags. The product has been featured in some pretty prominent publications, even years after the "Shark Tank" appearance. In 2022 alone, these BPA-free bags received write-ups in CNN and Bon Appétit, plus the bags sell at a variety of retailers in addition to their healthy direct-to-consumer website. These candy-colored bags are available from CVS, The Container Store, Williams-Sonoma, and even Target, as well as retail giant Walmart.
However, this level of market saturation may have little to do with the courted shark, Mark Cuban. According to The Shark Tank Blog, the company generated $12 million in 2021 but no thanks to Cuban as the deal they supposedly reached on the show never came to fruition. However, Nouri sold the company in 2019 to SC Johnson, but the amount they settled on is unknown. 
If you happen to pick one of these bags up when you're out shopping at virtually any major retailer, fans say it's a microwave popcorn hack that changes everything.