The Crucial Martini Ingredient Kris Jenner Never Uses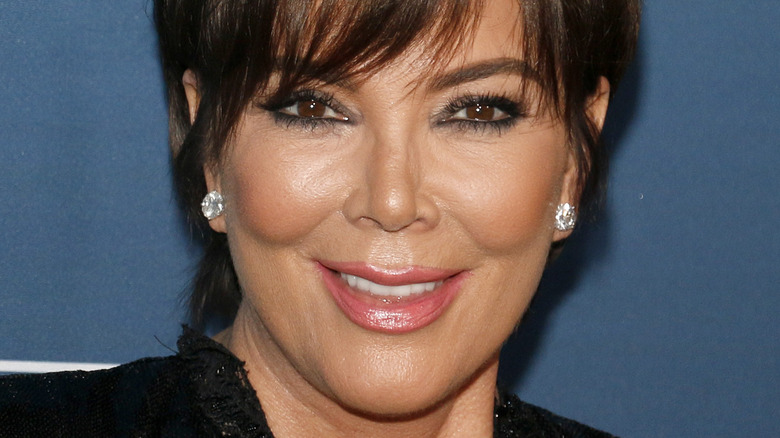 Tinseltown/Shutterstock
An American cocktail that dates back to the California Gold Rush of the 19th century, the gin martini has become one of the world's most elegant alcoholic beverages. Per Food52, one popular story has it that the drink was created in the small town of Martinez, California, when a miner in search of a quick fix for sobriety headed to a local bar for a glass of Champagne. Fresh out of the sparkling French wine, the resourceful bartender attempted to somewhat recreate the flavor profile of Champagne by whipping up an award-winning combination of "gin, vermouth, bitters, maraschino liqueur, and a slice of lemon" — inadvertently creating the first-ever martini.
Today's martinis can be made with either gin or vodka and are often served dirty, meaning the cocktail is shaken or stirred with olive brine. Some folks even opt for a pickled onion as a martini garnish — don't knock it 'til you try it! However you like yours, the martini is one of those drinks that boasts an air of opulence, served in its very own namesake glassware as sleek as the beverage itself. It's no surprise, then, that a multi-millionaire like Kris Jenner is a fan of the sophisticated cocktail. However, the momager and matriarch of the Kardashian family does her martinis a little bit differently.
A Kris Jenner martini is vermouth-free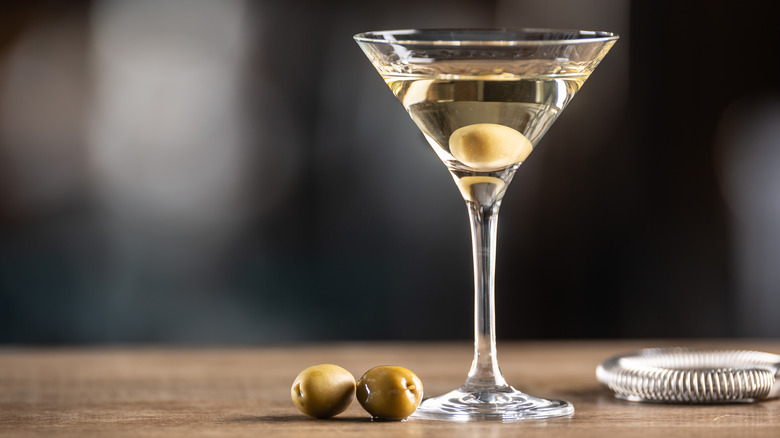 Marian Weyo/Shutterstock
In a recent Vogue cooking video featuring Kris and Kylie Jenner, the mother-daughter duo prepared a pasta dish for viewers. Swathed in black couture and dripping in jewels (because, duh, that's totally how the average person dresses to cook dinner), the pair cracked jokes and dropped one-liners at the expense of Kendall Jenner's doe-like knife skills — if you know, you know. And for a little liquid courage, Kris poured some shaken martinis with vodka and olive brine. Noticeably, one timeless ingredient was missing: vermouth.
Vermouth, a fortified wine with a complex flavor, is a staple ingredient in martinis that allows mixologists to create a cocktail that tastes like it has a staggering number of ingredients, even though it has only two or three (via Wine Enthusiast). According to the icon herself, however, "a Kris Jenner martini never has vermouth." Kris doesn't elaborate on why exactly she doesn't use the ingredient, but if Jennifer Lawrence's testament to the "Kris Jenner martini" tells us anything, it's that she's onto something particularly intoxicating.