What Happened To Simply Good Jars After Shark Tank?
Every season, ABC's reality hit TV show "Shark Tank" introduces audiences to dozens of hopeful entrepreneurs banking on their product catching a shark's eye. Sometimes those products are so ingenious you can't believe no one thought of them already, like Souper Cubes. Other times the products pitched make you scratch your head, but you still want to know what happened to them after "Shark Tank."
Given that the food and beverage industry is a particularly difficult place to succeed, Season 12 saw a huge number of food or food-related products pitched on the show (per All Shark Tank Products). One of those products, seen in Episode 16 of Season 12, is Simply Good Jars (via IMDb). Did sharks Lori Greiner, Mark Cuban, Kevin O'Leary, Barbara Corcoran, Daymond John, and Robert Herjavec go wild for these cleverly packaged natural meals? More importantly, did the public? Let's find out what happened and where they are today.
In the Tank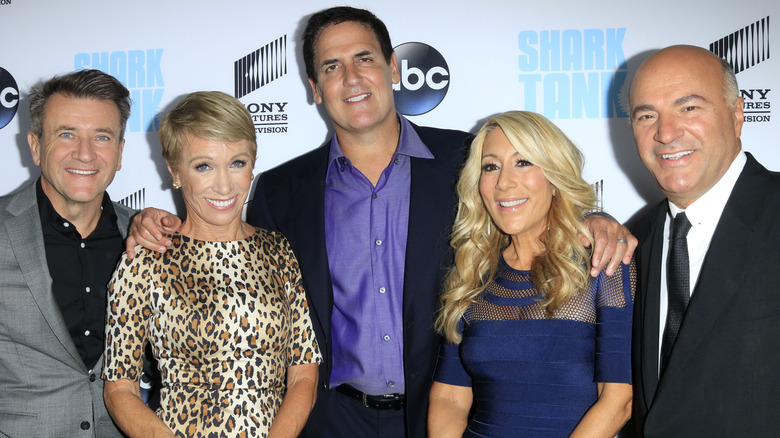 Kathy Hutchins/Shutterstock
Jared Cannon, the founder of Simply Good Jars, gained instant respect from the sharks when he revealed that he started his business with only a $1,000 personal loan (per Shark Tank accessed via Youtube). Cannon got the idea for his product — convenient to-go salads with five-star flavor and fully recyclable packaging — while earning his MBA. Long days and late nights meant grabbing convenience meals or fast food, which are not only nutritionally bereft, but as a chef, Cannon found the options unpalatable and set out to create "fresh healthy food as easy to grab as a bag of chips."
Cannon went on to raise $2.5 million from fundraising, losing 49% of his business along the way. While the company was expected to have over $700,000 in sales in 2020, they had yet to turn a profit at the time of taping the episode. So where did all that money go? Sadly, most of it went to infrastructure made useless by the pandemic. Cannon sank most of his fundraised funds into purchasing 60 custom smart cooler vending machines, which also include a space to collect the empty jars for recycling, and installing them in spaces where there are "captive audiences," like airports, colleges, and office buildings. Unfortunately, as all of those spaces emptied during the pandemic, Cannon had to think on his feet. At the time of taping, he was selling in 175 convenience stores and through delivery systems Go Puff and Grub Hub (via Shark Tank Blog). He asked for $500,000 in exchange for 7% equity.
Out in Open Waters
It was a feeding frenzy in the tank with Kevin, Lori, and Mark all making offers. Simply Good Jars founder Jared Cannon finally agrees to a deal with Lori and Mark for $500,000 in exchange for 10% equity. Unfortunately, according to Shark Tank Blog, the deal fell through.
However, Cannon appears to have done swimmingly on his own. While the company was only operating in the Philadelphia area at the time that they appeared on "Shark Tank," today they are in 28 states, and in January 2022, the company opened a new processing center in Florida, implying they're expecting to have more sales to fulfill in the South East (per the Philly Voice). 
Wawa just announced exciting news for fans: The Philly-based brand also finally nailed down a deal that had been in talks for four years to be carried in the Mid-Atlantic convenience market, Wawa. In fact, 2022 has been a big year for the company. Their Chicken and Bacon Cobb Salad is now available at select Costcos across the East Coast from Delaware to Boston (via Simply Good Jars). The brand also inked a deal to appear in Saxbys Coffee locations throughout the Mid-Atlantic and down as far as Georgia (per the Fox School of Business), as well as 14 The Fresh Market Locations (per Facebook & Saxbys).
Cannon told the Philadelphia Business Journal that sales grew 1,200% after appearing on "Shark Tank" and it looks like they've continued to grow. As of August 2022, the company's revenue was $4.5 million for the year, pretty remarkable considering just two years earlier they had yet to turn a profit.