Mango Shrimp Salad Recipe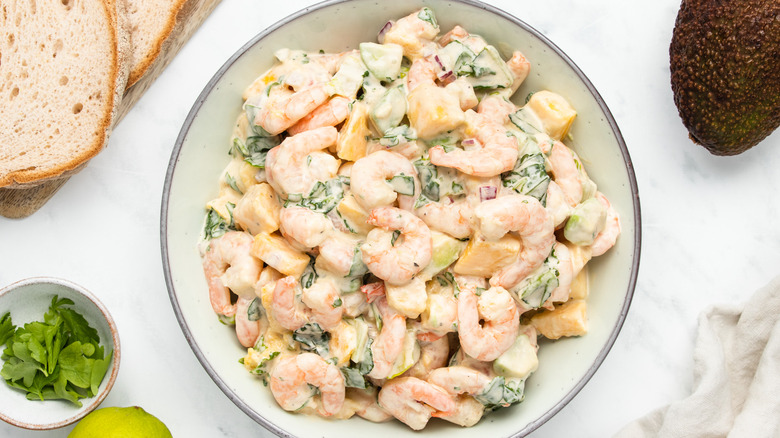 Catherine Brookes/Mashed
When most people think of salad, they think of a big bowl of leafy greens, maybe a few veggies, and then a drizzle of dressing on top. While traditional and straightforward salads are always delicious, it's fun to think outside the box from time to time. As you can tell from the title, this mango shrimp salad combines those two ingredients as well as a delicious, mayonnaise-based dressing with a hint of sriracha for some added heat. It's just about as refreshing of a salad that you can make, and while the combination of mango and shrimp aren't necessarily common, it should be because the two work so well together.
Recipe developer Catherine Brookes of Blue Sky Eating came up with this refreshing and innovative salad recipe that's worth a try. "This salad has a delicious combination of juicy shrimp, sweet mango and nutty avocado, all tossed in the perfect creamy and slightly spicy sauce," Brookes raves. "It's great to serve as part of a buffet spread with lots of dishes, or to enjoy for a lighter lunch on a hot day." It really is the jack of all trades! 
Gather the ingredients for this mango shrimp salad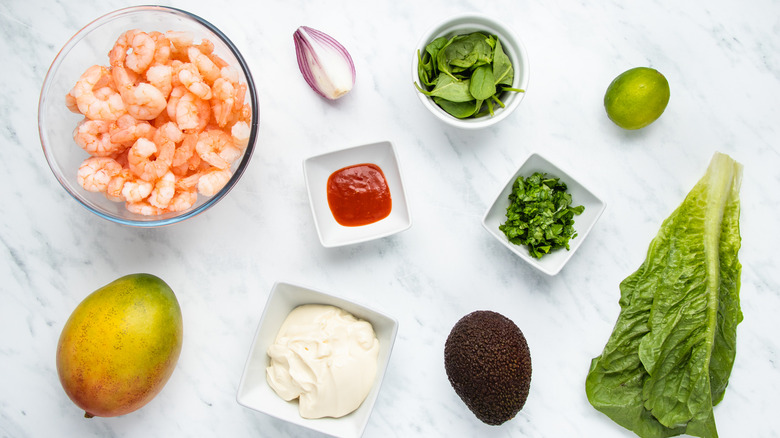 Catherine Brookes/Mashed
This recipe requires just a handful of ingredients that you will need from the store. Pick up mayonnaise, sriracha, lime, salt, pepper, cooked shrimp, a mango, avocado, red onion, lettuce leaves, spinach, and chopped parsley.
Once you have those things, you can whip up this refreshing mango shrimp salad recipe.
Make the creamy, spicy dressing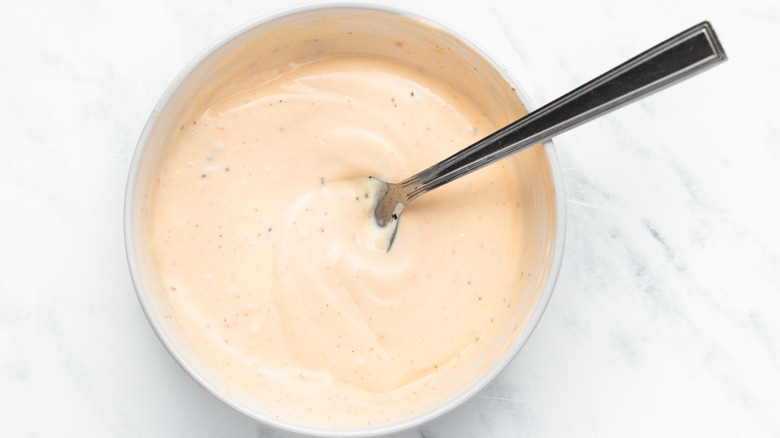 Catherine Brookes/Mashed
To begin, take out a small bowl and add the ingredients you will need to make the  dressing for this salad. Toss in the mayonnaise, lime juice, sriracha, and a little salt and pepper to taste. Use a spoon to mix the ingredients. By the way, the sriracha is the secret ingredient. "It gives the otherwise creamy dressing a bit of a kick that compliments the lime juice really well too," Brookes adds. 
She also does a great job describing the flavor of this tasty dressing, saying, "it's creamy, slightly tangy from the lime and spicy from the sriracha." 
Dice the vegetables and mango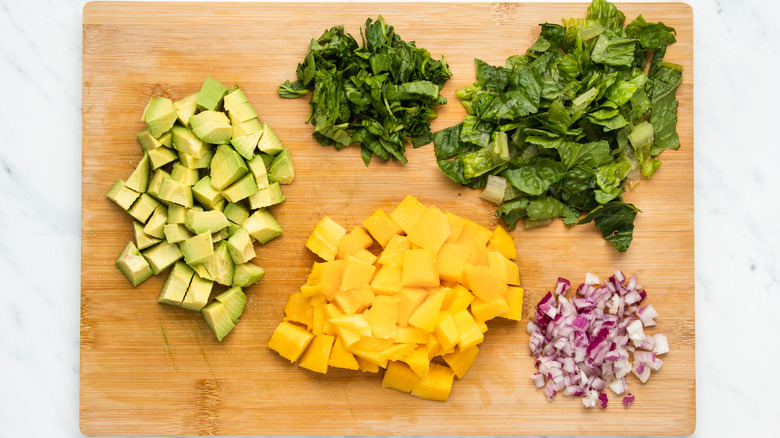 Catherine Brookes/Mashed
It's time to get chopping! Grab a cutting board and a sharp knife and line up the fruits and veggies. Start with the red onion, making sure to dice it finely. Then, chop up the mango, avocado, lettuce leaves, and spinach. Keep the veggies out since you will need them for the next step.
Mix the shrimp, veggies, and dressing together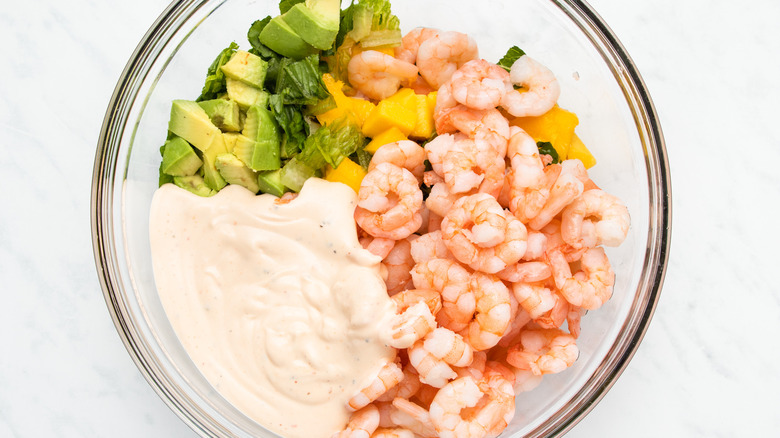 Catherine Brookes/Mashed
Now, take out a large mixing bowl to add all of the ingredients. First, toss in the cooked shrimp, followed by the chopped veggies and fruit. Then, pour the dressing over the top and mix well to combine. "The natural sweetness of mango and saltiness of shrimp balance each other out to make a really tasty dish," Brookes says of the shrimp and mango combination. 
Serve and enjoy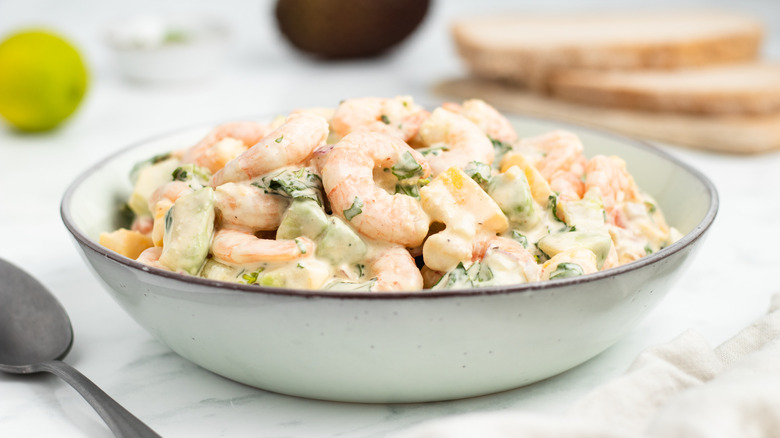 Catherine Brookes/Mashed
You can serve the salad out of the mixing bowl if you wish or transfer it to another bowl to scoop and serve. This would make an excellent main course in a big salad bowl, or it also fares well as a side to the main course. Brookes also provides a few suggestions on how she likes to serve this dish. "On toast/in a sandwich, on a baked potato or served on more salad leaves," she notes. 
Some people think shrimp doesn't keep well but don't toss out this salad. "Leftovers should keep up to 2 days covered in the fridge," Brookes shares. 
Mango Shrimp Salad Recipe
This mango shrimp salad is protein-packed with fresh and creamy flavors.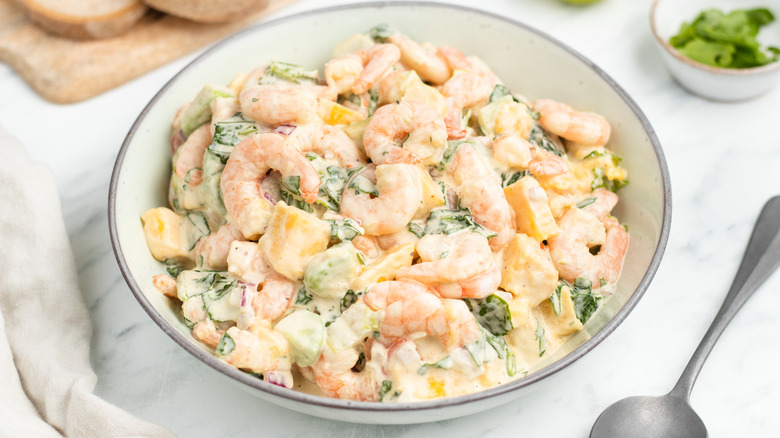 Ingredients
¾ cup mayonnaise
juice of 1 lime
2 teaspoons sriracha
salt, to taste
pepper, to taste
¼ red onion
1 large mango
1 avocado
3 large lettuce leaves
⅓ cup spinach, loosely packed
2 tablespoons chopped parsley
21 ounces cooked shrimp
Directions
Add the mayonnaise, lime juice, sriracha, salt, and pepper to a bowl, and mix well to combine.
Finely dice the red onion and chop the mango, avocado, lettuce leaves, spinach, and parsley.
Add the chopped ingredients to a large mixing bowl along with the shrimp. Pour over the dressing and mix well to combine.
Nutrition
| | |
| --- | --- |
| Calories per Serving | 634 |
| Total Fat | 43.8 g |
| Saturated Fat | 7.0 g |
| Trans Fat | 0.1 g |
| Cholesterol | 330.9 mg |
| | |
| --- | --- |
| Total Carbohydrates | 26.0 g |
| Dietary Fiber | 6.2 g |
| Total Sugars | 15.5 g |
| Sodium | 1,730.5 mg |
| Protein | 36.4 g |