Cocoa Pebbles Fans Need To Know About This New Candy Bar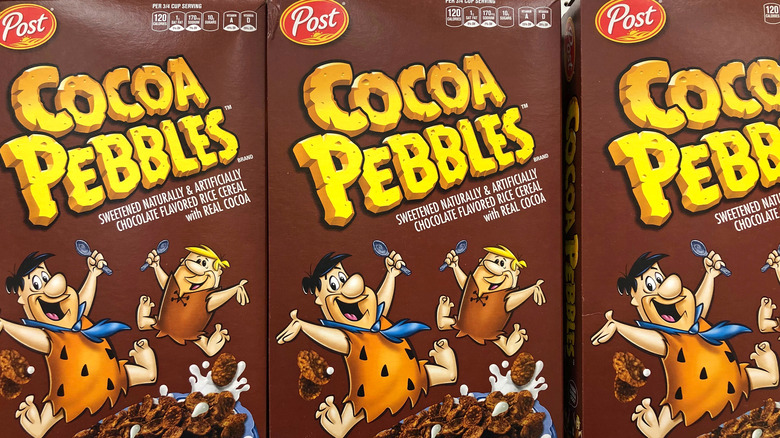 Sheila Fitzgerald/Shutterstock
Cocoa Pebbles is one of the most popular cereals, ranking right up there in childhood nostalgia with Cap'n Crunch, Lucky Charms, Cinnamon Toast Crunch, and Cookie Crisp. Cocoa Pebbles are a crunchy rice cereal flavored with chocolate that has been around since the 1970s, boasting the familiar slogan, "Yabba dabba doo!" According to Statista, in 2020, some 1.62 million Americans consumed 10 or more servings of Cocoa Pebbles in a week — that's a lot of cereal!
If you're a fan of Cocoa Pebbles, you're in luck – Pebbles Cereal (owned by Post Consumer Brands) is partnering with Frankford Candy to come out with a new treat inspired by the beloved children's cereal. The Cocoa Pebbles Cinnamon Candy Bar has just come out on shelves, and it's something both kids and adults alike might enjoy (via Candy Industry). Here's what you need to know about the new candy, including where you can buy it.
A chocolate and cinnamon candy bar
While you can always enjoy a bowl of Cocoa Pebbles, you can now get your cereal fix in candy form with the new Cocoa Pebbles Cinnamon Candy Bar. According to an Instagram post by Frankford Candy, the bar is the result of a collaboration with Pebbles Cereal and features "creamy milk chocolate mixed with Cocoa Pebbles cereal and a sweet hint of cinnamon sugar spice." You can currently find the 2.75-ounce king-size bar at Walmart stores across the country, as well as online at Amazon and the Frankford Candy website. Chew boom reports that the suggested retail price is $1.39, although that may vary by location.
The Cocoa Pebbles Cinnamon Candy Bar has received decent reviews from those who have already tried it. YouTuber Reed Reviews compares the texture to a Nestle Crunch bar, dubbing it "better than I expected." Another YouTuber, The Royal Mars Brothers & Fam, said that the cinnamon flavor is very subtle, and overpowered by the chocolate. "It's crunchy and not too sweet," he explained. 
If, like one commenter on Frankford Candy's Instagram post, you can't even imagine what a blend of chocolate and cinnamon tastes like, well, there's only one way to find out.