The Best Tonic Waters In 2022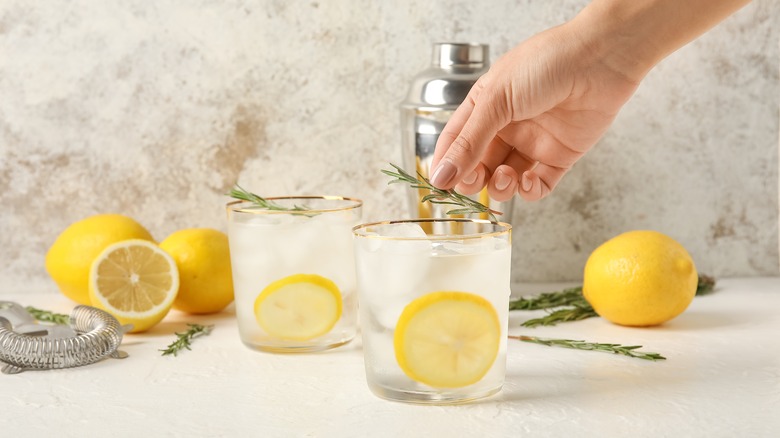 Pixel-Shot/Shutterstock
We may receive a commission on purchases made from links.
Nothing tastes better than a gin and tonic after a long night of drinking. It's a perfectly bubbly nightcap that acts as the classic cocktail choice for when you don't know what to order. Gin and tonic go together seamlessly like Jack Daniel's and Coke, Champagne and orange juice, or even tequila and lime. Plus, it's hard to mess up a gin and tonic, unless you go to a dive bar and they forget the tonic part, leaving you with a glass full of rail gin.
Even if you don't like gin, tonic is a versatile mixer that can pair well with any bar cart essential you have, except for Rumple Minze, which belongs nowhere. Not only can you mix it with vodka and other clear liquors, but some flavored tonics play beautifully with dark liquors like bourbon or rum. This round-up will not feature the Schweppes or Canada Dry tonic waters of cocktails past, as we should be pairing our finest mid-shelf liquors with the best mid-shelf and beyond tonic waters. Not only will they step up your cocktail game, but they'll also provide eye-catching and sophisticated focal points throughout your bar cart. Plus, what screams "grown adult" more than artisanal tonic water?
How we selected products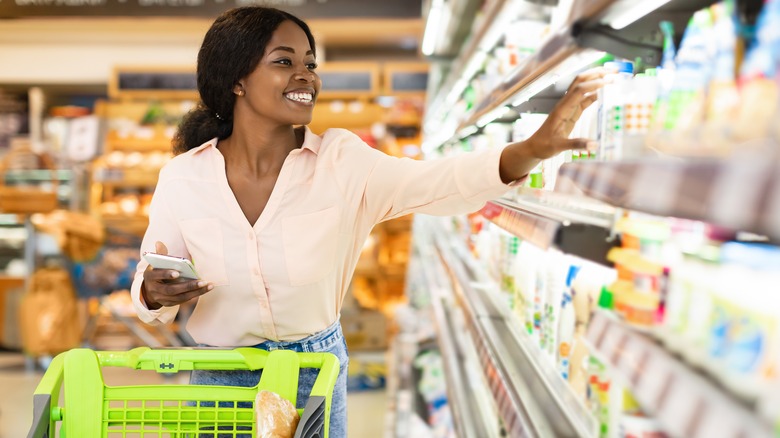 Prostock-studio/Shutterstock
Weeding through the different tonic waters was more challenging than expected, since as you continue to peel back the internet's layers, you find more unknown options. Naturally, we wanted to pick tonic waters that paired well with various types of gins, from fruity to herbal, and even different liquors like vodka, bourbon, or rum. Since there are different styles of gin, we wanted to showcase different styles of tonic waters from dry, robust, or floral to the classic quinine and soda water flavor we have grown to love and expect.
Since a good cocktail gives you a treat-yourself kind of moment, we didn't want to harp as much on nutritional facts, but we did include some low-calorie and all-natural sugar options. The same goes with price — there are many tonic waters listed that range in price from around $5 to $40 but we wanted to show a range that would reflect different budgets. All prices were accurate as of this article's publishing date. When narrowing down the list, we consulted mostly press and customer reviews while also searching into our own personal memory bank for favorite tonic waters from past cocktails.
Best overall tonic water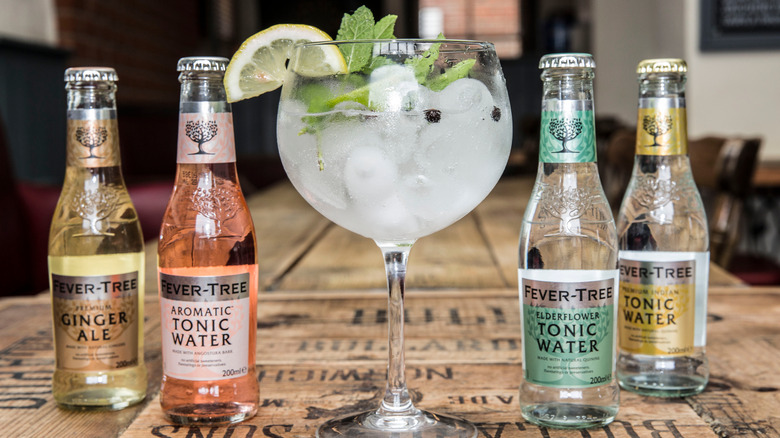 Kelly Simone Photography/Shutterstock
This may seem predictable but we are not afraid to admit that Fever-Tree is producing some of the best tonic water the mixology world has to offer. We looked far and wide to see if any other tonic had everything that Fever-Tree does. But no other tonic water brand was the total package — reasonably priced, delicious, versatile to mix, and widely available. According to Fever-Tree's website, its sodas and tonics were voted number one for best-selling mixer and top trending mixer for the eighth year in a row at the Drinks International Awards in 2022.
Fever-Tree's premium tonic water utilities the finest ingredients that nature has to offer — quinine from the Democratic Republic of Congo and bitter orange from the Yucatan Peninsula of Mexico — to create a botanical-rich tonic at a grocery store price. In conjunction with its original tonic water, Fever-Tree has a light tonic and Mediterranean tonic as well as flavored tonic waters like elderflower, cucumber, and lemon.
Reviews on Influenster appreciated the small bottle size that was perfect for one drink and prevented premature flattening, while other reviews called it the best tonic on the market, pairing perfectly alongside high-dollar gins like Hendrick's. From the level of carbonation to the beautiful packaging and all-natural sweetness, it's hard to find another like it. Sure, it's not as cheap as Schweppes but quality outweighs quantity here.
Buy a four-pack of Fever-Tree tonic water from Target for $5.49.
Best budget tonic water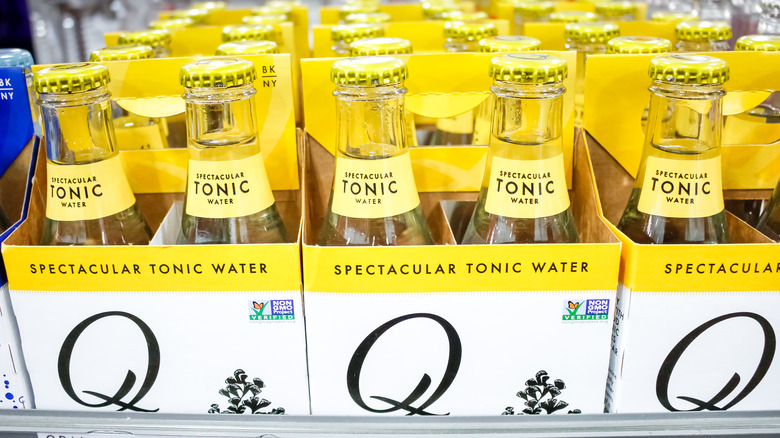 The Image Party/Shutterstock
Q Mixers puts the ultimate question out into the universe — why shouldn't your tonic water be as spectacular as the gin you are drinking? Q spectacular tonic water isn't the most groundbreaking — a dry, bitter, agave-infused tonic water that's light and highly carbonated — but it gets the job done and is 100 times better Schweppes. Q Mixers has a less diverse range of tonic flavors compared to Fever-Tree but has the ability to balance well with the complex flavors of gin and masks the chemical taste of straight vodka.
The Gin Is In called Q tonic one of their favorites ever since it launched in the 2010s. There are also small 7.5-ounce cans available to eliminate the plague of flat tonic. The carbonation is very prominent as well as a slight citrus and quinine smell when first poured. It's definitely a more bitter tonic compared to others but rounds itself out with a slight sweetness from the agave which lets robust gins really shine through. Portland Food and Drink found it to be on the same playing field at Fever-Tree, pairing just as well if not better with vodka for a more traditional tonic cocktail. If you want a no-frills tonic that won't break the bank, you have the answer to your question.
You can purchase a 24-pack of Q tonic water for $21.48 on Amazon.
Best splurge tonic water
Sometimes, on a special occasion, you need a bougie tonic water to go with your $50-and-up bottle of Hendrick's or Four Monkeys. It would be a borderline disgrace to mix anything Seagram's-adjacent with these exquisite bottles of The London Essence Co. tonic water. An official partner of The World's 50 Best Bars, The London Essence Co. prides itself on exquisite and bartender-approved quality mixers that are available for your own home bar.
The London Essence Co. tonic waters range from an original Indian-style tonic to borderline savory flavors like grapefruit and rosemary for rum and orange and elderflower for gin. They are also incredibly aesthetically pleasing, like a bottle of St. Germain with a perfect ridged hourglass shape that looks beautiful enough to openly display.
The Gin Quest explained that the classic tonic was highly carbonated similar to Fever-Tree but with a more balanced bitterness and botanical notes of quinine and juniper. Overall, it's an incredibly rich and beautiful tonic water that's worth the big price tag.
Buy a 24-pack of The London Essence Co. flavored tonic water for $99.99 on Amazon or the original tonic for £22 from The London Essence Co website.
Best low-calorie tonic water
Since 1905, Fentimans has been dishing up botanical-infused drinks and cocktail mixers for a full-bodied and hearty drinking experience. Not only does it have a selection of craft sodas and ginger beer but also tonic waters in traditional and pink grapefruit flavors. Fentimans light tonic water is the low-calorie tonic water that doesn't skimp out on flavor. Plus, at 29 calories a bottle and seven grams of sugar, it fits whatever low-sugar lifestyle you follow (via Calorie King).
Labeled as the "world's first botanically-brewed light tonic water," Fentimans incorporates all the good stuff found in its premium Indian tonic water with almost half the calories. Each tonic is infused with all the classic notes we love in a full-bodied gin such as juniper berries, lime, and lemongrass. The Gin Is In loved the intense citrus notes they got from the light tonic and pleasant carbonation. 
While there weren't many notes of juniper in the tonic, there was a nice lemongrass taste that balanced well with the muted and non-metallic quinine flavor. Its bitterness doesn't compare to tonics from brands like Q Mixers which allows it to mix well with botanical-heavy and mildly sweet gins. Even though it technically could be considered a splurge tonic and isn't sugar-free, the unique profile of this tonic water makes it stand out as a worthwhile go-to.
You can purchase a four-pack Fentimans light tonic on Amazon for $21.30.
Best Indian-style tonic water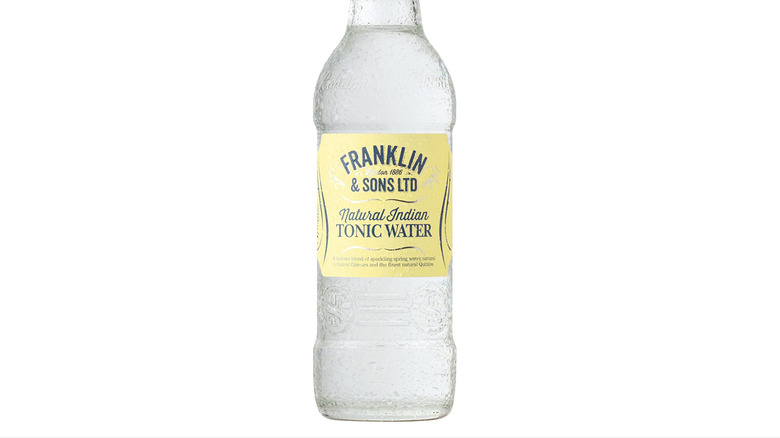 Franklin & Sons
Indian-style tonic can be very different from the classic tonics we know and love. Usually, they tend to be more bitter and yet sweet with a more robust flavor that blends beautifully with juniper-heavy dry gins (via The New York Times). Franklin & Sons Ltd. is one of the ultimate tonic brands to look out for on your next liquor run. Made with only natural ingredients and no sweeteners, its flavors range from the ever-popular and classic Indian and Mallorcan tonic to elderflower & cucumber, rhubarb & hibiscus, rosemary & black olive, and even grapefruit & bergamot.
What makes Franklin & Sons Ltd. stand out as the poster child for popular Indian tonics is its quintessential heavy botanical essence that is still delicate and pairs well with potent gins. Craft Gin Club called Franklin & Sons Ltd. "the tonic you have been searching for" since it is able to enhance and elevate the most flavorful of gins with the most high-quality of ingredients. The Gin Is In reviewed it and said its intense carbonation, slight sweetness, and lemony aftertaste made it a classic for die-hard gin and tonic lovers.
Purchase Franklin & Sons Ltd. Indian tonic water on Amazon for $25.89 USD.
Best American-style tonic water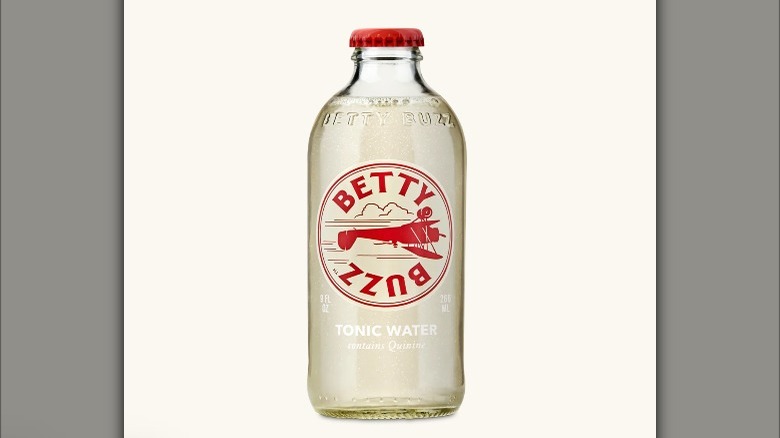 Betty Buzz
We love a good celebrity-owned alcohol brand, from George Clooney's tequila brand, Casamigos, to P. Diddy's vodka brand, Cîroc. There aren't many celebrity-owned gin brands besides Ryan Reynolds Aviation American Gin. It turns out that he's one-half of a gin and tonic power couple. His wife and "Gossip Girl" icon, Blake Lively, owns the non-alcoholic mixer company, Betty Buzz, which makes natural and America-made club, lemon, and grapefruit sodas, ginger beer, and of course, tonic water.
Betty Buzz markets its original tonic water as an American-style tonic, a contrast to Indian tonics, which put emphasis on the traditional quinine flavors and less on botanicals. Made with only carbonated water, quinine, citric acid, and agave syrup, it's a tonic that would balance well with vodkas, gins like Aviation American Gin, or even Scottish gins like The Botanist. Paste Magazine took a deep dive into each Betty Buzz mixer and found the tonic water to be a moderate mixture between sweet and bitter with a curveball fruitiness that they described as cotton candy-adjacent that could even pair well with rum. It is an easy, breezy, beautiful tonic water that has made a name for itself in the mixer world.
You can buy a 12-pack of Betty Buzz tonic water on the Betty Buzz website for $29.99.
Best tonic concentrate
A tonic concentrate flips any expectations of what we think a tonic water should be. Like the thick soda concentrates we find alongside our SodaStream, tonic concentrates allow flavor to be front and center and waste to sit on the back burner. The tonic concentrate market isn't as saturated as the market for tonic waters but John's Premium Tonic Syrup is one that is truly unlike any other.
It started as a recipe for homemade tonic water that owner and creator, John C., started serving at a restaurant in Phoenix, Arizona. The feedback was so positive that he decided to start selling it as a handcrafted tonic syrup that you just add soda water to. John's Premium Tonic Syrup only sources the highest-quality ingredients, using Cinchona Bark as opposed to just the quinine compound that derives from it, to achieve a rich amber color and rich flavor without the syrupy aftertaste. Saveur described it as a wonderful tonic concentrate balanced with citrus, light sweetness, and other nostalgic tastes associated with homemade tonic water. Not only is it deliciously bright when mixed with soda water but its versatility allows it to liven up martinis, old-fashioneds, or even non-alcoholic cocktails.
You can purchase John's Premium Tonic Syrup for $14.04 on its website.
Best tonic water for dark liquors
If you have ever had a Boylan Bottling craft root beer or cream soda, you know it's legit. Next to Nehi and Cheerwine, it's the quintessential taste of old-fashioned soda pop with all the classic flavors and fizz you would expect. That being said, if the soda is that good, you know the classic cocktail mixers like its tonic water are going to be great too. Boylan Bottling's tonic water doesn't have any flashy packaging or out-of-this-world flavor profiles. Instead, it just focuses on finding a balance between sweetness and citrus with just the right amount of bubbles that's perfect for mixing with rum and bourbon.
With its light and traditional tonic, Boylan Bottling keeps things simple and to-the-point without any extra frills. However, people love this simple yet beautiful tonic water's approach to refined cocktail making. One review on Amazon explained that they were a gin and tonic non-believer until they discovered Boylan Bottling's tonic water and couldn't get enough of its unique flavor. Another Amazon review explained that the steep cost was worth it given its unparalleled citrus flavor without the artificial cottonmouth aftertaste, making it a true bang for your buck purchase.
You can buy a 12-pack from the Boylan Bottling tonic water website for $41.75.
Best tonic water for vodka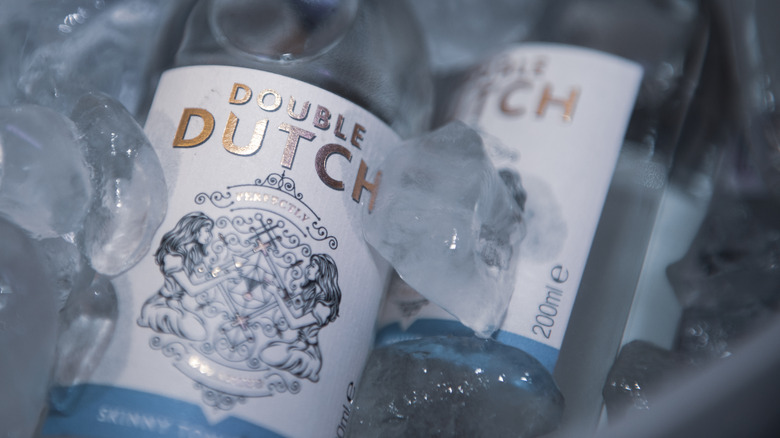 Simon Vayro/Shutterstock
Many of us enjoyed double dutch as a kid but now we can enjoy it even more as an adult with Double Dutch mixers. Its award-winning status isn't just smoke and mirrors — its tonic was voted best tonic for your G&T by GQ in addition to winning gold at the Bartenders' Brands Awards in 2022. Double Dutch has a wide range of sweet and savory sodas like cucumber watermelon, pink grapefruit, and pomegranate basil. However, its Indian and light tonic waters are the real MVPs.
Voted the best tonic water by Indy Best, Double Dutch Indian tonic has hints of pink grapefruit, quinine, and juniper berries that not only makes it the ultimate mixer for gin but also vermouth, blanco tequila, and vodka. A review in Spears sampled the various sodas and tonics, concluding that each one was more playful and exciting than the last. They also found that some were on the sweeter side as opposed to traditional tonics, making them an ideal mixer to round out a vodka-based cocktail or flavorful gin drink.
You can buy a pack of 24 cans of Double Dutch Indian tonic water on the Double Dutch website for £24.00.
Best tonic water for gin
Naturally, we know that gin and tonic go hand-in-hand together and we aspire to find the perfect tonic for every gin. However, there are some tonics that are meant to be paired with gin like no other. East Imperial tonic water is that tonic — a rich mixture of exquisite ingredients like Thai lemongrass and Manao lime in vibrant hues for a perfectly gorgeous gin and tonic creation. East Imperial also has an expansive spread of flavored tonic waters such as grapefruit, yuzu, and botanical in addition to a low-calorie Old World tonic.
Its signature pink tonic pays homage to the Long Pink Gin drink that originated from Burma — a timeless cocktail that showcases the beauty of a London dry gin. The Gin Is In reviewed the East Imperial tonic, noting its intense quinine flavor and bright then muted citrus and floral notes. It also has a bitter finish with hints of hops and low sweetness that helps balance out the other essences within the tonic, making it a contemporary twist on this ethereal cocktail combination.
Purchase a pack of 10 cans of East Imperial tonic water for $19.99 on Amazon.
Best flavored tonic water
Sometimes, a flavored and fruity tonic can be the one thing needed for an easy and delicious two-ingredient cocktail. Sure, we have included many flavored tonics, but nothing really compares to Lixir tonic waters. Its mixers placed first, third, and fourth in the tonic water category at the Bartenders' Brand Awards thanks to their versatile and impactful flavors (via Class Bar Mag).
Lixir flavored tonic waters don't contain anything artificial, are low in sugar, and are produced by a carbon-neutral company. The flavors range from blood orange & cinnamon, grapefruit, and elderflower & lemon to rhubarb & ginger and a classic Indian and light tonics. The Bartenders' Brand Awards awarded the elderflower & lemon as the superior tonic due to balance and versatility, while the blood orange & cinnamon tonic snagged third place for its fresh Christmas-y flavor and the Classic Indian tonic was awarded fourth place.
Impressively, Lixir Drinks has a 4.9 with over 300 reviews on Trustpilot with customers loving the eye-catching packaging and how delicious the tonics were as stand-alone drinks. Other reviews loved the quick delivery times from the United Kingdom and how helpful the customer service department was when handling qualms and queries. It's hard to pick a bad tonic water flavor from this bunch and each flavor will elevate and switch up your gin and tonic game with no effort required.
Buy various Lixir flavored tonics from the Lixir drinks website for £18.99.