Classic Gibson Cocktail Recipe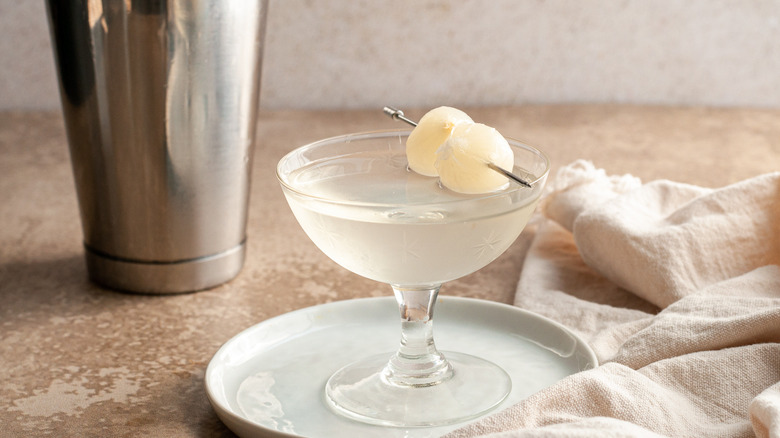 Christina Musgrave/Mashed
What comes to mind when you hear the phrase "a true American classic?" Do you think of a car like the Ford Mustang or the Corvette? Do you think of apple pie, or maybe of baseball? Those are all great answers, but none of those can perfectly prepare your palate for a big, sumptuous feast. No, for that you'll need another absolute American OG, the Gibson. Of this elegantly simple gin cocktail, recipe developer Christina Musgrave of Tasting with Tina says, "This is a great drink before a heavy, savory meal. The cocktail is savory and will get your palate ready for a savory meal. Think of serving this with appetizers before a Thanksgiving or Christmas dinner."
And yes, it goes great after a meal, too. Or with a game of cards or paired merely with a fine conversation. And as it takes just three ingredients and fewer than 5 minutes to make a Gibson, you can enjoy one any time.
Gather the ingredients for this classic Gibson cocktail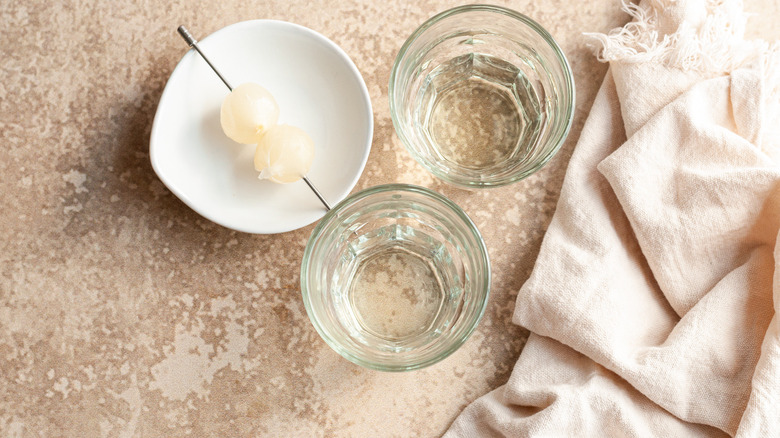 Christina Musgrave/Mashed
To make this classic American drink, you'll need some gin, some dry vermouth, ice, and some cocktail onions, for garnish. "If you like a really savory cocktail, you can add a bit of the juice from the cocktail onion jar," says Musgrave, adding, "I love Watershed Guild Gin. It's delicious and great with this cocktail."
Shake and chill the gin and vermouth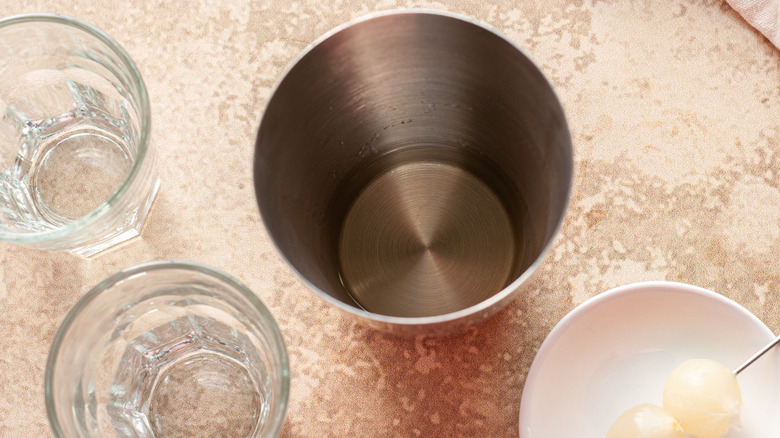 Christina Musgrave/Mashed
To make this tasty, savory, sippable drink, grab a good cocktail shaker and first put the gin and vermouth into the shaker. Then add plenty of ice and close it up, then shake that shaker well! Musgrave says you really have to "shake until it's really cold." One pro tip is to keep your shaker in the freezer when it's not in use, so the chill comes even faster.
Add the onions and enjoy!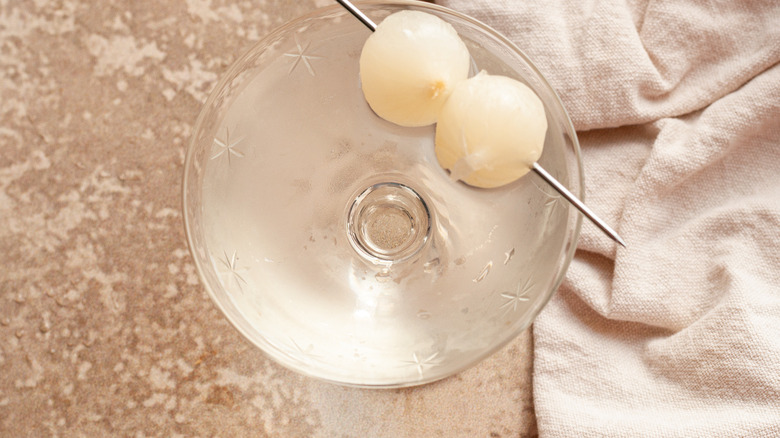 Christina Musgrave/Mashed
Once the liquids are nice and chilled, strain the mixed gin and vermouth out into a glass and garnish the drink with two cocktail onions per serving. Then serve and enjoy this savory peer of the classic martini that is the Gibson! But... why is it called a Gibson? And where did the drink come from?
Where did the Gibson cocktail come from?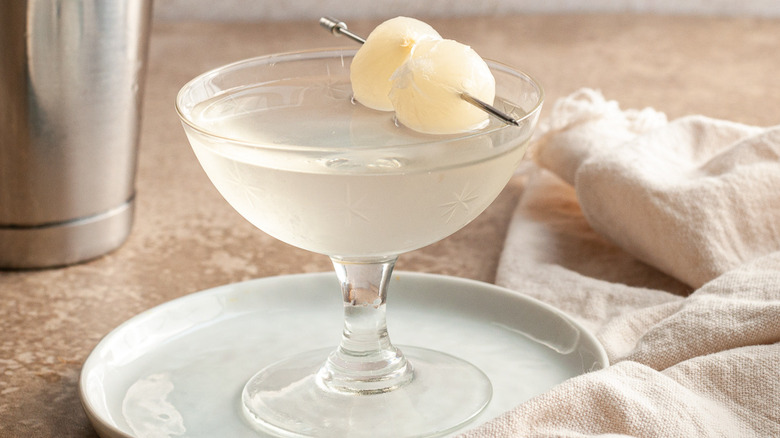 Christina Musgrave/Mashed
We're not 100% sure why the Gibson got its name nor do we know for sure where and when it was first shaken up, but according to Liquor.com, it was possibly named after a San Fransisco businessman, Walter D.K. Gibson, in the late 1800s. We can't be positive about the true origin of such a savory cocktail — all we can really be sure of is its great taste and American heritage. 
Classic Gibson Cocktail Recipe
If you love a savory cocktail, then this classic Gibson is the perfect drink for you.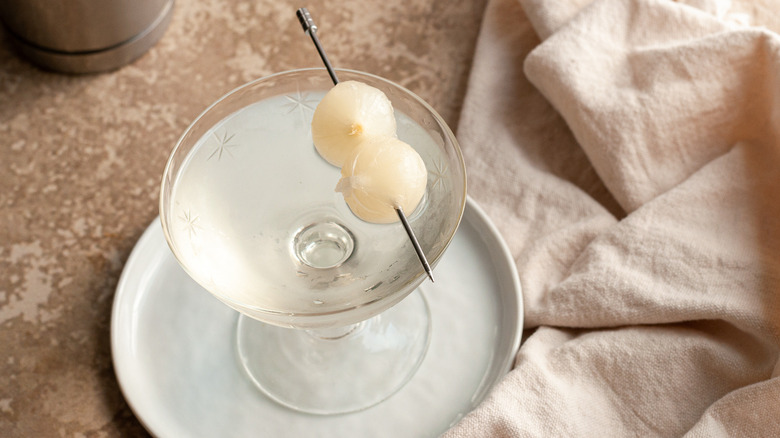 Ingredients
2 ounces gin
½ ounce dry vermouth
2 cocktail onions, for garnish
Directions
Add gin and dry vermouth to a cocktail shaker.
Add ice and shake until chilled.
Strain into a coupe glass and garnish with cocktail onions.
Nutrition
| | |
| --- | --- |
| Calories per Serving | 260 |
| Total Fat | 0.3 g |
| Saturated Fat | 0.1 g |
| Trans Fat | 0.0 |
| Cholesterol | 0.0 mg |
| | |
| --- | --- |
| Total Carbohydrates | 23.7 g |
| Dietary Fiber | 4.3 g |
| Total Sugars | 10.7 g |
| Sodium | 11.8 mg |
| Protein | 2.8 g |