Salt & Straw's Fall Flavors Are Creepy And Crawly
If we were to guess Salt & Straw's biggest fear, it might be letting a season pass by without rolling out a new line of regionally specific — and occasionally shocking — ice cream flavors. The Portland-based ice cream chain is known for leaning into the unexpected when it comes to its limited-time treats, especially during holidays. A few standout moments from scoops past include the caramelized turkey and cranberry sauce ice cream from last year's Friendsgiving series; fried chicken and honey from this year's Summer Picnic series; and the elote-inspired charred corn curd, cotija, and Tajín number from this summer's Veggies You Crave series. 
In keeping with the season of ghouls, goblins, and ghosts, Salt & Straw uses Halloween as a time to truly flex its freaky side. In 2019, the brand dipped into an unforgettable pork blood ice cream that evoked the rich flavors of red velvet cake. This Friday, the brand will unveil its latest line of scoops for spooky season. 
I scream, you scream, we all scream for ice cream with bugs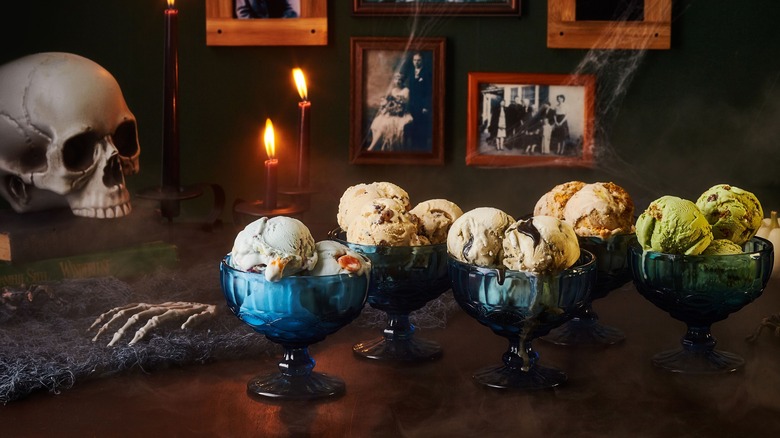 Salt & Straw
Blood-red ice cream will not be making an appearance at Salt & Straw this year, but the brand's Ice SCREAM series will certainly be spooky. If you're jonesing for a sugar rush, there's the Great Candycopia, which grinds popular Halloween candy like Kit Kats, Reeses, Snickers, and Heath bars into a "milk chocolate-buried crispy feuilletine" and combines it with a butterscotch ice cream base, according to a press release. As it that's not enough, the flavor also pops in chocolate-covered peanut butter bits and bourbon-vanilla toffee almonds.
If your goal is to impress your friends, opt for Don Bugito's Creepy Crawly Critters, which boasts "dozens" of Oakland-sourced toffee-brittle mealworms and chocolate crickets peppered into a matcha ice cream base. If you're not on that level yet, you could keep things classically autumnal with the Jack o' Lantern Pumpkin Bread, which piles in hunks of "just-baked" pumpkin bread and whopping dollops of whipped cream cheese frosting. There's also a sultry-sounding Black Cat Licorice & Lavender flavor that drapes "silky, pitch-dark" anise and fennel caramel into salted lavender ice cream. Finally, a vegan Double Bubble Toil & Trouble rounds out the series with a bubble gum flavor and brightly colored fruit (via press release). 
The flavors will be available for a limited time starting Friday, September 30 through the end of October at Salt & Straw scoop shops and online.