The Unforgettable Time Coolio Appeared On Hot Ones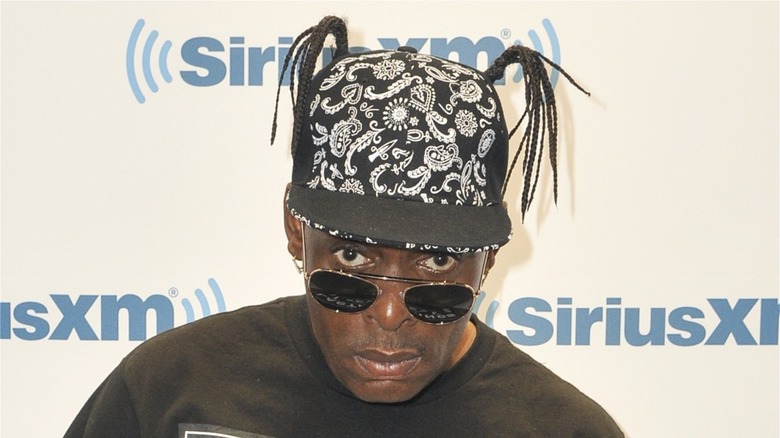 ris Connor/Getty
We may receive a commission on purchases made from links.
Artis Leon Ivey Jr. was a force to be reckoned with. More commonly known by his stage name, Coolio, he was a Grammy Award-winning rapper, producer, and occasional actor. In addition to chart topping hits such as "Fantastic Voyage," "Gangsta's Paradise," and "C U When U Get There," he also lent his talents to the theme song for the Nickelodeon series "Kenan & Kel," starring lifelong buds Kenan Thompson and Kel Mitchell. Coolio was undoubtedly an icon of the 1990s, a decade in which rap music continued to evolve and connect with listeners from all walks of life. Coolio died at the age of 59 on September 28 in Los Angeles, Rolling Stone reported.
Coolio also wasn't shy when it came to expressing his love for food. In fact, he even created and hosted a cooking show, "Cookin' with Coolio," which ran for one 10-episode season in 2008, per IMDb. He also wrote a cookbook filled with comfort food recipes entitled "Cookin' with Coolio: 5 Star Meals at a 1 Star Price," which was published in 2009. 
And as a number of fans may remember, Coolio was among the first guests of the web series "Hot Ones." His episode still has audiences cracking up years later.
Coolio was a Hot Ones guest in 2016
Coolio was the guest of honor on the fifth episode of the second season of "Hot Ones," which aired on the series' YouTube channel on March 7, 2016. During the interview, host Sean Evans and Coolio chatted about a number of topics (all, of course, while munching on chicken wings doused in increasingly spicy hot sauces), including "pimpin'" one's kitchen with the necessary tools and appliances, his love of the culinary arts, his upbringing, his friendship with Tupac, and the folklore behind his 1995 "Gangsta's Paradise" record. 
During the "Hot Ones" episode, Coolio shared the story about how he wrote the lyrics of the famous tune. "I never picked up my pen. I wrote 'Gangsta's Paradise' out like I already knew it. It was divine intervention," he revealed. "It wrote itself." Coolio completed the 10-wing challenge nearly unscathed, boastfully licking his fingers after "The Last Dab," impressing Evans.
When asked how he wanted to remembered, Coolio responded, "I just want people to say, 'That was a real motherf*****. He was hella cool.'" As it turns out, Coolio was spot on. Evans paid tribute to Coolio on Twitter upon hearing about his death: "First CD I ever bought in my life and the most legendary Wing 10 Last Dab these eyes have ever seen RIP Coolio."