TikTok Is Furious About This Ingredient Swap At Dave & Buster's
What's better than food, drinks, and endless games to play with the whole family? If you've ever been to Dave & Buster's, then you know what we mean. Since 1982, the restaurant and gaming chain has been offering all-ages entertainment at its 140 locations across the country. The chain positions itself as a place to have fun, having offered a "night in the great indoors" sweepstakes experience for one D&B fan this summer. The chain even made it into the Guinness Book of World Records last year after a customer racked up 360,000 tickets. 
Along with its gaming center, D&B's food menu also aims to please a variety of guests both big and small. While the chain normally serves up crowd-pleasing comfort items like nachos, Creole shrimp dip, and cheeseburgers, one Dave & Buster's employee recently dished out an unsavory dessert item for a table with special dietary needs — and TikTok is not happy about it.
The 'accidental' strawberry shortcake ingredient swap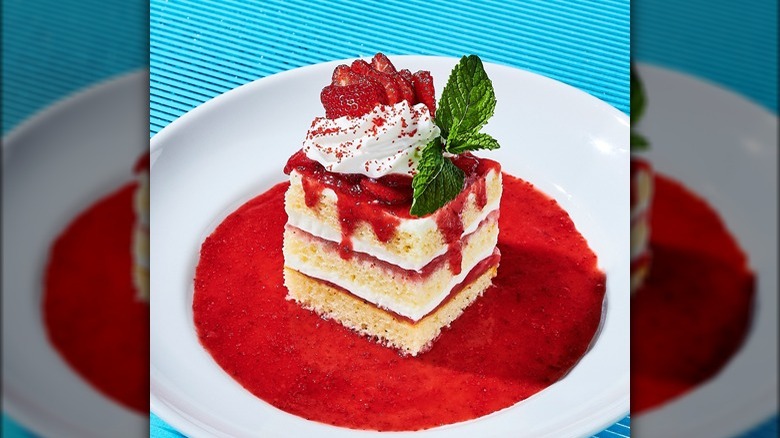 Dave & Buster's
Anyone up for some sriracha shortcake? Instead of serving the customary strawberry sauce with Dave & Busters' strawberry shortcake, one employee apparently swapped the fruity drizzle for the spicy red condiment instead. TikToker @candycane1175 captured the incident with a video showing her piece of D&B cheesecake swimming in a puddle of scarlet sauce. 
The clip, captioned, "When Dave & Buster's decides to serve you Strawberry Shortcake with sriracha instead of strawberry puree because you complained nicely about getting the wrong food," has garnered over 12 million views. In additional videos, the user claims she had ordered entrees for her children earlier in the meal, but had to send one of them back since it came with an ingredient she had asked to be excluded. Since the staff was kind about her request, she was surprised to get the wrong dessert. When she complained about the sriracha to the location's manager, they allegedly responded, "there's no way that's hot sauce."
Many users expressed outrage on @candycane1175's videos. "I worked in service for 10+ years. This isn't ok. People pay for service and correct food and should get it. Period," commented one viewer. Another said the mixup had to have been deliberate: "As a chef you don't mix up strawberry purée and Sriracha," adding that the hot sauce appeared to have been watered down. D&B corporate investigated the incident, apologized, and maintained that it was an accident — and @candycane1175 at least got a comped meal and $60 game card out of the bizarre experience.