The Career Move Sunny Anderson Wants To Take Next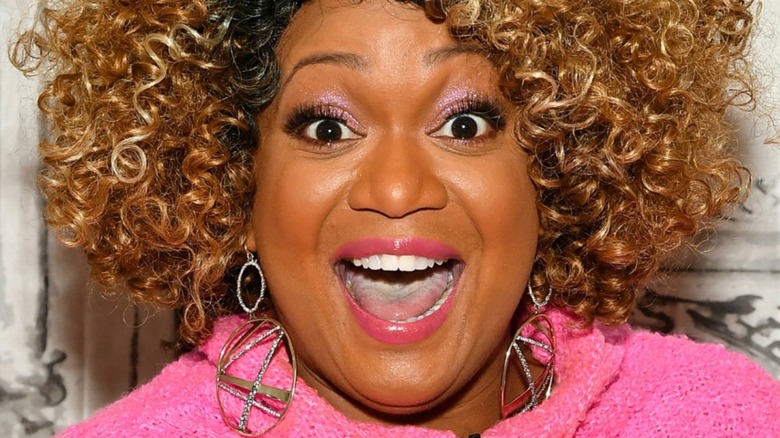 Slaven Vlasic/Getty
If you've watched "Beat Bobby Flay," "The Kitchen," or pretty much anything on Food Network, you're probably familiar with Sunny Anderson. In addition to being a talented chef, an advocate for countless causes, and a ray of sunshine, Anderson is also a social butterfly in the biggest way.
In 2017, Anderson took her love for people to New York, where she partnered with the Brotherhood/Sister Sol of Harlem and the Center for Family Life. According to Harlem World, she helped distribute $50k between the two organizations so they could continue to provide support and programs for girls and women. Several years earlier, in 2012, Anderson donated her "Chopped All-Stars" prize money to N Street Village, an organization that helps homeless women in Washington, D.C.
With such a generous heart and fun-loving spirit, it comes as no surprise that the celebrity chef's next career move combines laughter and charity. The confession, which she posted on Twitter, might just take her in a direction we didn't know we needed. 
Sunny Anderson wants to take her hosting skills to a new level
Our beloved Sunny Anderson lit up Twitter yet again when she recently shared her love for game shows. She wrote, "I'm going to put it out there, I would love to host a game show. I don't know what kind, but I enjoy them, I enjoy people, and I enjoy giving money away."
Her fans were nothing but supportive, commenting that the Food Network star would be a "fantastic" game show host. Others assured her, "If you did host a game show, I would watch it," and "You have the perfect joyful, exuberant personality for it!" Considering how excited Anderson got about donuts, we'd have to agree that excitement would probably triple if she was giving away money.
Several fans offered up game show ideas, from food-related themes to Pictionary and "Wheel of Fortune." Someone else suggested a show that combines trivia with physical games, like "Guy's Ultimate Game Night." Regardless of the type of game show, it's safe to say Anderson would have no shortage of viewers and applicants.