How Jennifer Garner Remixes Ina Garten Recipes For Her Kids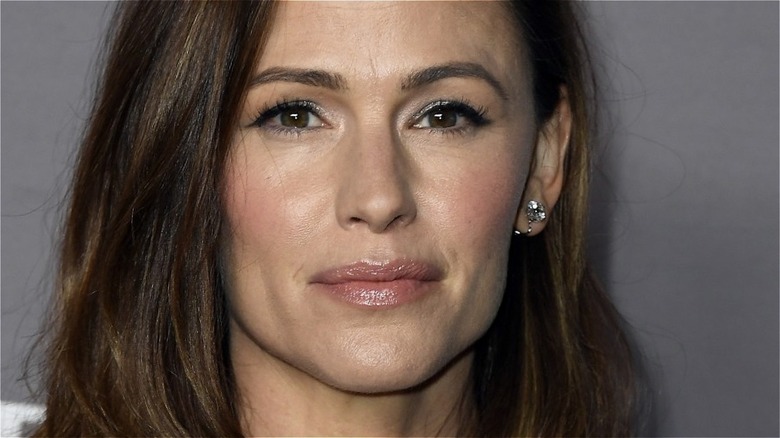 Frazer Harrison/Getty
Moonlighting as a chef on social media, Hollywood actress and mother of three Jennifer Garner has created more than 40 cooking videos for her "Pretend Cooking Show" on YouTube. Filmed by her personal assistant in her home kitchen, Garner's series channels her food mentor, Ina Garten, as many of the recipes are comfort foods found in the Barefoot Contessa's dozen cookbooks (via Showbiz Cheat Sheet).
Beginning in 2018 with a honey white bread recipe from Garten's 2006 "Barefoot Contessa at Home" book, Garner's "Pretend Cooking Show" has amassed more than a million views from 76,000 subscribers. Rare on social media, almost all of the comments on Garner's videos, full of her self-deprecating and wholesome humor, appear supportive, with remarks in the vein of, "Your energy is so lovely, bright and uplifting. Thank you for sharing your light with us."
Funny enough, Garten is one of Garner's biggest fans, telling People, "I love her videos so much. She is adorable and smart and not at all performing — that's just who she is. I just think she's really special." Over the years, Garner and Garten have developed a friendship, appearing on each other's cooking shows and taking advantage of every opportunity to praise each other in the press. Now, while awaiting Garten's upcoming "Go-To Dinners" cookbook, out this month, Garner is revisiting some of the Barefoot Contessa's most time-tested recipes, tweaking some of the steps for her children's palates.
Easy tricks for 'picky' eaters
A recent "Pretend Cooking Show" clip shared on Instagram shows Garner preparing "real meatballs and spaghetti" from Garten's 2002 book, "Barefoot Contessa Family Style." While Garten uses dried spaghetti in her recipe, Garner ups the ante, whipping up homemade pasta in about 40 minutes. That's not the only way she made the recipe her own.
In her caption, the actress said she "super adapted" Garten's recipe, one of her "old favorites," to accommodate her children's "picky" palates. For example, instead of dicing the yellow onion as the recipe instructs, Garner shaves it on a box grater to avoid "chonks" of onion in the finished tomato sauce. According to MasterClass, grating an onion is actually an efficient way to get the uniform pieces to cook evenly, ideal for succulent meatballs and meatloaf. 
Additionally, while Garten's original meatball recipe contains ground beef, pork, and veal, Garner replaces the veal with ground turkey and the pork with pork sausages (one sweet and one hot) removed from their casings. The Barefoot Contessa herself clearly approves of the updates, having commented on the video, "I love this so much!!!"