The Halloween Cheese Terrorizing Aldi Shoppers This Spooky Season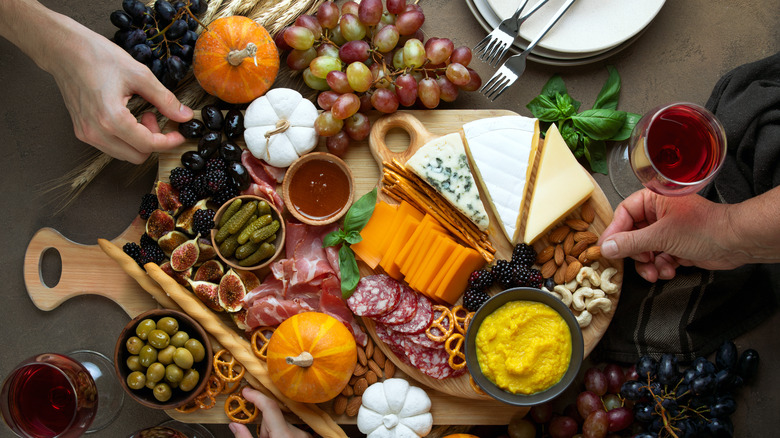 Fattyplace/Shutterstock
When it comes to tasty, unique, and affordable cheese, many fans swear by the cheese selection at their local Aldi. While the cheese aisle is pretty varied and well-stocked all year round, the grocer never misses a chance to bring in some festive treats around the holidays. From Aldi's festive holiday goat cheese lineup flavored with gingerbread, eggnog, and cranberry stuffing (via Tiny Beans), to its snowman-shaped cheddar and famous Christmas tree-shaped Gouda cheese (via Yahoo!), Aldi fans flock to the store each year to create the perfect holiday charcuterie board. And this year is no exception.
Aldi is already embracing the beginning of the holiday season with the return of their fan-favorite Emporium Selection Transylvanian Cave Cheese, just in time for spooky season. This one-of-a-kind cheese is aged in a Romanian salt cave, giving it a haunted vibe that Dracula himself is sure to approve of. This Halloween favorite is scheduled to return to Aldi stores on October 5, for an estimated price of $4.29, according to Aisle of Shame. Judging from fan reactions, many shoppers are excited for it.
Aldi fans raved about the cheese online
The unique Transylvanian Cave Cheese is a hard cheese that is made with cow's milk and delivers a clean, light flavor similar to Asagio or Parmesan, according to Courier and Press. It is available in both classic and a red wine-soaked version, which gives the cheese a rich flavor and deep red color that is certainly at home on a spooky Halloween cheese board, per Aldi.
Over the years, this creepy cheese has become something of a Halloween staple for Aldi shoppers, receiving rave reviews online when it makes its return to shelves each year. Reddit user u/barrelofmonkfish made a post heralding the cheese's arrival last year, calling it "just typical Aldi's cheesy weirdness." Many other shoppers couldn't wait to get their hands on the seasonal product. "This is my favorite cheese, and I refuse to get any other kind," wrote u/Monster_NotWar, while other users called the item "delicious," "so good," and "delightful." "I like how they do stuff like this. It just makes things fun," agreed another fan.
This year, another Reddit user celebrated the cheese's return this year with a post, announcing, "Transylvanian Cave Cheese has arrived." "We love cave cheese," replied one fan, while u/WangGang2020 joked, "Paging Dr. Acula. New cheese on aisle four." So Aldi fans who have been waiting for the perfect snack to kick off the beginning of spooky season might want to head to their local store for a bite of this terrifyingly popular cheese.