How Duff Goldman Keeps Life On The Road Nutritious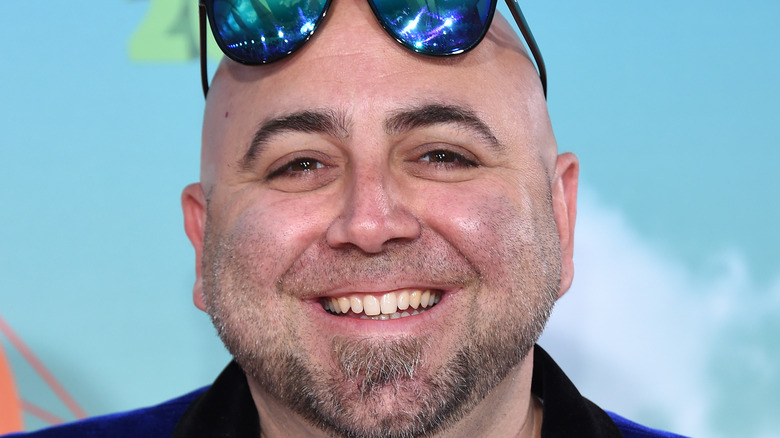 DFree/Shutterstock
Fans of bakery owner and television personality Duff Goldman likely follow his main Instagram account, where he shares all kinds of personal moments, from snaps of his adorable daughter Josephine to pictures behind-the-scenes of his television projects to, of course, plenty of delicious and seriously impressive cakes and baked goods. However, did you know that Goldman seeks to inspire others with his healthy living journey and created a second Instagram account earlier this year devoted to sharing it?
While Goldman's primary account has a whopping 741,000 followers, his newer health and fitness has just shy of 4,000 as of this writing. The account name pays tribute to the culinary world, and though he added his first name to the bio, fans scrolling will simply see him posting as @beefcakecookie. On this account, Goldman shares photos and videos taken during his workouts, as well as some of the healthy meals he eats and other inspirational updates. As People reports, he's shared his nutrition and fitness progress in the past as well.
Though it may be easy to stick to his routine while at home at his scenic California home, working out in the fresh air and creating nutritious meals in his kitchen, it's always a challenge to keep up healthy habits on the road when faced with temptations and a busy schedule. Goldman addressed his secret for healthy eating on the road in a recent post and it's simpler than you might think.
Goldman's secret for staying healthy on the road
Duff Goldman shared an Instagram post that showcased a baking sheet with a row of grilled chicken breast and zucchini, as well as a mason jar that contained some type of salad. In the caption, he discussed the challenge of sticking to healthy eating while traveling, something that he has to do "very often" because of his various projects and work commitments.
While willpower is definitely needed to walk past the incredible aromas coming out of various restaurants, the secret to the celebrity baker's success is simply meal prep. As he explained, he swears by Israeli salad because of how the lemon juice preserves the vegetables, as well as some grilled lean protein and vegetables. Goldman even shared his recipe for Israeli salad in case any fans following his health journey wanted to try it out themselves.
The meal prep solution is likely for shorter trips — the Charm City Cakes owner mentioned that the food keeps about 48 hours on the road. However, he seems to have thought through all the potential issues, even confirming that his meal-prepped items stay quite cool in his checked bag because of where it's stored on the plane.
The comments section of the post was filled with encouragement, with many fans writing messages like, "you can do it Duff!" and reminding him of his motivation: One person commented, "You're not eating healthy just for you; you're doing it for your beautiful family!"