Twitter Is In Shambles Over The 'Goth McDonald's'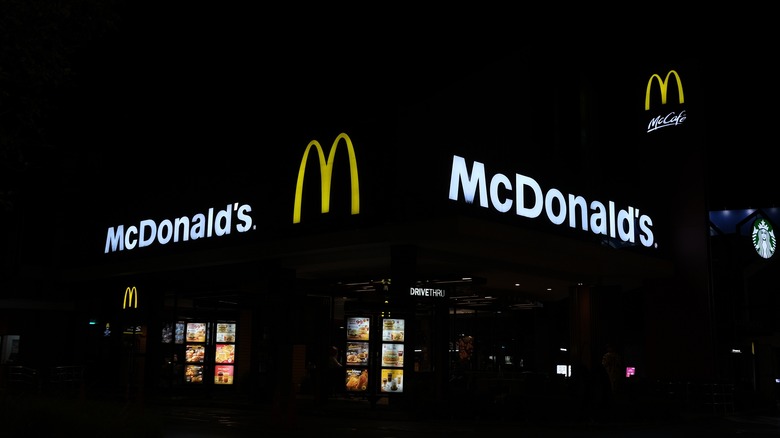 Weerachai chandang/Shutterstock
From political discourse to daily musings and out-of-pocket memes, Twitter is a melting pot of comedy, news, and total internet chaos. The social media platform has been celebrated for breeding the successful, albeit bizarre, comedians of "weird Twitter" (per Insider). It was even responsible for the entire plot of A24's recent film "Zola."
In and of itself, Twitter is a concentrated, unhinged reflection of society as we know it, but we still love it. With 330 million monthly active users, topics of discussion are endless.
Recently, a post-punk band from Los Angeles called Deceits took to Twitter to post an image of a far-fetched fast-food fantasy. In some kind of twisted marriage between dark fairytales and chicken McNuggets, the photo's main subject was a "goth McDonalds" — a towering, gothic church with brooding architecture and the familiar golden arches hovering above its haunted front door. The band posted the photo with the caption "Going to the goth McDonalds, y'all want anything?"
There is a real goth McDonald's in Monterey, California
Twitter users ran to the comment section of Deceits' post to give the band their orders en masse. One user wrote "yeah get me a flying McButtress and a diet Dr. spire" while another requested "McBat Nuggets." A third user demanded an unhappy meal. One user suggested that the band use the image for their next album cover, photoshopping a parental advisory warning onto the image.
While the ongoing thread was but a pipe dream, it turns out there's a real goth McDonald's in Monterey, California. Although it's lacking the uncanny atmosphere and bewitching architecture of the Twitter prototype, the Monterey McDonald's ditched the famous golden arches in exchange for a matte-black logo. According to Mirror, the goth McDonald's of Monterey also has an extravagant chandelier — a staple in gothic architecture. Unfortunately, they don't offer "combo meal number 9-inch nails" as one Twitter user requested.
Although it's only a dark, twisted fantasy, leave it to Twitter to go feral over goth McDonald's.