How To Take Your Key Lime Pie Base To The Next Level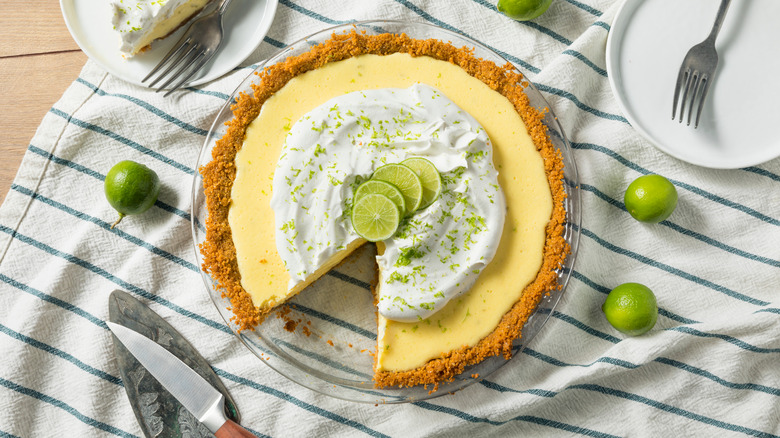 Brent Hofacker/Shutterstock
Key lime pie is truly an indulgence like no other. It's tart, it's sweet, it's creamy, it's fluffy. The legendary dessert's origin story has been up for debate for generations. According to Southern Living, one theory states that the pie was actually invented in New York City rather than Florida, where lots of people falsely assume most of the world's key limes are grown. Allegedly, in the early 1930s, a group of workers at the New York Condensed Milk Company replaced lemon juice with lime juice in its famous Magic Lemon Cream Pie. Another popular anecdote involves a woman simply known as Aunt Sally, who baked the first key lime pies in the Curry Mansion Inn in the 1890s.
Regardless of which narrative you believe, at least one thing is true: The tangy dessert is also surprisingly easy to whip up at home. The classic recipe for key lime pie calls for a handful of simple, affordable ingredients, including sweetened condensed milk, egg yolks, and key lime juice and zest. Some folks even swear by incorporating the unexpected ingredient of white chocolate into the mix for a more succulent bite. And then, of course, there's the crust. Here's a fun tip to make it even better.
Swap graham crackers for speculoos cookies to make a divine key lime pie crust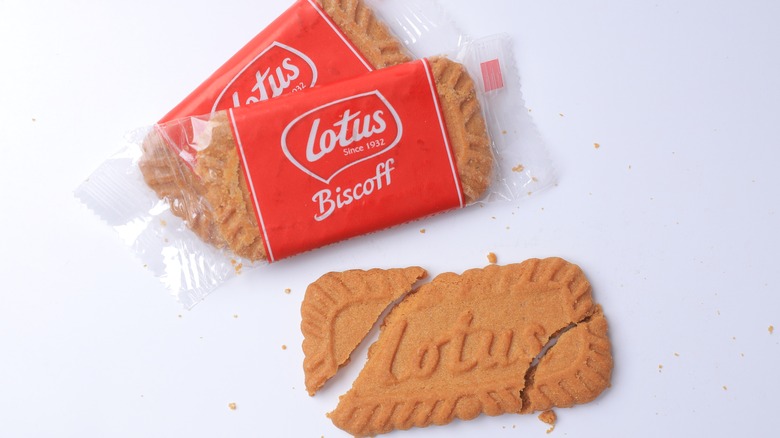 wisnupriyono/Shutterstock
Key lime pie is known not only for its citrusy, brightly colored filling but also for its flaky, cinnamony base. Together, they create a culinary sensation that hits all the right notes of sweet and sour. Traditionally consisting of a blend of sugar, butter, and graham cracker crumbs, the crust of key lime pie is a tasty treat all its own. However, if you're ever feeling a bit daring and want to switch things up without going too far off the flavor grid, substitute crushed-up speculoos cookies in place of the graham cracker crumbs. Speculoos cookies are crunchy, gingerbread-esque Belgian biscuits made with aromatic spices such as cinnamon, cardamom, clove, ginger, and nutmeg, producing a slightly richer, more luxurious palate than graham crackers. Multiple bakers on Reddit swear the swap is so good that they'll never go back to using plain graham.
Real Simple suggests using Lotus Biscoff brand cookies, which can be found in many supermarkets. If you've ever flown Delta Airlines, you've likely munched on these delightfully crispy cookies during your flight. Key lime pie will forever be a favorite, but even icons deserve a makeover every once in a while.