In Robert Irvine's Career, One Recipe Stands Above The Rest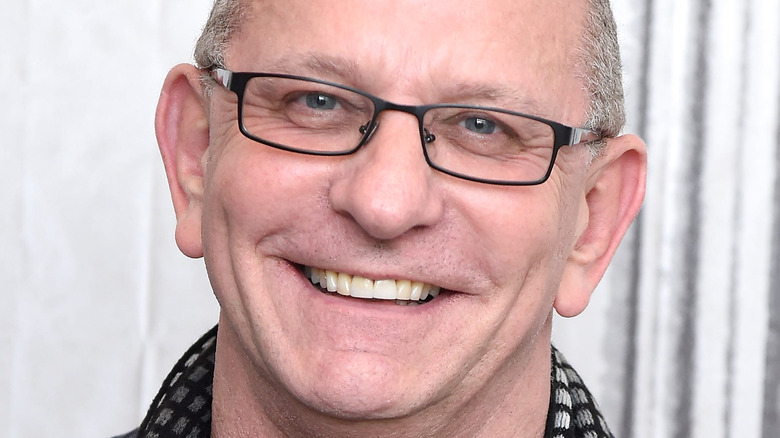 Gary Gershoff/Getty Images
The doer of the undoable, the savior of dinners and diners, the maker of Signature Sidekicks – chef Robert Irvine has many titles. Since his adrenaline-fueled "Dinner: Impossible" days, the Tom Cruise of the food world has been putting out culinary fires, saving restaurants, and everything in between.
In the process of rehabbing failing restaurants with tasteful decor and tastier menus in "Restaurant: Impossible," Irvine had us fastening our aprons as he cooked up delicious recipes. Judging from the responses on Facebook, fans love his pimento cheeseburger with mushroom gravy. His baked ziti recipe is an all-time favorite (Via Food Network).
Be it his wholesome breakfast of pepperoni and cheese scrambled eggs or the fall-perfect pumpkin lasagna, Irvine has got us all covered in the food department. But of all his mouth-watering creations, one recipe has stolen the limelight. And no, you don't need to be a celebrity chef with top-notch knife skills to nail it. 
Fans love Robert Irvine's French toast
So what is this recipe, you ask? It's French toast, as the Food Network highlighted on Twitter. With plenty of glowing reviews, Irvine's recipe for the beloved bready treat is the most highly rated among his thousand-plus recipes featured on the Food Network website. "I love love love this recipe. I use it every time I make French toast (which I make frequently) and every time it turns out amazing. I highly recommend," one user wrote. "Just made it and everyone is overstuffed, couldn't resist a second serving each lol," another fan chimed in.
In all its simple yet decadent glory, French toast is the ultimate breakfast food that you can have for lunch and dinner, too. Make it sweet, make it savory, but don't make any rules when it comes to this bready goodness. French toast isn't even French (it may have originated in ancient Rome). So, yeah.
Irvine's French toast is sweet and wholesome, and you can make it with a trusty skillet and nine staple ingredients including cinnamon, nutmeg, butter, sugar, eggs, milk, vanilla extract, and maple syrup. Challah or brioche for the bread due to their egginess, which makes the toast "custard-like on the inside." One notable difference between the classic French toast recipe and Irvine's is that he doesn't use salt. If you're looking for another celebrity take, you can try our recipe for Joanna Gaines' French Toast Crunch with A Nutella Twist.