Joanna Gaines' French Toast Crunch With A Nutella Twist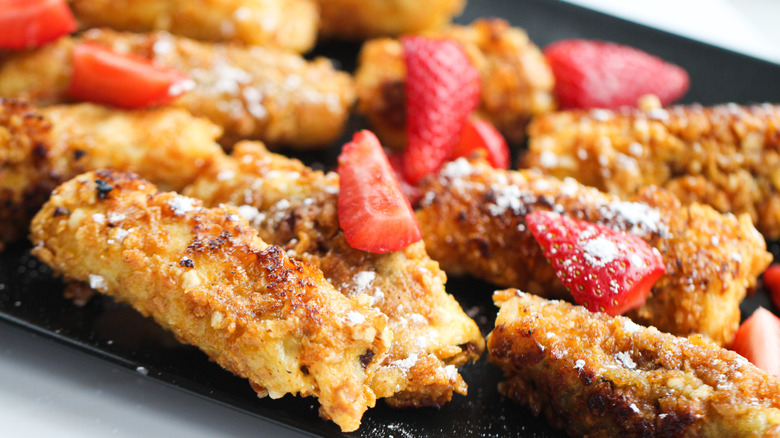 Susan Olayinka/ Mashed
Joanna Gaines started off on the home remodeling show "Fixer Upper," and the brand has quickly spiraled into several other departments, including cooking. Gaines is now also known for whipping up some of the tastiest dishes, proving that there is literally nothing that she cannot do. While Gaines' recipe for French toast is incredible by itself, it's even better with a twist. Recipe developer Susan Olayinka of The Flexible Fridge is the mastermind behind this creation. The recipe has quite a few steps, but trust us when we tell you that the end result will be totally worth it. 
Olayinka added Nutella to the French toast for her twist because let's be honest: Who doesn't love French toast and who doesn't love Nutella? The two together are a match made in heaven! The creator also opted to roll the toast to serve, making a delicious and fun breakfast treat that will knock your socks off. Keep scrolling to find out how to make this delightful dish that will please you and your guests while making it seem like you're a veteran chef! 
Gather the ingredients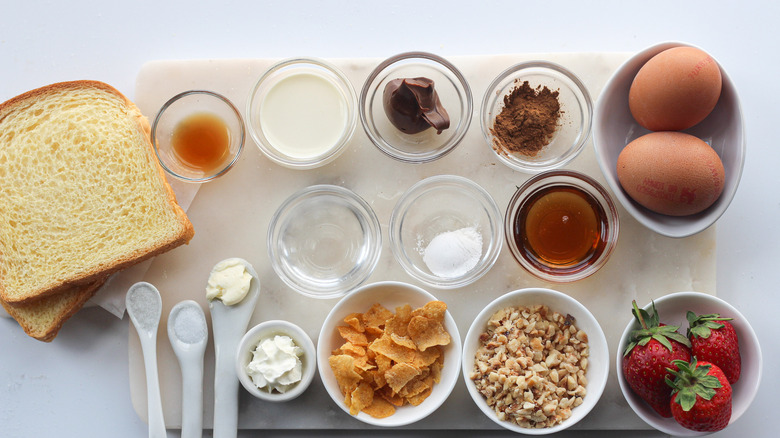 Susan Olayinka/ Mashed
First, you will want to gather everything that you need to throw this breakfast dish together. It calls for 16 ingredients, and hopefully, you will have a lot of them on hand already. You'll want to get brioche bread, cornflakes, butter, and sugar. The recipe also calls for some cream of tartar, water, heavy cream, and salt. In addition, you will need a few eggs, vanilla extract, Nutella, and chopped hazelnuts. To round out the list, get some maple syrup, strawberries, whipped cream, and finally, powdered sugar.
Preheat and Prep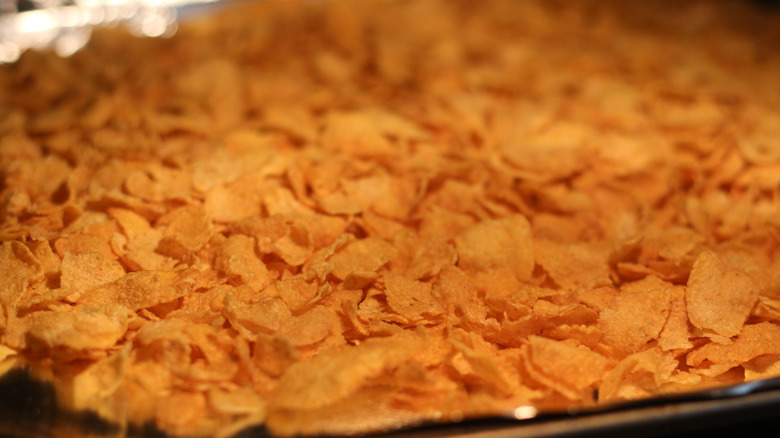 Susan Olayinka/ Mashed
To start the recipe, preheat your oven to 375 degrees Fahrenheit. Once that's done, get out a baking tray and spread the cornflakes onto it. Set your timer for eight minutes, and then take out the cornflakes — the edges of the cereal will turn brown when they're done. Now, set the cornflakes aside to cool and move onto the next step. If you must, feel free to sample a few bites — it's very tempting. Who knew oven-baked cereal was so good?
Make the caramel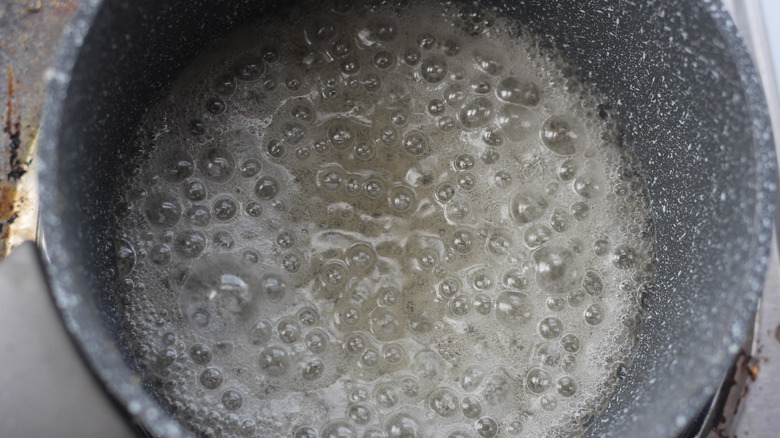 Susan Olayinka/ Mashed
If you've never made your own caramel, it's surprisingly simple. Recipe creator Susan Olayinka says that homemade is a better option than store-bought. "The homemade caramel hardens sticking the cornflakes," Olayinka dishes. "I feel that store-bought caramel would harden but would just remain sticky which wouldn't work unfortunately." So, homemade is the way to go.
Get out a medium pan, sugar, and water. Turn on the stove and combine your ingredients in the pan and stir until it's all incorporated. Once everything is mixed together, turn the heat to low and watch it for four to five minutes. Do not stir at this time. When the mixture is done, it should be a translucent brown color.
Continue the caramel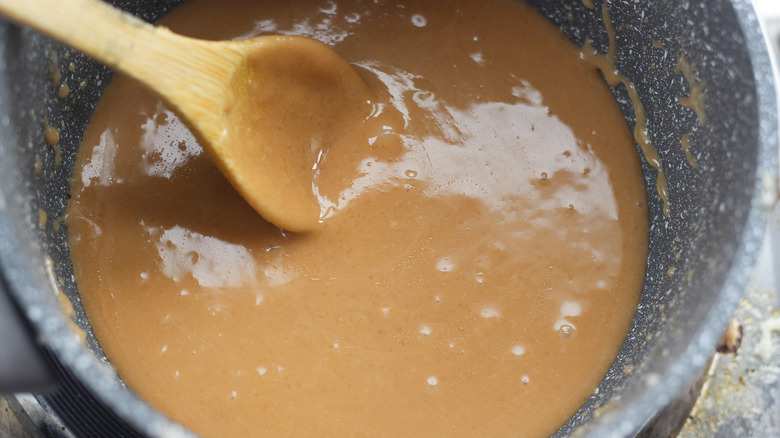 Susan Olayinka/ Mashed
Now that the mixture is a beautiful light brown color, take it off of the heat. Stir in two tablespoons of butter and mix it for 30 seconds. When the 30 seconds is up, add an eighth-cup of heavy cream, the cream of tartar, and the salt. Stir for another 60 seconds on medium heat. Now, the mix should have a thicker texture and look even more like caramel. If it's helpful, you can use the photo above as a guide 
Cornflakes and carmel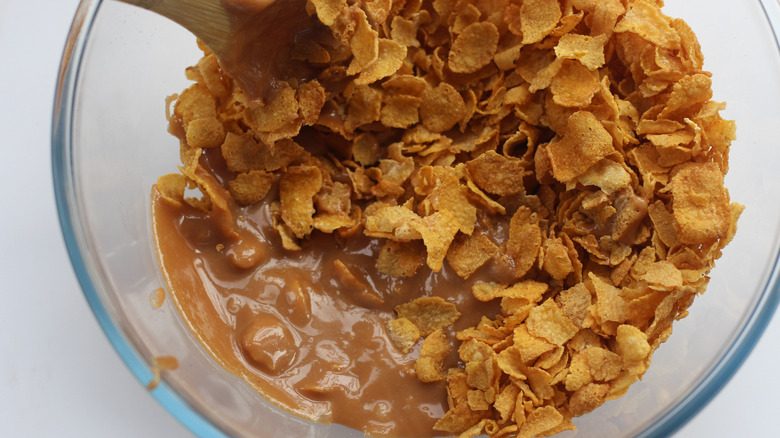 Susan Olayinka/ Mashed
Grab your toasted cornflakes and a big mixing bowl. Gently pour the caramel sauce into the bowl and on top of your cornflakes. It will be easier to stir if you evenly distribute it as best as you can. Now stir gently, trying not to break apart the cereal. Continue stirring until all of the cornflakes are coated with caramel. Set it aside and let it cool for about 30 minutes, until the caramel starts to harden a bit. 
Continue the prep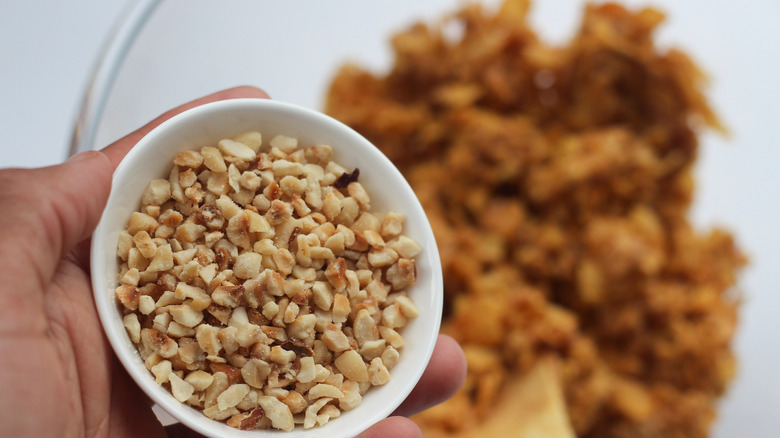 Susan Olayinka/ Mashed
When the 30 minutes are up, and the caramel and cornflakes are cooled, you're ready for the next step. Add the hazelnuts to the bowl. Then, get a rolling pin or a pestle and gently crush the mixture into smaller cornflakes. You don't want these as small as a fine powder, but you do want the pieces a little smaller than whole Cornflakes. This is the fun part where you can sneak in another bite as a taste-test. 
Get another mixing bowl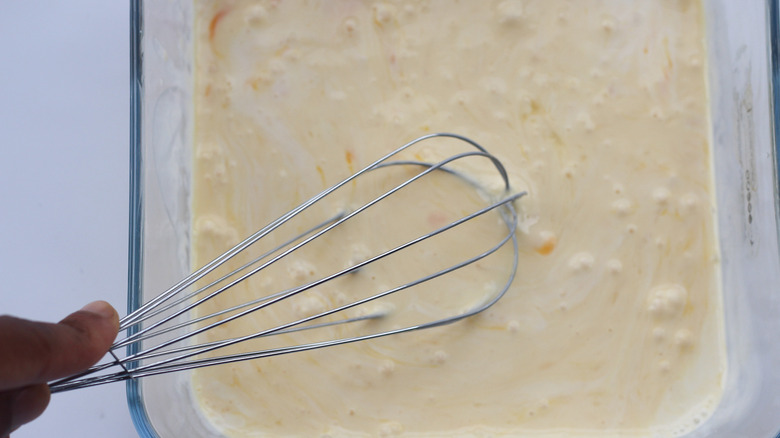 Susan Olayinka/ Mashed
Get out another mixing bowl for this step. Place the eggs, half a cup of heavy cream, and the vanilla extract in it. Now, give it a few good whisks until everything is well incorporated. The mix should be similar to what the photo looks like. A whisk is the best tool to use because it really helps get the egg mixture even. Set it aside and get out a chopping board because you will need this for the next step.
Prep the bread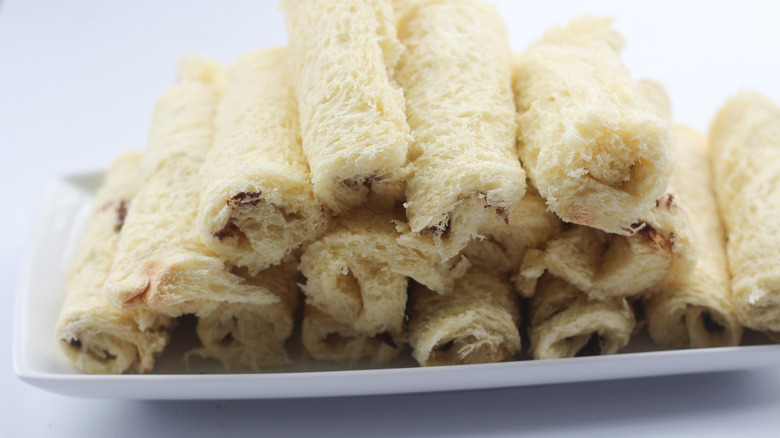 Susan Olayinka/ Mashed
Get out your loaf of brioche bread and trim off the crust. Flatten it carefully with a rolling pin and then spread the Nutella in an even layer on each slice. You will want to do this for all of the remaining slices of bread and roll them. Now, dip each piece of bread into the egg mixture and then allow the excess to drain off. Next, dip it into the caramel hazelnut crunch, making sure to coat every part. Do this for all the remaining bread.
Cook the bread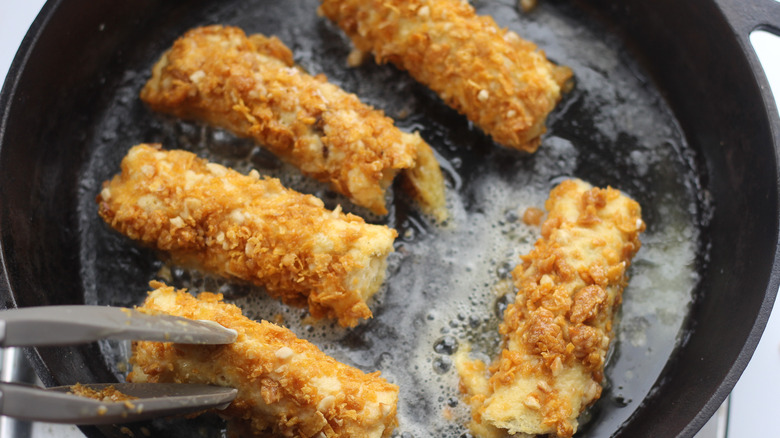 Susan Olayinka/ Mashed
Once every piece of bread is dipped and ready to go, put on a cast-iron skillet over medium-high heat. Place two tablespoons of butter in the skillet, and when it's melted, the bread is ready to go in. Try and fit as many pieces as you can in the skillet without overcrowding. Leave it on for about two to three minutes per side and repeat for all the remaining pieces. The aroma should be filling your home and making your mouth water. 
Enjoy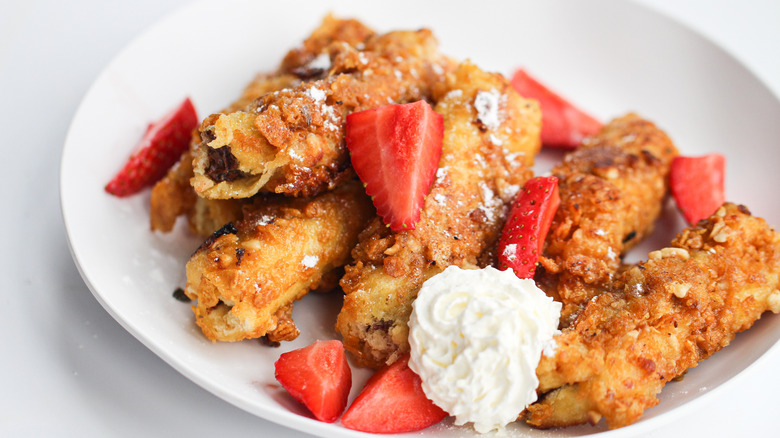 Susan Olayinka/ Mashed
Now, it's time to dig in! Place the toast on a serving dish for you and any lucky guests who you have over. You can add powdered sugar, maple syrup, sliced strawberries, and whipped cream if you're big into toppings. The French toast won't keep well as leftovers so be sure to eat as much as you can so nothing goes to waste (though we hardly doubt it would). This dish is best if eaten immediately, so dig in! 
Joanna Gaines' French Toast Crunch With A Nutella Twist
Joanna Gaines' French toast crunch and Nutella are a match made in breakfast heaven. This hearty and delicious treat will be your new brunch or dessert go-to.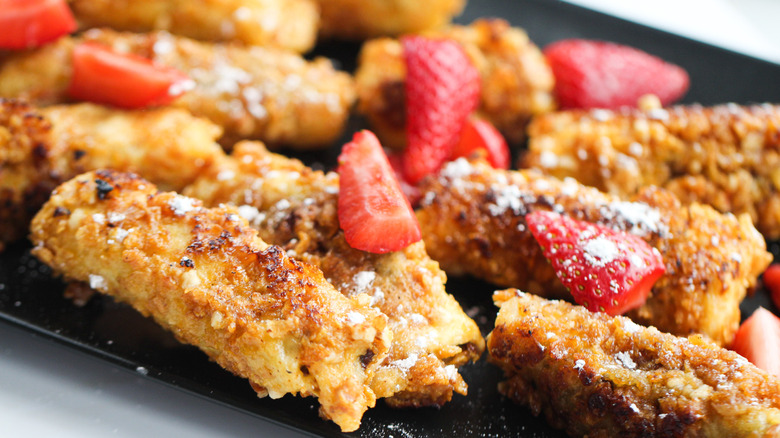 Ingredients
15 brioche bread slices
2½ cups cornflakes
4 tablespoons butter
½ cup sugar
⅛ teaspoon cream of tartar
5 tablespoons water
0.625 cups heavy cream
⅛ teaspoon of salt
4 large eggs
1 teaspoon vanilla extract
¼ cup Nutella
2 tablespoons hazelnuts
4 tablespoon maple syrup
½ cup sliced strawberries
Optional Ingredients
1 squirt of spray whipped cream
1 tablespoons of powered sugar
Directions
Preheat oven to 375 degrees Fahrenheit.
Spread the cornflakes onto a baking tray and bake for 8 minutes, or until the edges have lightly browned.
After 8 minutes, set aside to cool.
To make the caramel, pour sugar and water in a medium pan. Gently stir the sugar mixture until incorporated.
Put the pan on low heat and do not stir the caramel for 4-5 minutes. The mixture should become a translucent light brown color.
Take the mixture off the heat when it turns light brown.
Stir in 2 tablespoons butter and gently mix for 30 seconds.
After 30 seconds, add ⅛ cup of heavy cream and salt. Stir for a further 60 seconds on medium heat. The caramel should have formed, changing to a thicker texture.
Put the toasted cornflakes into a mixing bowl then gently pour the caramel sauce into the bowl.
Gently stir until cornflakes are coated. Allow this to cool for about 30 minutes.
After 30 minutes, add the hazelnuts and get the end of a rolling pin or a pestle and gently crush the mixture into smaller cornflakes (you don't want a fine powder).
Get another mixing bowl and drop in eggs, 0.5 cup heavy cream, and vanilla extract. Whisk until well incorporated.
Get a chopping board. Place the brioche slices on it, trim off the crusts.
Roll each bread slice out carefully with a rolling pin and spread on an evenly thin layer of Nutella. Do this for the remaining brioche slices.
Roll bread slices.
Dip each brioche roll into the egg mixture, allowing it to drain, then dip it into the caramel-hazelnut crunch, making sure to coat every part.
Put a cast iron skillet on medium heat and melt 2 tablespoons of butter.
Once the butter is melted, place brioche rolls in the skillet (avoid overcrowding).
Cook for 2 to 3 minutes on each side.
Repeat until all the brioche rolls are cooked.
Place on a serving dish and top with optional powdered sugar, maple syrup, sliced strawberries, and spray whipped cream. Serve immediately.
Nutrition
| | |
| --- | --- |
| Calories per Serving | 1,434 |
| Total Fat | 62.5 g |
| Saturated Fat | 33.7 g |
| Trans Fat | 0.6 g |
| Cholesterol | 458.6 mg |
| | |
| --- | --- |
| Total Carbohydrates | 186.8 g |
| Dietary Fiber | 7.7 g |
| Total Sugars | 71.9 g |
| Sodium | 1,157.7 mg |
| Protein | 32.5 g |