Kellogg's Boozy Eggo Nog Is Here Just In Time For The Holidays
After their addition to the Kellogg's product line in the 1970s, Eggo waffles quickly became a mainstay in each family's kitchen. It wasn't long until the product was named the bestselling frozen waffle in the United States, reaching $133 million in sales as of last year (per Statista). Wherever the brand goes, nostalgia follows — you probably remember hearing "L'eggo My Eggo" every time you saw an ad on TV (per YouTube), but likely not what Eggos were originally called.
When Season 2 of "Stranger Things" hit Netflix in 2017, Kellogg saw a 14% increase in waffle sales (per Business Insider). The growth can be attributed to the show's character, Eleven, who was obsessed with the famous breakfast food (which makes even more sense when you consider the '80s timeline in the series). Though the brand is most known for its frozen waffles, it's worth noting its expansion to include pancakes, French toast, Eggo cereal, and pancake bites (per its website). So far, all of Eggo's products have been centered around breakfast food — a fact that's going to change this holiday season.
A new way for adults to l'eggo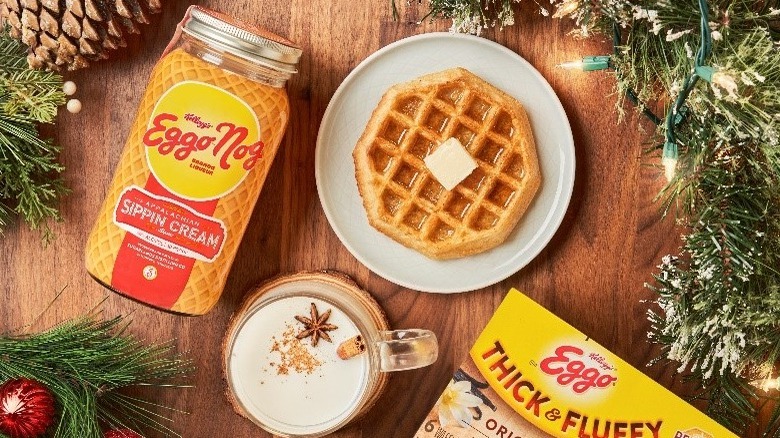 Eggo
Eggo isn't only a product for children. At a Mashed-attended press event, Eggo introduced Eggo Nog, a rum-based sipping liqueur with hints of nutmeg and cinnamon. In order to create the product, Eggo paired up with Sugarlands Distilling Company in Gatlinburg, Tennessee. "We created Eggo Nog to give parents a delicious way to indulge in some well-deserved 'evening me time,'" Eggo's marketing director Joe Beauprez said in a press release. He also noted that the taste of Eggo Nog pairs well with a traditional Eggo waffle.
Opened in 2014, Sugarlands Distilling Company was named the second best craft specialty spirit distillery by USA Today and took gold for best whiskey at the 2021 American Craft Spirits Awards (per Tennessee Smokies Guide). According to a press release, visiting the distillery is listed as the best thing to do in Gatlinburg by TripAdvisor and it sees upward of one million tourists per year. "Our team at the distillery worked hard to ensure hints of cinnamon and nutmeg came through in the flavors, making every sip reminiscent of a perfectly toasted Eggo waffle," Sugarlands master distiller Greg Eidam said.
The delicious eggnog liqueur will be available at select retailers throughout the holiday season. To find a retailer near you, you can visit Sugarlands.com/EggoNog.