Here's What Happened To Delighted By Hummus After Shark Tank
While dessert hummus seems like standard fare at grocery stores now, that wasn't always the case. In 2017, Makenzie Marzluff appeared on Season 9, Episode 4 of "Shark Tank" and put sweet hummus on the map with her company Delighted By. She came up with the idea for a dessert hummus before attending a Super Bowl party — amongst all of the delicious dips, she wanted a sweet, guilt-free option on the table. Because of her background in culinary arts and nutrition, it occurred to her that she could make hummus with chickpeas and swap out the savory elements for sweet ones. The dip was a success, and Marzluff said guests were convinced the dessert hummus was actually cookie dough. This was the basis for her company Delighted By. 
To get her product on grocery shelves, Marzluff shared that she had road-tripped to 88 Wegmans grocery stores to get her product in stores, adding that she was "literally sleeping on coolers of hummus." At the time of filming, about 13 months after the company had launched, Delighted By dessert hummus was available in 1,200 stores. After investing approximately $20,000 of her own money and crowd-sourcing an additional $400,000 from friends and family, Delighted By had already hit $1 million in gross sales. Marzuff said her vision for four years in the future is when someone offers you hummus, your natural response will be to ask if it's savory or sweet as a result of Delighted By's success.
What happened to Delighted By on Shark Tank?
Marzluff came on "Shark Tank" asking for a $600,000 investment for a 12% stake in the company. As you'd expect, she offered each Shark a sample tray of her dessert hummus. Marzluff explained that dessert hummus has the same amount of chickpeas as regular hummus but with all of the flavor of a regular dessert. She offered the Sharks mint chocolate chip, vanilla bean, chocolate chip, snickerdoodle, and brownie batter flavors. Each cast member loved it, including guest star Alex Rodriguez. Mark Cuban exclaimed, "Oh my goodness. This s@#$ is good," and Kevin O'Leary commented, "I have to admit that it's damn good."
But they weren't quick to invest. Rodriguez was the first to drop out, strictly from a money perspective. Barbara Corcoran also dropped out, citing a gut feeling that Marzluff would be unable to build a successful team with her investment. Lori Greiner followed suit. O'Leary countered Marzluff's pitch, saying he'd lend her the $600,000 with an 11% interest rate. Mark Cuban expressed concern that Delighted By was being positioned as a direct hummus competitor, presumably because it was actually in a dessert space, but remained interested. He offered Marzluff $600,000 for a 25% stake in the company. He also suggested that they open up a retail space where people could try the product, similar to an ice cream parlor. With two options before her, Marzluff ultimately opted for Cuban's deal. 
Delighted By after Shark Tank
Rimma Bondarenko/Shutterstock
Marzluff expressed a desire to use Cuban's investment to build out a company team including a VP of sales to assist with operations, distribution, and logistics. But sometimes securing a deal on an episode of "Shark Tank" does not always mean it will go through. Unfortunately, that was the case for Delighted By. There doesn't seem to be any public knowledge of why the deal failed to close, and although Cuban's investment ultimately didn't take, that wasn't the end of Delighted By. 
According to its Facebook page, the company officially known as Delighted By: The Original Dessert Hummus expanded its flavor range and released key lime and red velvet dessert hummus. Additionally, the company also offered a seasonal, limited-edition pumpkin pie flavor. But as of 2020, Delighted By apparently ceased all social media posts, and the company's website has been shut down. While there's no public statement indicating Delighted By's closure and the founder Marzluff still lists herself as the CEO on LinkedIn, it appears this company has ended operations, and its product is no longer available.
Why did Delighted By go out of business?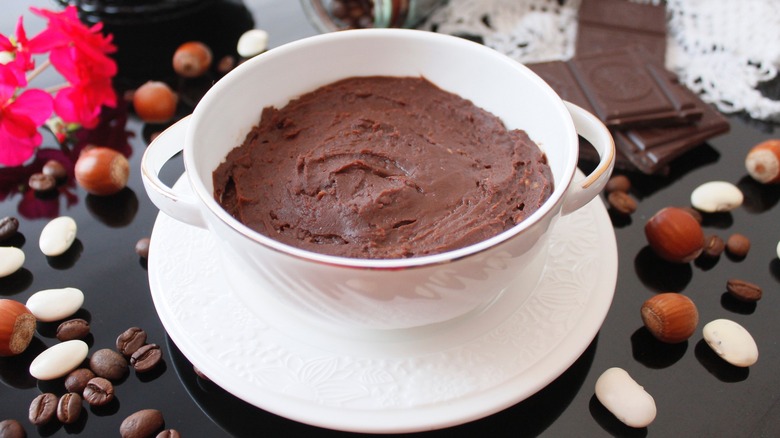 laran2/Shutterstock
As there has been no public release of information to indicate why or when Delighted By shut down, we can only guess at the reasons. Marzluff claimed that Delighted By dessert hummus was the first of its kind, and that she was told over and over again that her product was the only innovative offering in the hummus world. But top brands were not far behind. In anticipation of Valentine's Day 2020, the hummus giant Sabra announced it would be releasing a dark chocolate dessert dip and spread. Though it wasn't deemed a hummus, this spread was chickpea-based, vegan, and gluten-free, just like Delighted By. Trader Joe's, Aldi, and Target (one of the original carriers of Delighted By) followed suit, each releasing its own dessert hummus. One reason for Delighted By's demise may very well be that the market became too competitive, and it struggled to compete against many big names. 
Another possible reason annihilated many businesses in 2020: the Covid-19 pandemic. The pandemic caused mass disruption to supply chains, labor, and distribution across nearly all industries. If not for these unprecedented interruptions, for all we know, Delighted By could have continued on. 
What's next for Delighted By's founders?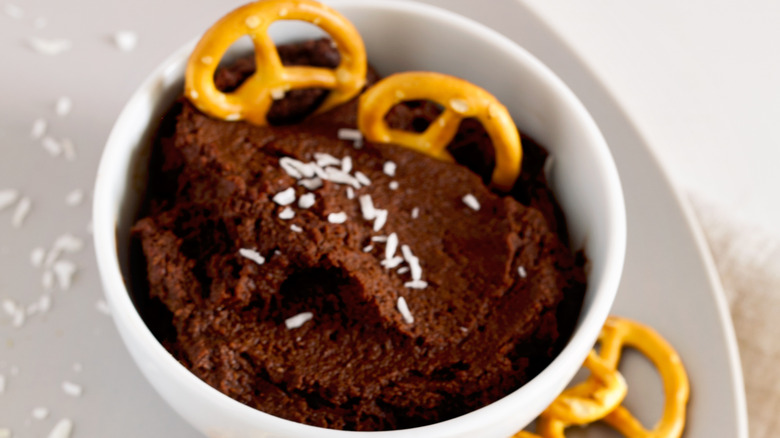 Daria Arnautova/Shutterstock
Marzluff's culinary entrepreneurial pursuits didn't end with Delighted By. According to her LinkedIn, she co-founded two other nutrition-centered snack companies: Request Bar in 2021, and Kakao Ceremonial Drinking Chocolate in 2017 in Bozeman, Montana. Having previously worked as a certified nutritionist, and given her great, albeit short-lived success with Delighted By, it's no surprise that she continues to work in this industry. 
Marzluff founded Kakao Ceremonial Drinking Chocolate alongside Michael McPherson. The company states that it is a 501 non-profit and its mission is "to bring whole bean, heirloom ethically sourced cacao to the western world for healing, inspiration, health and connection." The company currently offers pure cacao powder and a signature blend that mixes cacao, panela, chile, and vanilla beans. Request Bar specializes in organic, gluten-free protein bars in several flavors: chocolate chip cookie dough, peanut butter fudge, and cinnamon twist. Although Request Bar is still based in Bozeman, ownership has been passed down from Marzluff and the original owners to Devan Hammond.