A Fan Favorite Aldi Coffee Has Shoppers Excited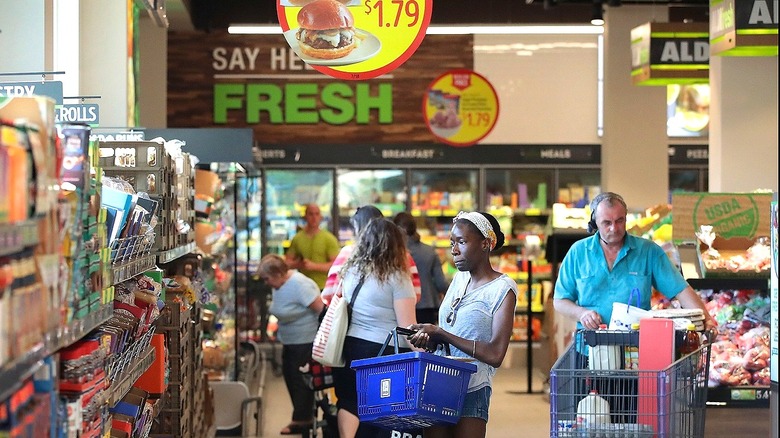 Scott Olson/Getty Images
Grocery store prices are sitting a little too high for Americans on a budget, forcing some to forgo non-essentials like special snacks and seasonal products (via Insider). Yet, Aldi is making moves to ensure customers are able to celebrate new seasons with all the fun, cold and hot weather food favorites without breaking the bank. More and more people are trying to save money by taking advantage of Aldi's in-house prices. According to Reuters, in addition to welcoming one million new customers this year alone, the affordable grocer has also seen a surmountable increase in sales.
The shift from summer to autumn means the resurgence of slow-cooked soups, pumpkin pie, and an extra cup of coffee (or two). Most Americans enjoy grabbing a hot drink on the go, but the rise in coffee prices has left some sticking strictly to the home brew method.
Aside from debuting many seasonal products over the last month, which you'll find on the Aldi website, fans of the supermarket are wasting no time showcasing their recent fall-friendly food hauls. One TikTokker garnered over 72,000 views with a fall favorites reel and one user on Instagram debuted their money-saving finds which included a price breakdown for all seasonal products purchased. If you've had coffee on the brain, but can't quite justify Starbucks prices, one Instagrammer just leaked the release of an Aldi favorite that goes hand in hand with cooler temps.
The favorite Latte & Frappe mix boasts more caffeine
According to Fast Food Menu Prices, a grande mocha Frappuccino from Starbucks will cost you $4.45 before tax, yet Aldi is bringing back its classic latte mixes and a TikTok user claims one box of the cold variety (which contains 3 mixes) will only cost you $4.99. Commenters reacted with the likes of "Love them" and "Omgee those are so good."
Last week, the popular @adventuresinaldi account on Instagram posted the latest version of the popular Frozen Bean brand mixes and the old recipe has returned with a new twist. The new version, which can be made hot or cold has less sugar and higher amounts of caffeine.
When releasing the news of the new product on Instagram a few weeks ago, the Frozen Bean Instagram page claimed the new version has "2x the caffeine" than the other varieties offered by the brand. If you go to the Frozen Bean website, you can see the numerous frappe and latte mixes available ranging from the new mocha mix, which can be made hot or iced, to the zany flavors of frappe-only mixes like cotton candy and bubble gum.
According to the Instagram post by @adventuresinaldi, hazelnut, mocha, and vanilla bean are the newest offerings, and she gives the new line a thumbs up, with a special nod to the vanilla bean flavor. One user replies "I could go for any of them!"