We Tried Krispy Kreme's Spook-Tacular Doughnuts. Here's How It Went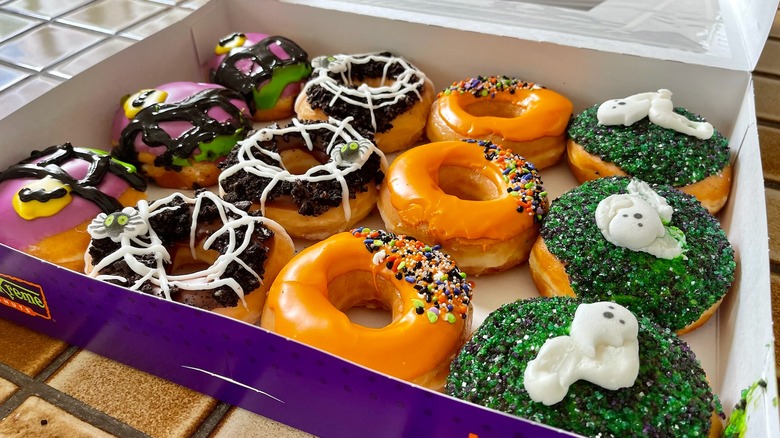 Molly Delmore/Mashed
Krispy Kreme rolled out another round of seasonal specials this week, transforming stores around the country into "Krispy Skremes" with the launch of the all-new Haunted House Collection. After trying recent releases like the Krispy Kreme Pumpkin Spice Doughnuts and Autumn's Orchard Collection, we knew we had to try the Haunted House Collection too.
Dare we suggest fall might be Krispy Kreme's favorite time of year? Starting on October 10th, Krispy Kreme fans can try the all-new spooky family of Halloween-inspired doughnuts, including the Spooky Spider Doughnut, Scaredy Cat Doughnut, Boo Batter Doughnut, and Neon Orange Sprinkle Doughnut.
What sets this collection apart from other seasonal specials is the boo-tiful haunted house-inspired custom dozen box the doughnuts come in. We grabbed a box of these spooky doughnuts to provide a proper review before you race to your local Krispy Kreme. We tried Krispy Kreme's Haunted House Collection. Here's how it went.
What's offered in the Haunted House Collection?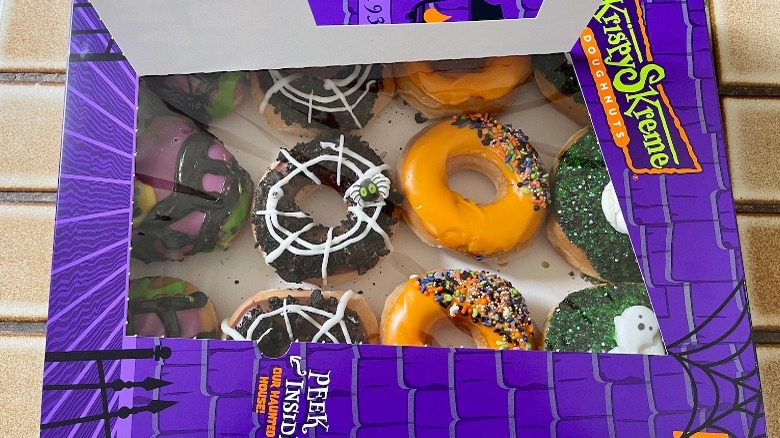 Molly Delmore/Mashed
All of the doughnut flavors in the Haunted House collection are covered with enough decorations that you could use them as Halloween ornaments in your house. The Spooky Spider Doughnut is an original glazed doughnut dipped in chocolate icing and topped with chocolate cookie pieces, an icing spider web, and a spider sugar piece. The Boo Batter doughnut is filled with yummy cake batter and topped with neon green icing, spooky sugar sprinkles, buttercream, and a ghost sugar piece.
The Scaredy Cat doughnut is nothing to be afraid of; enjoy a delicious doughnut filled with the signature Krispy Kreme cream filling, dipped in purple icing, decorated with green frosting and chocolate icing, and topped with a chocolate cat piece. And finally, neon orange makes a scene in this dozen. The neon orange sprinkle doughnut takes the original glazed doughnut and adds neon orange icing topped with a Halloween sprinkle blend.
How much does each doughnut cost?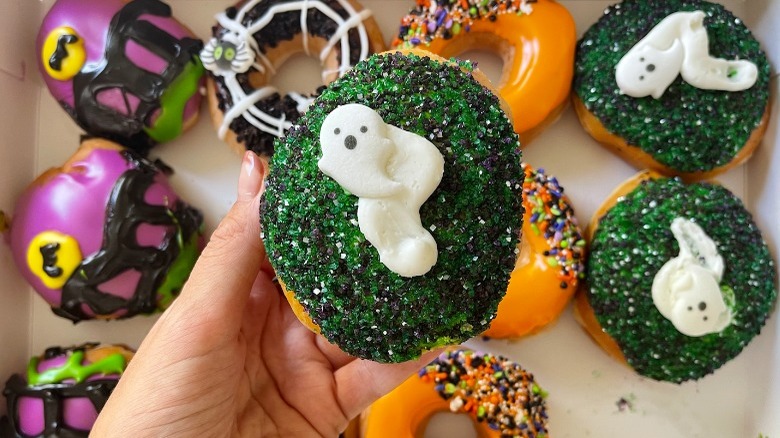 Molly Delmore/Mashed
The Krispy Skreme Haunted House Dozen contains three Spooky Spiders, three Boo Batters, three Scaredy Cats, and three Neon Orange Sprinkle doughnuts. Although it's a seasonal special, it costs the same as a classic assorted dozen. To add some context to this pricing, we are ordering these doughnuts from Southern California, so there is a good chance they were more expensive than they would be at the Krispy Kreme near you.
At the Krispy Kreme in our neighborhood, a classic assorted dozen costs $16.99. You can also order sixteen of the various Halloween minis for the same price. If you're only looking to try one or two doughnuts instead of the whole dozen, you can buy one a la carte for $1.99 or $2.19, depending on the specific doughnut. Compared to most specialty desserts these days, we find the Krispy Kreme Halloween prices extraordinarily affordable and worth the price.
How long and where will it be available?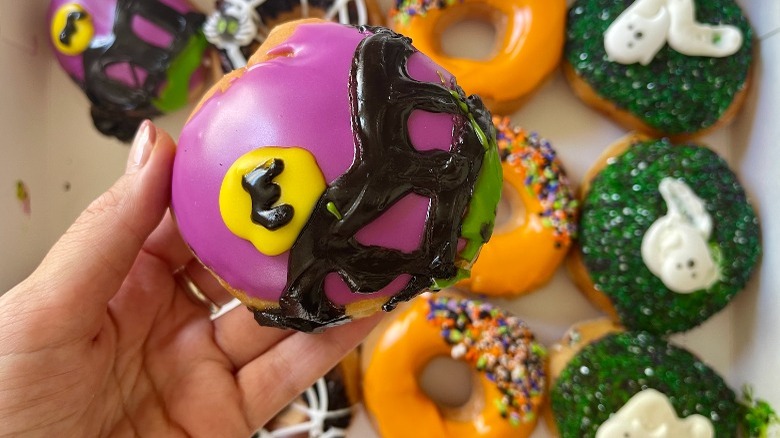 Molly Delmore/Mashed
After seeing the launch of Pumpkin Spice doughnuts in August, we love that this collection is more calendar appropriate. We wish it came out at the beginning of October for a month of spooktacular flavors, but we'll make the most out of the 3 weeks we have with them. This promotion runs from now until Halloween, the perfect timing for this themed doughnut launch. To continue the theme, we appreciate the haunted house-themed box that the doughnuts come in.
One concerned Instagram follower noted the decorations on each doughnut could vary, so depending on your store, you might not get doughnuts that look quite as spook-tacular as the ones showcased in the photos in this article. We hope the decorations live up to the hype because we especially love the appearance of this collection. The flavors of these doughnuts aren't the real selling point — it's all about the aesthetics.
What's the nutrition information for each doughnut?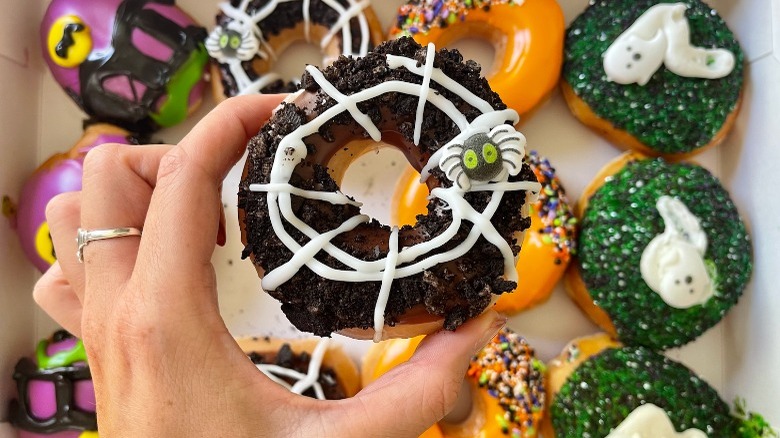 Molly Delmore/Mashed
It's evident that Krispy Kreme is not a salad place or juice bar, but you can get away with incorporating these doughnuts into a balanced diet (at least if you only eat one). Let's dive into the numbers.
The Spooky Spider Doughnut contains 290 calories, 42 grams of carbohydrates, 27 grams of sugar, and 3 grams of protein. It's surprising to see any protein in this round sugary treat. Next, the Boo Batter Doughnut comes in hot with higher numbers in most categories. This doughnut contains 430 calories, 60 total carbohydrates, 41 grams of sugar, and 4 grams of protein. This one might set you back in your fitness goals but makes a delicious splittable treat if you want to try one with a friend.
The Neon Orange Sprinkle Doughnut surprised us with lower numbers than the previous two. This doughnut contains 250 calories, 36 grams of total carbohydrates, 3 grams of protein, and 23 grams of sugar. The Scaredy Bat Doughnut's nutritional information is not on the website, but we can assume it to be similar to the Chocolate Iced Doughnut with Kreme. This doughnut contains 350 calories, 41 grams of total carbohydrates, 23 grams of sugar, and 4 grams of protein.
How does this collection compare to other Krispy Kreme doughnuts?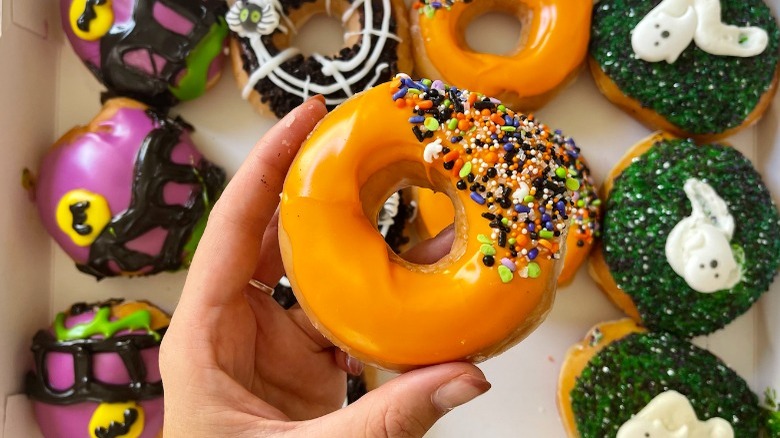 Molly Delmore/Mashed
How does one compare Krispy Kreme's delicious doughnuts to each other? Each collection provides flavors that top the one prior. We've yet to try one we don't like, but let's compare this collection to the Autumn's Orchard Collection launch from a few weeks ago.
These spook-tacular doughnuts got us more in the spirit for Halloween than the Autumn's Orchard Collection did for fall. The Haunted House boxes sent us back to our childhood, running through haunted mazes and trails. We're already itching to get dressed up in costumes to celebrate this fun holiday.
In this collection, we love the decorations on top. While we enjoyed the flavors of Autumn's Orchard, the designs and attention to detail made the Haunted House collection pop. The Boo Batter and Scaredy Cat Doughnuts taste great but also look and fit the season's theme. If health were not a factor, we would dive into The Boo Batter doughnuts all season long.
The verdict: it's definitely worth a taste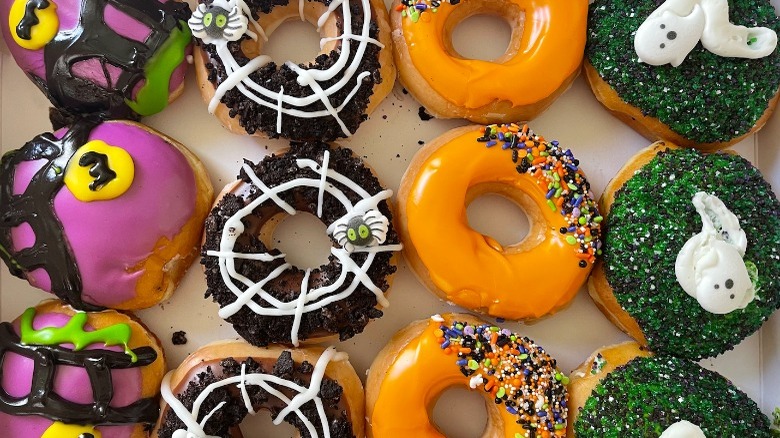 Molly Delmore/Mashed
Did Krispy Kreme's Haunted House collection pass our taste test? Without a doubt, yes. We've already shared our love for the seasonal designs, and the flavors did not disappoint either. Krispy Kreme knows its way around the bakery. As serious self-proclaimed chocoholics, we selected the Spooky Spider Doughnut as our favorite of the dozen. This delicious glazed doughnut dipped in chocolate, hits the spot with the added chocolate cookie pieces. Although this came in number one, when the sugar craving strikes, we know any of the Haunted House collection doughnuts would hit the spot. For a more traditional take, the Neon Orange Sprinkle Doughnut offers a simpler yet Halloween-themed flavor. 
No matter your vibe, you will undoubtedly gravitate to one or more of Krispy Kreme's four new spooky doughnuts. Run to your nearest Krispy Kreme location before Halloween.The verdict is that Krispy Kreme's Haunted House Collection doughnuts are definitely worth a taste.