Dominique Crenn's Favorite Thing About Being An Iron Chef - Exclusive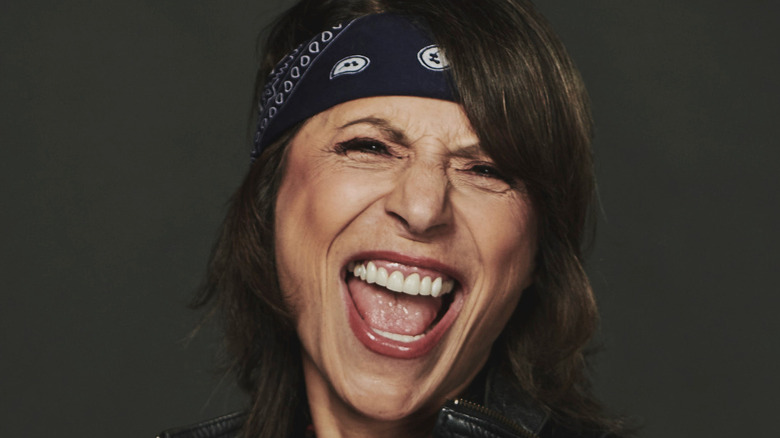 Hard Rock
Dominique Crenn is a chef with no shortage of accolades. She earned the title of Chef of the Year from Esquire in 2008 (via TEDx). Just a year later, her work as the chef de cuisine of San Francisco's Luce earned Crenn her first Michelin star. Per Fine Dining Lovers, that was a preview of the glory to come — her own restaurant, Atelier Crenn, was awarded two stars by the Michelin Guide. She was the first female chef in America to earn this honor, and only one of a handful of female chefs in the world to do so. Now, Atelier Crenn has been upgraded to three stars by Michelin, and another of her restaurants, Bar Crenn, has one star.
Crenn's trophy case may well be full, but until relatively recently, one title still eluded her: Iron Chef. She beat Michael Symon in "Battle Yogurt" as a challenger on "Iron Chef America," but she didn't join the ranks of Iron Chefs until the debut of "Iron Chef: Quest for an Iron Legend" in June 2022 (via Paste). In an exclusive interview with Mashed, Crenn told us her favorite part of being an Iron Chef, and surprisingly, it wasn't her victory in "Battle Milk."
For Crenn, it's all about community
Although the premise of all the iterations of "Iron Chef" is that it's an over-the-top competition between a challenger and one of the Iron Chefs, Dominique Crenn wasn't very invested in the culinary combat. "The greatest memory of doing that show is the camaraderie between all those chefs, and even with the challengers ... it was not about competition, it was about bringing people together," she said.
It's not that she wanted to lose — rather, she enjoyed being surrounded by a bunch of talented chefs from different backgrounds. For Crenn, "Iron Chef" was a beautiful showcase for the diversity of the culinary sphere: "The food world is so complex, but it's about the world. It's about globality, it's about inclusivity, it's about storytelling, it's about differences. That's beautiful."
On top of that, it just sounds like the "Iron Chef" set was a fun place to be. You might not think that based on how intense the battles look on TV, but according to Crenn, "We had an amazing time."
Hard Rock is kicking off this year's PINKTOBER with a special partnership and highly-anticipated dinner series with world-renowned chef and breast cancer survivor Dominique Crenn. Hard Rock will also offer PINKTOBER limited-edition menu items, specially designed merchandise, a songwriting contest, and more.