Why Chipotle Employees Never Want Breakfast Burritos On The Menu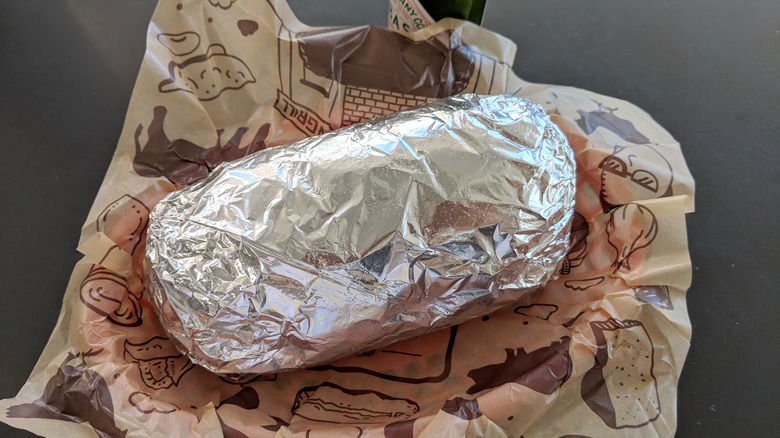 Eric Broder Van Dyke/Shutterstock
Spanning nearly three decades, Chipotle has been serving customers fresh Mexican ingredients since 1993 (per Chipotle). Known for its gargantuan burritos and build-it-yourself burrito bowls, the popular food chain appears to be getting better. Statista says that in 2021, Chipotle reported a global annual income of $7.55 billion — their highest recorded revenue to date. According to a Mission Measurement study, Chipotle is delivering big time when it comes to meeting consumer desires. The franchise ticks boxes in categories like food freshness, speedy service, customization, and ingredient transparency. What more could you ask for? Possibly breakfast.
When a restaurant adds breakfast to its menu, they're likely to increase sales. All-day breakfast in particular can dramatically improve the landscape of a restaurant's revenue. Since the pandemic left working people with unusual schedules, they've also started eating differently. In Technomic's 2019 Breakfast Consumer Trend Report, they found that two in five consumers eat breakfast food at nontraditional times and 31% say they're purchasing breakfast food outside of morning hours (per CSP). There's obviously a market for breakfast at Chiptole that would broaden the chain's already-gargantuan sales, so why aren't they pulling the trigger on serving breakfast tacos and burritos? It is the most important meal of the day, after all.
Chipotle employees do not dream of labor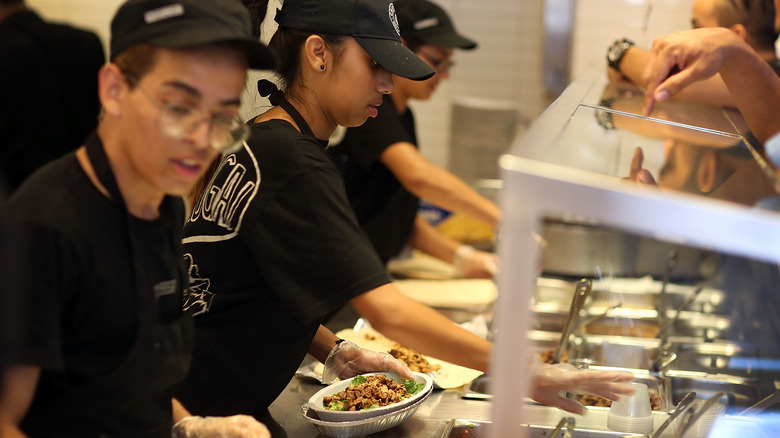 Joe Raedle/Getty Images
Despite the Mexican fast food franchise constantly adding new items to its menu like its new zesty new pollo asado, Chipotle employees are keeping their fingers crossed in hopes that breakfast burritos never make their way to the menu. In an interview with Mental Floss, Mindy, a California-based Chiptole employee dishes out the reason they're opposed to breakfast at Chipotle. Mindy tells Mental Floss: "Chipotle doesn't serve breakfast because the workday for morning prep already begins at 7 AM ... If Chipotle were to serve breakfast, that means employees would have to come in at 3 in the morning or earlier to prepare fresh food."
As Millennials and Gen Z take over the workforce, their attitudes towards outdated labor expectations are radically shifting. In fact, HR consulting firm Randstad conducted a survey that found that 50% of members among America's "younger generations" would rather be unemployed than work a job they don't like (per Yahoo!). Long hours are out, and mental well-being and downtime are in.
Although it's a sore loss for breakfast fanatics, keeping breakfast out of Chipotle positively impacts the work-life balance of its employees.