We Tried Chipotle's New Pollo Asado. Here's How It Went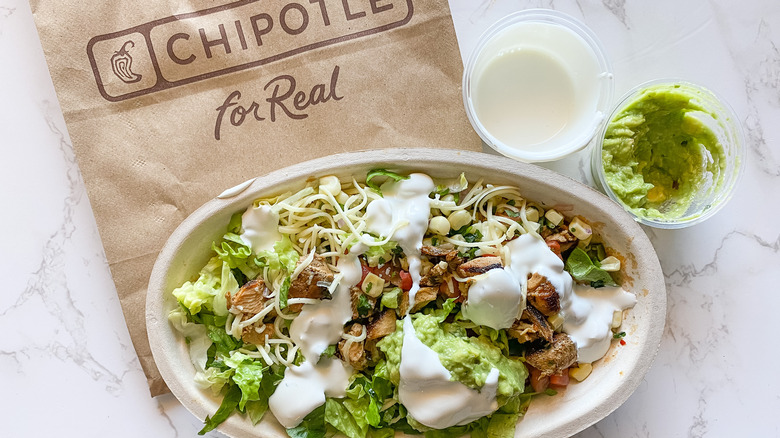 Kristen Carli/Mashed
Yep, you read that right. Chipotle now carries a new protein option: pollo asado. Once we heard the news, we ran to our nearest Chipotle location to get a taste. This latest addition to Chiptole's nationwide menu is the first new chicken option to be introduced throughout the company's 29-year history. According to Restaurant Business, the original adobo chicken is the bestselling protein at Chipotle, so the chain's executives knew that a new twist on that classic item would go over fairly successfully. Chicken is always a pretty safe bet if you ask us.
We are big fans of Chipotle and have loved their recent unique additions like the plant-based chorizo and smoked brisket. But how does the pollo asado stack up against other Chipotle offerings? Is it a worthy competitor to the original chicken? Keep reading to get the full scoop on the pollo asado and whether it deserves a permanent spot on the Chipotle menu. 
What are the ingredients?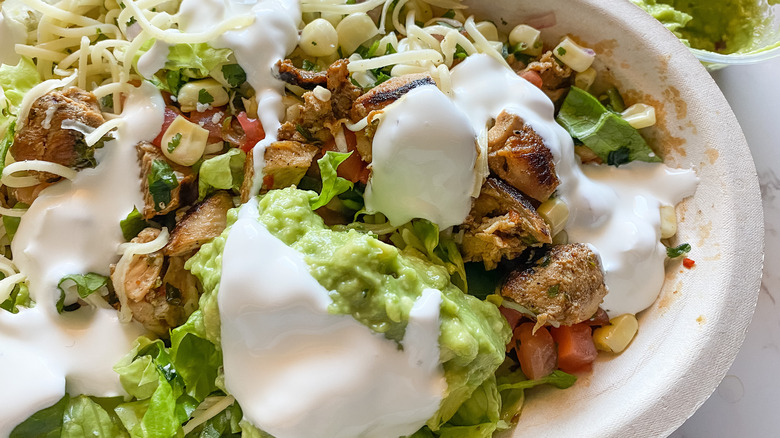 Kristen Carli/Mashed
Pollo asado is typically chicken marinated in citrus juices and ground cumin (via Taste Atlas). This authentic Mexican dish is usually served with pico de gallo and fresh tortillas. Chipotle's version is made from dark meat chicken seasoned with garlic, lime, and guajillo peppers before being grilled on the plancha, per the chain's website. The addition of mild guajillo peppers provide plenty of flavor without excess spice. Guajillo peppers are known for providing notes of sweet fruitiness reminiscent of berries, according to Chili Pepper Madness. These peppers are typically used in mole sauces along with pasilla and ancho peppers, sometimes referred to as the "holy trinity" of Mexican chili peppers. 
Another thing to note about the pollo asado is, like the standard Chipotle chicken option, it's made using Responsibly Raised birds. That means the chicken contains no added hormones, no antibiotics, and they were humanely raised, according to Certified Humane.
How much does it cost?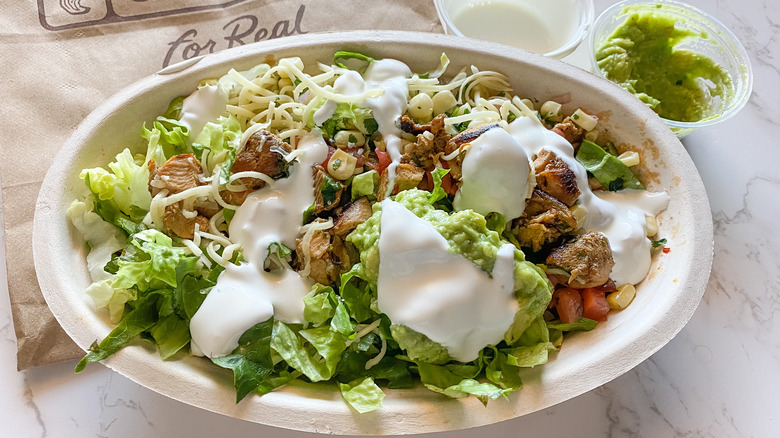 Kristen Carli/Mashed
A serving of pollo asado in a burrito, burrito bowl, or salad ran $10.85 at our local Chipotle, though prices vary depending on your location. If you ordered the same meal with steak or barbacoa instead, you are looking at a bill of $11.45. To save the ultimate bucks when dining at Chipotle, go for the sofritas, veggie, or normal chicken varieties to total $9.80 per meal. Just remember, guacamole is always extra — and in our opinion, it's always worth it. 
If you want to sample the new Chipotle pollo asado, we suggest trying it out sooner rather than later, especially if you'd like it delivered. According to People, Chipotle is offering a $0 delivery fee for all pollo asado Chipotle orders placed on its app or at its website between March 14th and March 20th. With that kind of deal, you might as well give it a shot! 
How long it will be available and where can you find it?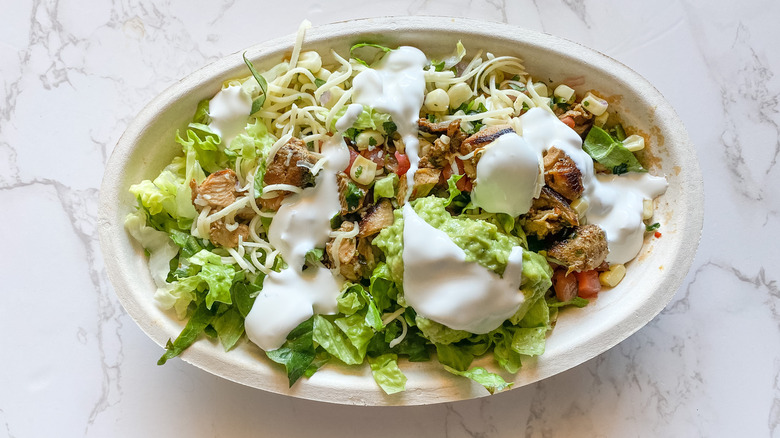 Kristen Carli/Mashed
Back in November 2021, Chipotle tested pollo asado in some locations. Now it's finally available nationwide, but according to a Chipotle press release, you should head to Chipotle quick! The pollo asado is only available for a limited time. When we asked the Chipotle employees how long they expect pollo asado to be offered, they estimated it may be available for the next month or two, but they weren't quite sure.
As we've seen with other limited time Chipotle products, sometimes these items return to the menu, like the carne asada (via Business Insider). However, as we learned with Chipotle's smoked brisket, which was removed from the menu indefinitely, the popularity of the item does not determine how long it will stay on the menu. Long story short, if you want to try Chipotle's new pollo asado, we'd recommend you hurry up and try it today.
How does it compare to other Chipotle items?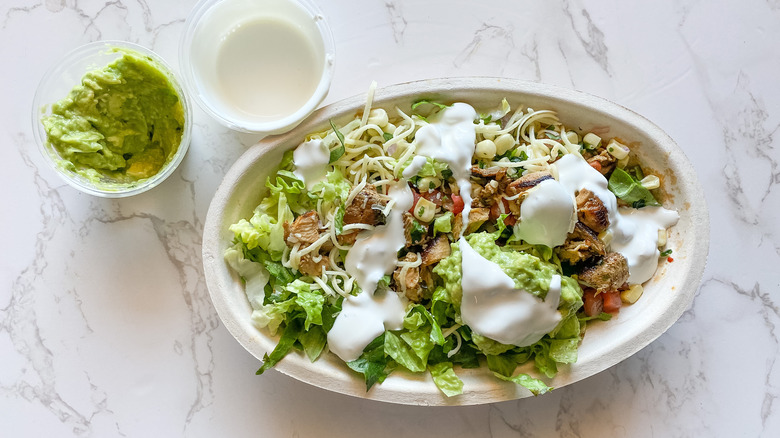 Kristen Carli/Mashed
So how is Chipotle's pollo asado different from the other chicken that Chipotle offers? Great question. The pollo asado comes in larger chunks and is flavored with lime juice, garlic, and guajillo peppers. Chipotle's standard chicken is diced into much smaller pieces and marinated in chipotle chili, vinegar, sunflower oil, garlic, ground cumin, oregano, salt, and pepper, according to the company's website. These flavors combine to make the standard Chipotle chicken a bit more spicy than the new pollo asado option. Other than the spice mix used and the size of the chicken, these options are fairly similar.  
If you aren't a chicken eater, you could also enjoy any of the other protein options at Chipotle including steak, barbacoa, carnitas, sofritas, the new plant-based chorizo, or skip the meat altogether and get your protein solely from the beans (either black or pinto).
The nutrition stats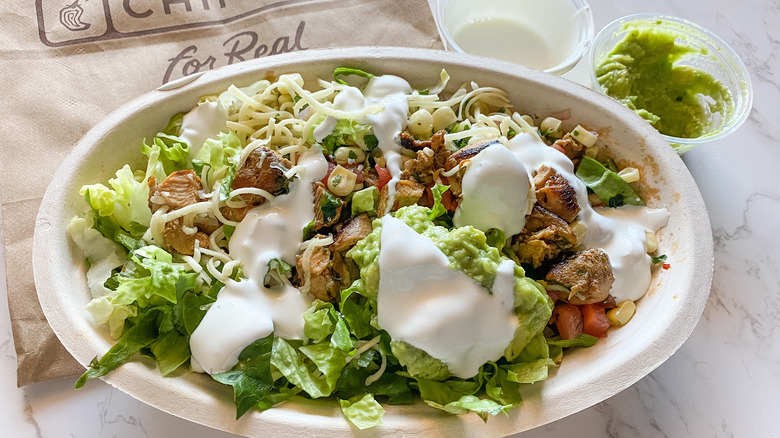 Kristen Carli/Mashed
According to the Chipotle website, a serving of pollo asado provides 210 calories, 12 grams of fat, 22 grams of protein, and 3 grams of carbs. Keep in mind that you have to factor in the other ingredients you are adding to your burrito like rice, beans, salsa, sour cream, and guacamole to get the full nutrition facts of your entire meal. It all adds up!
As for the 22 grams of protein in one serving of pollo asado, that is pretty impressive. According to Healthline, protein intake is key in helping you achieve satiety or fullness. The fat content is higher than you might expect, but you can blame the fact that Chipotle only uses dark meat chicken for that. Even still, with that much protein in your bowl, you can be sure that this dish will hold you over until your next meal. With nutrition facts like this, we don't feel bad about indulging in this pollo asado Chipotle bowl.
How does it taste?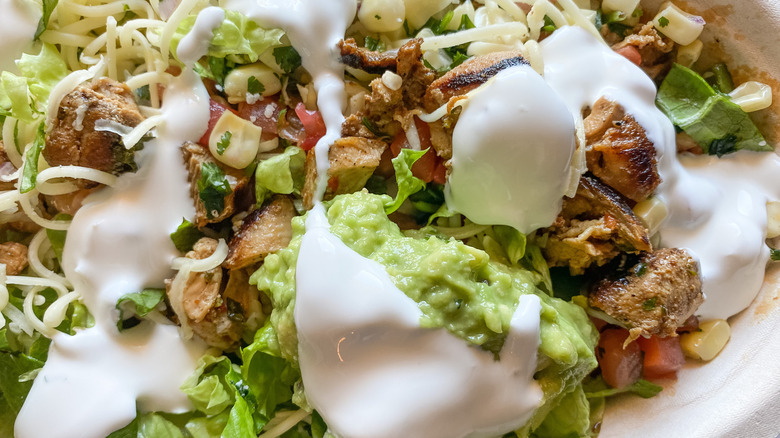 Kristen Carli/Mashed
Now for the part you've been waiting for: the taste test. We absolutely loved the pollo asado. It's all dark meat like Chipotle's other chicken offering, so it's moist, which is key when it comes to chicken. No one wants to eat dry chicken breast. The pollo asado spice seasoning is bold and flavorful, without being overly spicy. We love the charred grill flavor combined with the brightness of the lime and peppers. We'd recommend combining it with some pico de gallo and sour cream for the best combination of flavors. 
So what's our overall takeaway? We love this new protein option and think you will too. Since we don't know how long this will be available, we recommend you get over to Chipotle as soon as possible to enjoy this dish. Whether you choose a burrito, a burrito bowl, or a salad, we know you will be fans of the pollo asado.