Is Cracker Barrel Open On Thanksgiving 2022?
Whether you're ready or not, the 2022 holiday season is fast approaching. Some avid planners have likely already started carving out their Thanksgiving menu (pun intended), while others might not even be ready for Halloween yet.
If you're in the second group, it might behoove you to look into what restaurants will be open for dinner on Thanksgiving; this way, you can leave the cooking to someone else. While plenty of fast food spots, such as McDonald's, are open on Thanksgiving this year, if you want to have a sit-down meal with friends or family (or even pick up a more traditional meal to-go) without the hassle of cooking, you'll want something a little more substantial than McNuggets — no offense, McDonald's.
Cracker Barrel, a popular restaurant chain that's been serving southern classics like country fried steak and homestyle chicken since it opened in 1969, might be a good place to start when searching for that holiday meal — but is it open this Thanksgiving?
Cracker Barrel will be open on Thanksgiving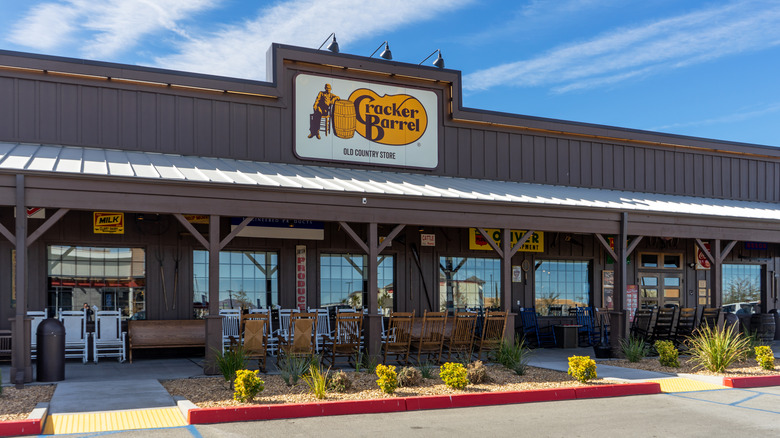 Felipe Sanchez/Shutterstock
According to TODAY, Cracker Barrel will be open for service on Thanksgiving this year. The fast-casual spot has two options; customers can come in and have a sit-down Thanksgiving meal at the restaurant, or they can order a full dinner to go. The restaurant even has a portion of its website dedicated to pre-orders, which started on October 11. The dinners come in a "Heat n' Serve" option, where you heat it up at home, or a "Hot and Ready" option, which is ready to eat right from pickup. The different meals can serve between four and 10 people, depending on the size you order, and come with turkey, macaroni and cheese, green beans, and other Thanksgiving fixings. Pies are available for purchase as well.
Those who want to sit down for dinner can do so, too. Cracker Barrel's website says starting at 11 a.m., the restaurant will be serving a "traditional Thanksgiving meal" throughout the day. It's recommended to join the online waitlist to avoid extensive waiting, as Thanksgiving is Cracker Barrel's busiest day of the year.