How Your Next Starbucks Coffee Run Can Earn You Flight Miles
The Starbucks rewards program is a great way to earn freebies. The chain is famous for its seasonal games, such as the Prize & Delight Game, which rewards more than two million instant prizes as well as 12 grand prizes through its app (per Coffee Levels). The top prize winners receive free custom drinks for a year — an approximate value of $1,905. There are many methods to earn tickets: You can take polls, redeem stars, order ahead, and plenty more.
And in addition to the seasonal promotions, the Starbucks app offers plenty of perks. Per the Starbucks website, customers can earn enough stars to receive free drinks, snacks, and merchandise. App users receive one star per $1 when scanning their phone at the register and saving their payment method. Two stars are rewarded per $1 when the app is preloaded or a gift card is registered. 
Of course, many of these prizes include free coffee. But a new Starbucks partnership has promised a way to receive more bang for your buck.
A pick-me-up while packing up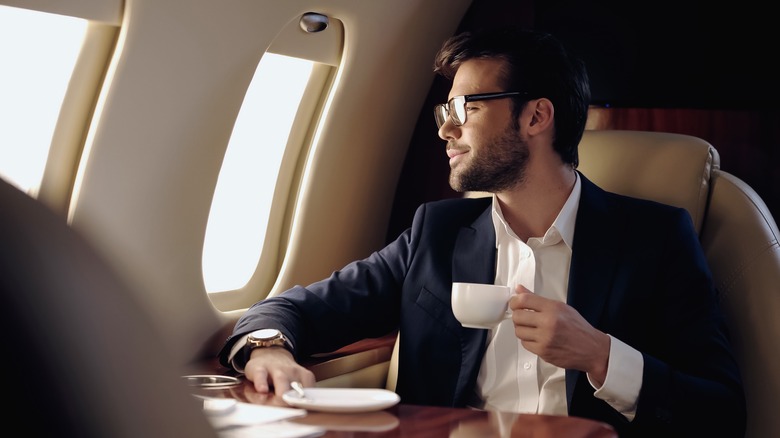 LightField Studios/Shutterstock
Starbucks and Delta have teamed up for an unexpected partnership, per an Oct. 12 press release. Members of Delta SkyMiles and Starbucks Rewards can link their accounts to win free coffee and air miles. For every $1 spent, you'll receive one Delta mile, and when you travel via Delta, you'll receive double stars on your Starbucks app. Additionally, if you sign up between now and December 31, you'll receive a free 300 sky miles, and as soon as a purchase is made, you'll automatically rack up 150 stars. 
"Starbucks Rewards and Delta SkyMiles are centered on creating moments of meaningful connection, and by bringing together two of the country's most celebrated loyalty programs we are able to reward our members with more of what they love," Starbucks vice president Ryan Butz said in a statement.
To celebrate the collaboration, Delta's CEO Ed Bastian started his day with Starbucks coffee, per LinkedIn. "I hope to see you in the skies on a Delta flight or at a Starbucks store soon," the post read.