Reddit Is Falling In Love With The New Aldi Party Tray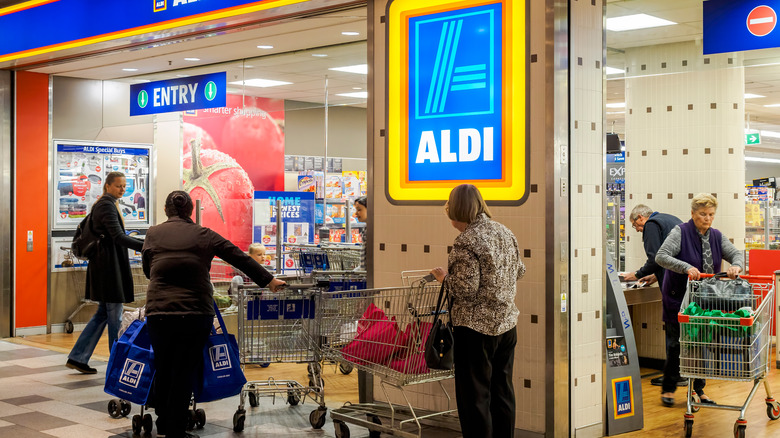 Dr. Victor Wong/Shutterstock
When it comes to seasonal food, Aldi has your back. The popular grocery store has stood up against supermarket moguls Walmart and Whole Foods by delivering its customers high-quality, unique food products at a fraction of the price. Because Aldi emphasizes its own private Specially Selection brand, the chain is able to regularly switch out food products depending on the time of year (via Food Navigator). Because of this, Aldi has earned a great reputation for giving customers exactly what they want, bringing back reverend seasonal finds, and even stocking its shelves with new offerings to try every year.
When Aldi teased its new fall lineup on Twitter, customers were flooded with anticipation of what would hit the shelves. Once it was finally launched, shoppers were able to finally taste the flavors of fall through a variety of items, including apple cider donuts, fall-flavored whipped cream, caramel apple hard cider, maple cookies, and more.
With all the fall-inspired foods now available, it's only right to throw a fall-themed party. Of course, snacks are one of the most important things to offer guests at a party, so it's important to ensure you prepare and display them in the best way possible.
The perfect snacking tray for your fall party
With Aldi offering customers a deliciously crafted array of fall snacks, why not put them out on display for your next friends and family party gathering? In a recent Reddit thread, a user put together the perfect DIY Aldi fall party tray. From the looks of it, it's a must-try for anyone looking to host a fun fall-themed celebration these next couple of weeks.
Displayed in a circular serving tray, the Aldi fall party tray features the salted caramel apple spread in the middle of the tray as pumpkin Belgian chocolates, cinnamon brown sugar sweet potato chips, snickerdoodle spruced almonds, pumpkin spice pretzels, and maple cinnamon artisan crisps surround it. The tray is a nice combination of sweet and salty goodness. "The pumpkins are a nice touch!" commented one Redditor. "Why are we not calling this a Faldi party tray?" suggested another user. With a name like that, how could you even resist?
While the Aldi fall party tray features the food products mentioned above, you can customize your own fall party tray. With the grocery store offering dozens of seasonal flavored snacks, the options are endless.