The Cereal-Flavored Oatmeal You Never Knew Existed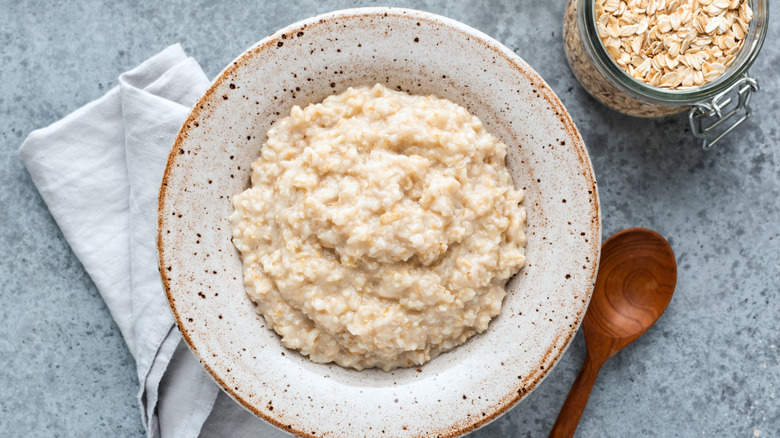 Vladislav Noseek/Shutterstock
As The New York Times reports, cereal flavors can be nostalgic transporting anyone to childhood. Aside from being delicious, having cereal was fun with the different textures, and the milk changing color and taste after a while. A bowl of cold milk and sugary crunchy cereal was a morning favorite, and probably still is in many families. In fact, more than 280 million Americans had cereal in 2020 (via Statista).
Times have passed, and most grown-ups try to have more balanced, healthy, high-protein, and fancier breakfasts. Cereal was replaced by avocado toasts, omelets, benedicts, and oat porridge. We may have moved on from cereal and milk, but the flavor is still in our hearts. That's why we are thrilled about Kellogg's new spins, cereal-inspired snacks, cereal-topped ice cream, and Waffle House's fruity pebble waffle. And there's more. General Mills made it possible to make breakfast fun again with its Lucky Charms instant oatmeal, sold since 2021 (via Brand Eating). Oh yes, you may taste cereal glory again!
Lucky Charms oatmeal is topped with marshmallows
It was 1964 when Lucky Charms appeared on the shelves and surprised everyone with their sweet oat pieces combined with tiny shaped and colored marshmallows (via General Mills). After decades, they present their instant oatmeal box that contains six vanilla-flavored oatmeal packets and six packets of Lucky Charms marshmallows as toppings, so you can arrange them separately and prepare them in minutes (per Lucky Charms).
A Tiktoker explained in a video that it all starts by pouring the oats into a microwavable bowl, then adding water or any milk of preference and heating it a bit. After stirring well, you can top your oatmeal with classic Lucky Charms marshmallows — actually called marbits — and enjoy. This last detail was praised in a reviews site, as a user highlighted they liked "the marshmallows do not become watery," so the snack stays crispy.
Another user celebrated that "it honestly tastes like cereal, but as an oatmeal," so it was rich and cozy. But, be careful on the sweet level. According to Junk Banter, the vanilla is really pronounced, and it feels really sweetened. Just make sure to not add extra sweets like in other oatmeal recipes, and enjoy it as is. Hopefully, this new product revives your childhood dreams, letting you enjoy textures and colors happening in just one bowl, but of oatmeal.