Coffee Mate's New Limited-Time Flavor Tastes Like Your Favorite Candy
If you don't start your day with coffee, you probably know someone who does. While many people hit up Starbucks, Dunkin', or a local coffee shop for a morning brew, there are lots of others who enjoy making it at home. And those that are making it at home aren't skimping on the flavor. 
More than 182.45 million Americans used coffee creamers in 2020, according to Statista,. And more than 80 million of these users chose French vanilla as their top pick for creamer. But that still leaves about 100 million people looking for other flavors to help them get their morning started off right. 
Now, in addition to its more than 25 flavors, there will be a new Coffee Mate variety joining the ranks in early 2023. This one will hit your sweet tooth, as it's made in collaboration with one of the most iconic brands of chocolate bars. 
So, what's the new flavor?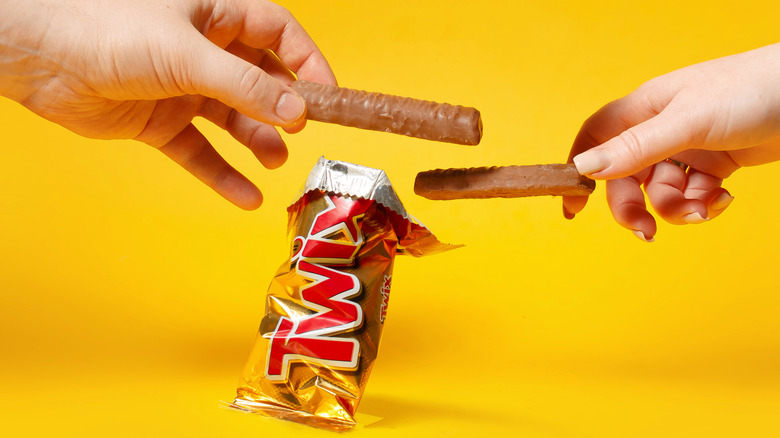 Pavlovska Yevheniia/Shutterstock
Surprise! Coffee Mate has announced that the newest flavor is Twix. According to Coffee Mate's Instagram, the new flavor will be released in January 2023 and will only be available for a limited time. The new Twix coffee creamer also boasts having no added sugar. 
Naturally, fans are excited. Many commented on the brand's Instagram post asking for the company to secure nationwide distribution so that it would be available to them. Others couldn't wait to get in on the action. "I never had Coffee Mate but now I might, love Twix," posted one user, while another noted, "this is literally the best thing maybe ever." 
While fans can't wait to sip some of that chocolate, caramel flavor to get the morning started on the right foot, we can't help but wonder — is the new coffee creamer made with left Twix or right Twix?