Ted Allen Revealed If He Actually Eats The Dishes On Chopped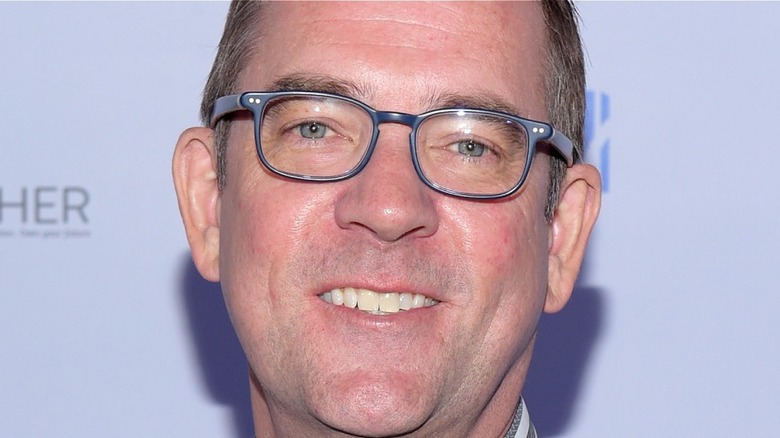 Jason Kempin/Getty
The food competition show "Chopped" has been around for a long time — since 2009, to be exact. But host Ted Allen has been a fixture in the culinary world for even longer. The in-house food and wine expert of "Queer Eye for the Straight Guy," Allen has taught viewers to cook with the help of his friendly and calming demeanor since the early 2000s.
Allen's friendly persona is no act. Season 32 "Chopped" champion Brooke Siem revealed to Insider that Allen is just as friendly off-screen as he is on. He was having some trouble with some line delivery and instead of getting frustrated, made the whole cast and crew laugh, which lightened up the mood. As a host, Allen doesn't have to try every dish like the "Chopped" judges do (we don't know if that's lucky or not). However, there are some dishes that come out of the off-the-wall secret basket ingredients that look downright delicious. With long days on set, it wouldn't be surprising if he sneaks a bite here or there.
Ted Allen trusts one judge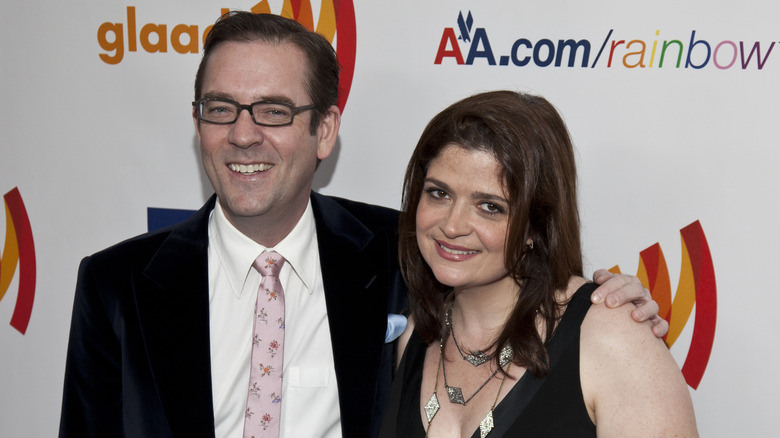 lev radin/Shutterstock
Chef and "Chopped" judge Alex Guarnaschelli recently posted a behind-the-scenes peek at the cooking competition show on her TikTok. In one video, host Ted Allen responds to a question asked by a viewer if he ever gets to taste any of the dishes. Allen revealed that yes, he does get to test the food. He particularly enjoys when judge Geoffrey Zakarian is on set — "If it's yummy, Geoffrey wants me to taste it and he's not trying to pull a fast one on me, he only does that with delicious things. And of course, he's always right," Allen says in the TikTok. Making sure he steers clear of trying the worst dishes on "Chopped," Allen trusts Zakarian to give him only tasty dishes to try. While Allen revealed on Guarnaschelli's social media that he trusts Zakarian's opinion on when to try the food, that doesn't mean Zakarian is Allen's favorite judge. He has equal love for all the "Chopped" judges and compares it to a parent being asked which kid is their favorite; it's impossible to choose (via Food Network).
Getting to try delicious food is only part of the reason why Allen loves working at "Chopped", the other reason is relatable for any working adult: He doesn't have to attend any meetings (via Twitter).