Homemade Cream Of Mushroom Soup Recipe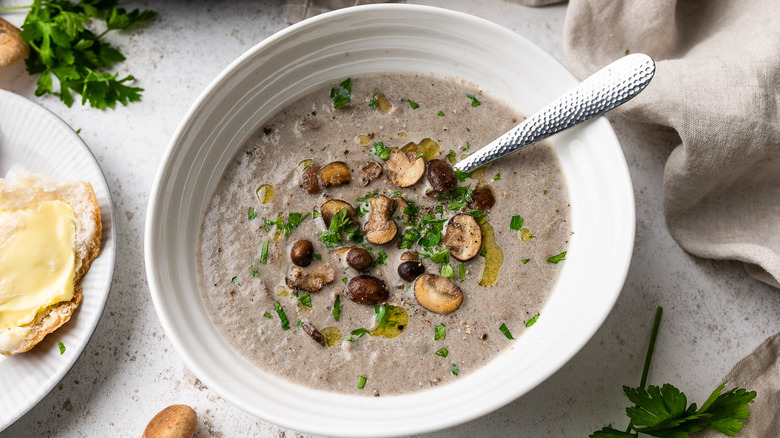 Jennine Rye/Mashed
When the cooler months roll around, there's no doubt that it's soup season. There are thousands of soups that you can try to make or order from a restaurant, and it can be hard to choose from the massive list. But, if you have a soft spot for mushrooms, then this homemade cream of mushroom soup is perfect for you. Whether you want a cup or a bowl, this would be great served as a side or a main course dish. 
Recipe developer Jennine Rye of The Marshside Pantry came up with this tasty soup recipe, and there's no doubt that this homemade soup is better than any store-bought option. "I love how rich, flavorful, and filling this recipe is. I'm a huge mushroom fan, and this has such a great earthy taste, perfect for a warming fall meal," Rye raves. "Cream of mushroom soup is really hearty. Some soups can be really light and be more suited to spring or summertime, but this is definitely thick and warming –– great for those chilly days." What's not to love about that? 
Gather the ingredients for this homemade cream of mushroom soup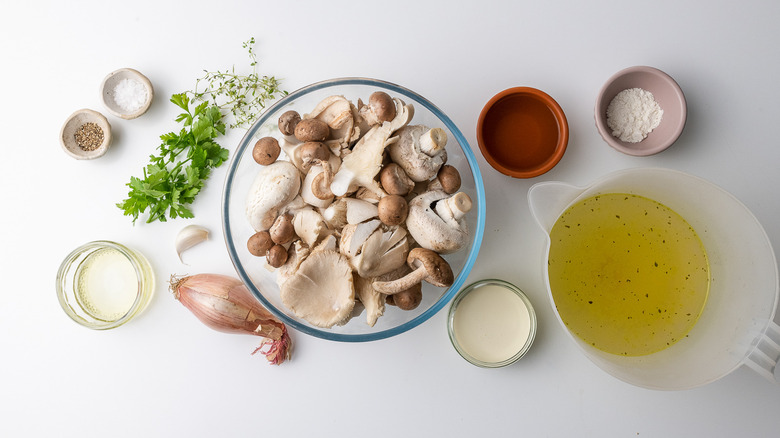 Jennine Rye/Mashed
Before you do anything else, you will need to grab the ingredients for this recipe. Be sure to get mixed mushrooms (here, we use a combination of shiitake, cremini, and white button varieties), a large shallot, a large garlic clove, olive oil, fresh thyme, Marsala wine, all-purpose flour, chicken stock, half-and-half, salt, pepper, and chopped parsley.
Once you have those things, you can make this homemade cream of mushroom soup.
Chop and sautée the veggies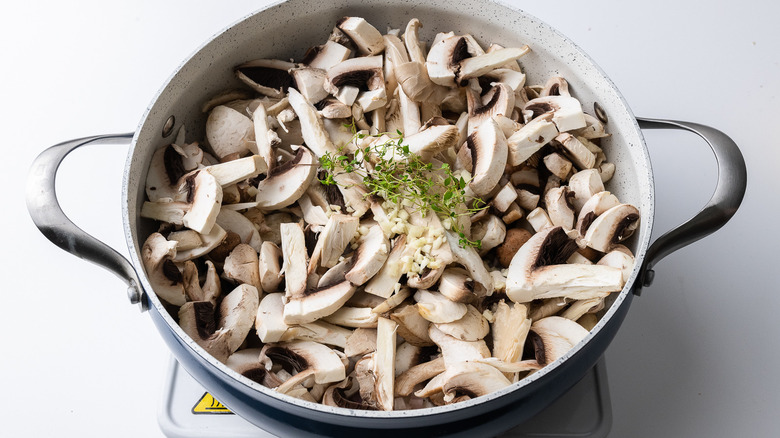 Jennine Rye/Mashed
First, chop the mushrooms, shallot, and garlic into medium-sized pieces. 
Once you have finished, place a large pan or pot on your stove. Turn the heat to medium and drizzle in the olive oil. Next, you can add the chopped mushrooms, shallot, and garlic. At this time, you can also add the fresh thyme. Sautée for about 10 minutes until everything gets nice and soft.
Once cooked, measure out at least 3 tablespoons worth of mushrooms and set them aside for serving.
Add flour, wine, and stock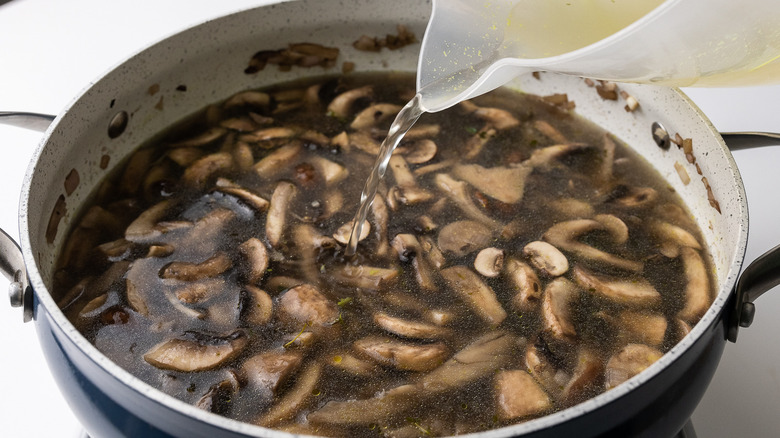 Jennine Rye/Mashed
There are still a few more things you will need to add to the pan with the mushrooms, starting with flour. "Make sure to mix the flour in throughly before adding liquid, as you don't want to end up with little clumps of soggy flour in the soup," Rye notes. Then, toss in the Marsala wine and the stock.
"The special ingredient in this recipe is the addition of Marsala wine," Rye notes. "It adds a sweet, nutty depth that complements the earthy umami of the mushroom flavor, and gives this soup that special something!" 
Bring to a boil and let everything simmer together for about 10 minutes.
Blend the soup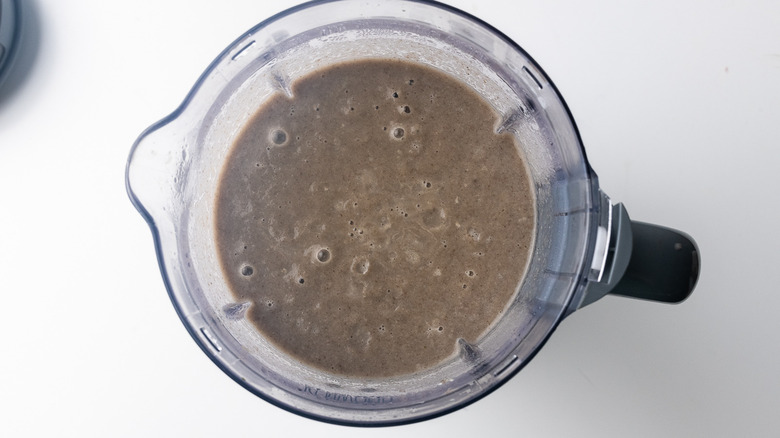 Jennine Rye/Mashed
Transfer the soup from the pan to a blender or use an immersion blender. Once complete, go ahead and return the soup to the pan. Once again, bring the soup to a gentle simmer. Then, add the half-and-half cream, and season with some salt and pepper to taste.
Serve and enjoy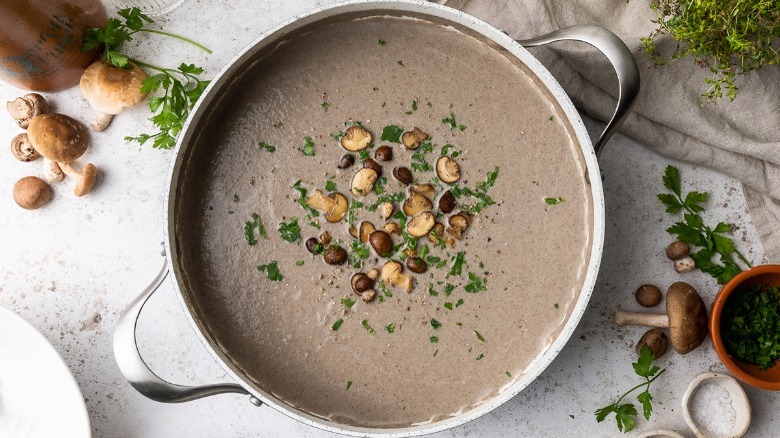 Jennine Rye/Mashed
You can now transfer the soup to a bowl or a cup, and top with chopped parsley and the reserved mushrooms if desired. "This soup is great as a starter or a lunch option, especially on a chilly day when you want something hearty and warming," Rye shares. "It's best served with some fresh, crusty bread on the side and lashings of butter, or if you want to go the extra mile, grilled cheese on sourdough is insanely good with this soup." 
Not sure if you will have much left, but if you do, make sure to save it. "Leftovers should be stored in an airtight container in the fridge for up to three days," Rye shares. "They can easily be reheated in the microwave." 
We hope this soup packs a punch. 
Homemade Cream Of Mushroom Soup Recipe
When we think of cream of mushroom, we imagine a gloopy mess. This homemade cream of mushroom soup recipe, however, uses fresh ingredients for a supreme taste.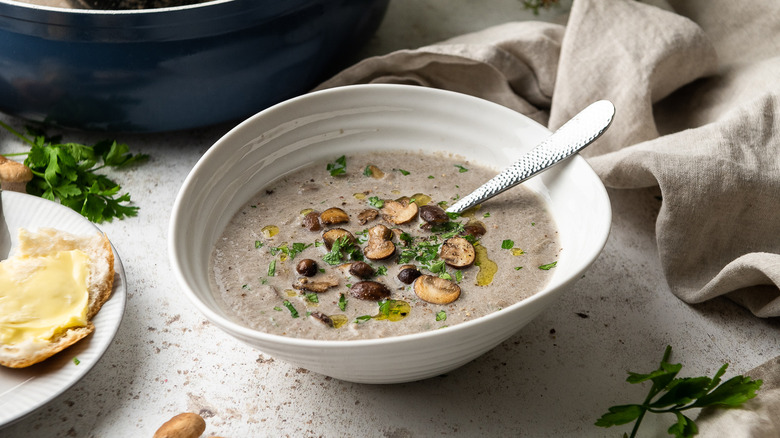 Ingredients
1 pound mixed mushrooms
1 large shallot
1 large garlic clove
1 tablespoon olive oil
6 stalks fresh thyme
⅓ cup Marsala wine
1 teaspoon all-purpose flour
4 cups chicken stock
⅓ cup half-and-half cream
salt and pepper, to taste
1 tablespoon chopped parsley, to serve
Directions
Chop the mushrooms, shallot, and garlic.
Heat a large pan to a medium temperature, and then add the olive oil, mushrooms, shallot, garlic, and fresh thyme. Sautée for around 10 minutes until everything is soft.
Reserve 3 tablespoons of mushrooms and set them aside to spoon on top of the finished soup.
Add the all-purpose flour to the pan and thoroughly mix it in, then add the Marsala wine and the stock. Let everything simmer gently for 10 minutes.
Blend everything together using a blender, transfer soup back to pot, and then bring the soup back to a gentle simmer. Add the cream and season to taste using salt and pepper.
Serve the mushroom soup hot, topped with freshly chopped parsley and a few reserved mushrooms.
Nutrition
| | |
| --- | --- |
| Calories per Serving | 253 |
| Total Fat | 14.1 g |
| Saturated Fat | 5.9 g |
| Trans Fat | 0.0 g |
| Cholesterol | 34.4 mg |
| | |
| --- | --- |
| Total Carbohydrates | 19.5 g |
| Dietary Fiber | 2.8 g |
| Total Sugars | 8.4 g |
| Sodium | 988.1 mg |
| Protein | 11.0 g |