Reddit May Have Leaked Subway's Upcoming Patrick Mahomes-Inspired Sandwich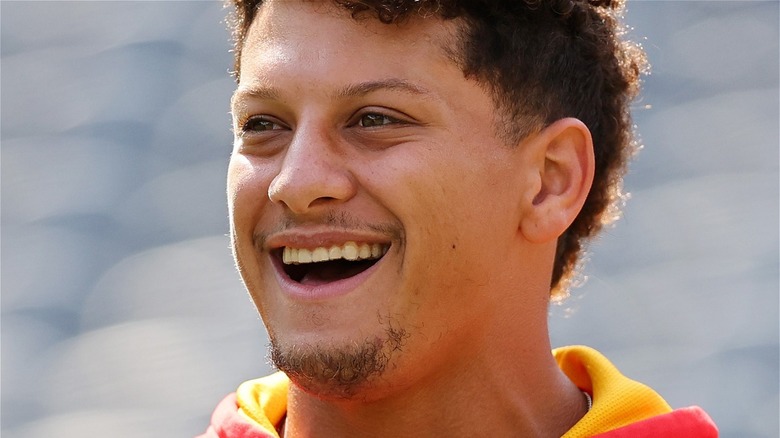 Birch Photographer/Shutterstock
Subway tends to get a lot of criticism. Previously, the sandwich chain has had to answer to accusations that its chicken isn't truly chicken. It also had to respond to allegations of fraud and was unsuccessfully sued after it was claimed that the tuna used in its sandwiches wasn't really tuna, per The Washington Post. Against the backdrop of these and other attacks, Subway overhauled its menu to appeal to customers. Now, Subway is getting more critiques leveled against it as social media mocks what could be its new Patrick Mahomes-themed sandwich.
It's unclear exactly what Kansas City Chiefs quarterback Patrick Mahomes has to do with Subway sandwiches, except insofar as he's appeared in their new Subway Series advertising campaign along with Charles Barkley and Tony Romo. The goal of these ads is to highlight the "12 irresistible new subs" (via iSpot.tv) that Subway is adding to the menu. These are signature sandwiches given names like The Boss and The Champ, yet Reddit says some of them aren't anything truly new. They're mostly old subs with a few tweaks.
Subway fails to impress with its No-Look Chicken menu item
Once upon a Reddit thread, a poster going by the moniker u/Eridior put up a picture on the Subway subreddit that allegedly showed the ingredients for the Patrick Mahomes-inspired sandwich. It is apparently being called the No-Look Chicken within the Subway system, which is presumably a reference to Mahomes' penchant for no-look passes, and perhaps sounds like a veiled insult that he's somehow a chicken. Though, to be fair, when huge guys are trying to tackle you, anyone's a little bit of a chicken.
There's nothing new about Subway using professional athlete endorsements. Previously, the sandwich chain had some vault sandwiches that were supposedly designed by NFL stars. In that instance, the players in question were Russell Wilson, Marshawn Lynch, and Trevor Lawrence and the sandwiches had names like The Dangerwich, and The Beef Mode, instead of being the No Look Chicken, but the name isn't the only thing under attack.
"This is literally a buffalo chicken with rotisserie," said one commenter upon looking at the ingredients for the Patrick Mahomes sandwich. Another agreed that the piece was uninspired, saying, "Chicken and Buffalo sauce.... Very innovating. If only that existed already." Another commenter was trying to figure out the connection. "Buffalo because it's kinda red like the chiefs?" they asked. Thus, it looks like Subway might not be lighting up the fans with a new item so much as disappointing them with what they see as an old one.