Costco's Halloween-Themed Ravioli Is Still Dividing Fans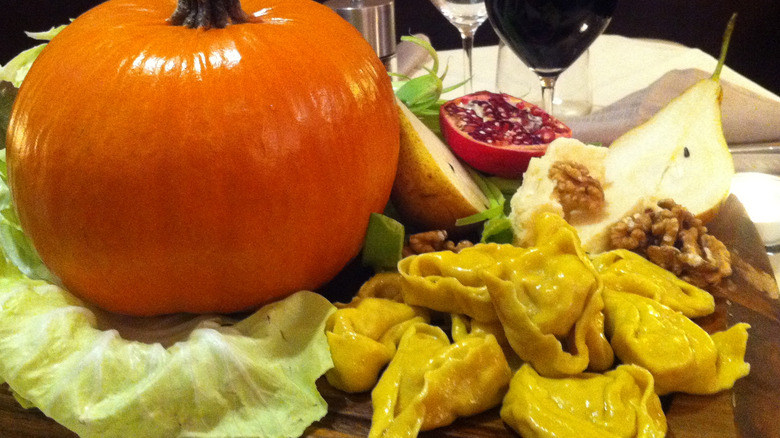 Federico Bentivogli/Shutterstock
Come Halloween, Costco pretty much transforms into candy land. The popular Instagram account, @Costcobuys, found Halloween-themed hot cocoa bombs in the shape of eyeballs at Costco as early as July, when the rest of the country was still guzzling icy refreshers and frozen desserts. And now that the trick-or-treat season is right around the corner, the supermarket has transformed into a sugary world of family-sized candy bags, caramel apples, sinister cookie decorating kits, and ginormous bars of chocolates (via Costco).
Every now and then, however, Costco ventures beyond the sugary treats and gives its savory offerings a spooky spin too. Costco's Pumpkins & Bats Ravioli for one, has been making splashes since as early as 2019 (via Costco Buys). The orange and black colored ravioli in the shapes of pumpkins and bats are filled with a blend of four different types of cheese; parmesan, mozzarella, ricotta, and aged asiago.
According to an Instagram post, Costco has brought back its seasonal Pumpkins & Bats Ravioli and each box of two 16 oz packs is priced at $9.99. While it may seem like this fun twist on ravioli could have been a spooktacular winner among the kids this Halloween, some shoppers say that the ravioli is rather disappointing.
Costco's Pumpkins & Bats Ravioli looks better than it tastes
Costco's Pumpkins & Bats Ravioli has a lot going for it. It can be ready in as little as three minutes, packs in four different types of cheese, and is a fun and colorful Halloween-themed meal. Unfortunately, comments in the reel posted by @costcobuys say that it disappoints in one major area — flavor.
"They were not that good and not kid approved either .. my 8 year old thought they were gross too," admitted one shopper as another suggested that buyers do a thorough check of the ravioli for mold before buying it. Yikes. This isn't the first time fans have had qualms about Costco's Halloween-themed ravioli though. Redditors who have tried the Pumpkins & Bats Ravioli say that the pasta is mediocre at best, with one fan giving the ravioli a three out of ten. Another shopper says, "I hated them and the kids wouldn't even eat them. Never again for this house."
Several comments on Costco Guide's video from last year also warn that the ravioli is susceptible to being overboiled and its cheese spilling out. Others note that the ravioli's dough is tough. But for some shoppers, it's still a fun Halloween-themed meal to put on the table, especially if you're willing to get a bit creative with it. One comment even suggests tossing the Pumpkins & Bats Ravioli in an Alfredo sauce that's dyed in red coloring.