Here's Why Whole Foods Should Be Your Pie Slinger This Fall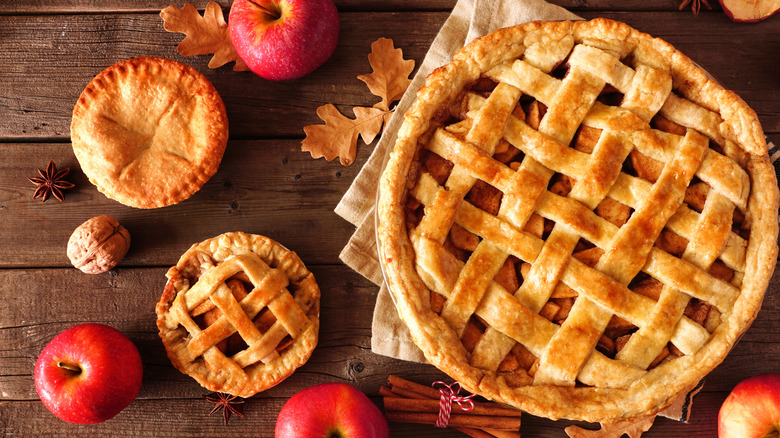 JeniFoto/Shutterstock
Fall is definitely pie season. There's a glorious abundance of apples, pears, berries, and pumpkins to put into any number of fruit and flaky crust combinations. Fall also means some of us are anticipating the holidays. For some, that's with dread; for others, it's with giddy excitement. No matter your stance, though, the dessert table centerpiece is the pie. And if it's flaky, fruity, and slightly sweet, we're all about it.
Families and friends gathering for the season often share food duties, and sometimes that means you're asked to bring the pie. Maybe this year you don't have the time, or you're not the best or the most patient baker, or just don't know how to bake a pie — all valid — but you don't want to disappoint your host or guests. (Remember Sharon Weiss and her disastrous Marie Callender's pie? Yeah, we thought so.) 
But don't stress: high-quality store-bought pies are within reach.
Whole Foods pies are a pleasant surprise
Whole Foods has a fully staffed bakery department in its stores, churning out loaves of bread, cakes, and rolls. And the store doesn't sacrifice quality for quantity.
Professional baker Molly Allen taste-tested three apple pies from three different supermarkets, and Whole Foods' apple pie came out on top. After tasting the apple pie, Allen wrote, "The flavor of Whole Foods' apple pie absolutely blew me away. It tasted homemade." She described the crust as flaky and buttery and said the filling tasted fresh. Her only negative was that the middle of the pie was a bit soggy. While she dubbed the Whole Foods pie the winner, she said she would still prefer to bake a homemade pie because all of them had underbaked crusts (per Insider). She also noted that Whole Foods sells its pies in halves, so if you need a whole one, it's best to call ahead in the morning and ask them to set one aside for you.
Now you can show up to Friendsgiving bearing the promised pie and enjoy a slice that tastes homemade — and you didn't even have to turn your oven on.