Reese's Is Launching A Bag To Protect Your Favorite Halloween Candy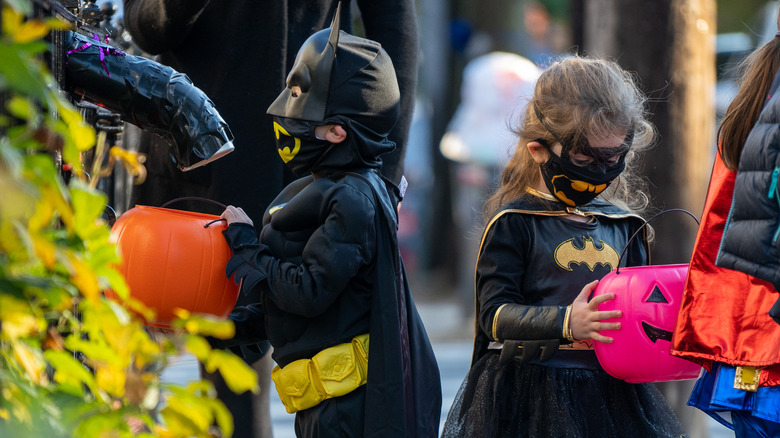 David Dee Delgado/Getty Images
Picking out which Halloween candy to purchase is no easy matter. First, there's the question of what candy this year's trick-or-treaters will enjoy the most, and then — maybe more importantly — there's the matter of which Halloween candy you will get to snack on in the fortuitous event there are some sweet leftovers at the end of the night. Naturally, candy companies like Hershey hope you choose their products.
This year, Hershey baited candy shoppers with a move not unlike McDonald's bringing back its Halloween buckets. Hershey was trying to win over the parents of trick-or-treaters with another big Halloween decision to make: How their kids will carry all that hard-earned candy. According to a press release, its Reese's brand held a promo offering a free trick-or-treating solution to customers who purchased specific snack-sized chocolates on their website. But, this free bag wasn't just a plastic sack with a pumpkin on it. It turns out there's a little more to the "Reese's Secret Stash Trick-or-Treat Bag" than meets the eye.
Reese's bag comes with its own disguise
Thwarting "would-be candy thieves and tricky candy traders" was on top of the Reese's team mind when it came to creating the Reese's Secret Stash Trick-or-Treat Bag. The bag is decorated with a jack-o-lantern face with a flap over the right-eye, hiding a hole where the best treats can be dropped inside (via PR Newswire). On the bottom of the bag, there's a zipper where the secret stash can be recovered when no is looking. While everyone's stash will be different, we have a pretty good idea what ours would include based on our Halloween candy rankings.
Unfortunately, for anyone hoping to get their hands on the cleverly-designed bag, it looks like the promotion has ended. Only up to the first 150 shoppers on October 19 to buy a bag of Peanut Butter Milk Chocolate Ghosts, Bats & Pumpkins directly from Hershey's website were eligible to receive the promotional trick-or-treat bag (per PR Newswire). Some Instagram followers seemed anxious. "Has anyone gotten an email to confirm they got a bag?" wrote one person. Another follower responded, "not yet, I've been checking my email every minute ... I sure hope I didn't pay $18 for just the candy that I could get at any store."
Without the secret stash bag, it looks like kids will just have to hide their favorite candy the old-fashioned way — by stuffing it in their pockets.