Aldi Advent Calendars Finally Have An Official Release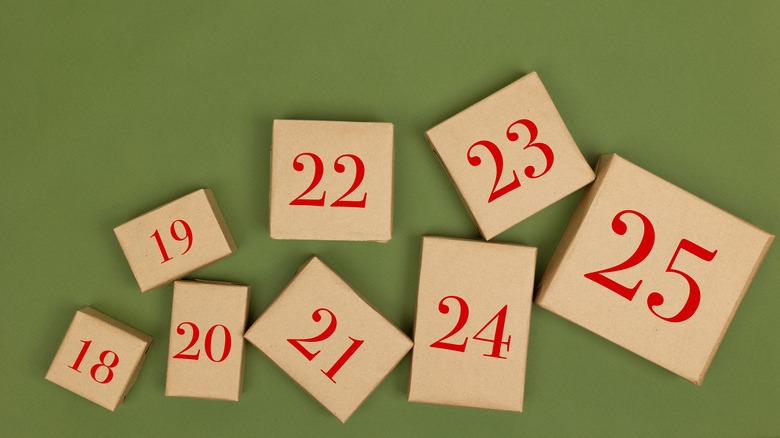 Sukhacheva Marina/Shutterstock
With Halloween just around the corner, the middle of fall is officially upon us. The air is crisp, leaves are falling, and everywhere you turn, people are blissfully sipping on pumpkin spice lattes. Houses are decorated with scarecrows and skeletons, pumpkins are perched on stoops, and kids across the country eagerly await a night full of tricks and treats on October 31. But that's not to say that people are not already preparing for other upcoming holidays, and no, we aren't talking about Thanksgiving.
While some procrastinators are still scrambling to find a Halloween costume for next week, others are already gearing up for later holidays like Christmas and Hanukkah. Costco fans are excited for the return of its seasonal egg nog wine and its gingerbread kits are also already back for the holidays. Meanwhile, like Santa's elves, Aldi has also been prepping for the most wonderful time of the year. The discount chain has announced the release date of its latest crop of advent calendars, and customers won't have to wait long to get their hands on these seasonal goodies (via Instagram).
Aldi is debuting a line of holiday advent calendars in November
Ready or not, here Aldi's holiday calendars come! In a recent Instagram post, the discount grocery store brand announced the release date of its holiday calendars. Starting on November 2, customers can purchase various unique advent calendars, including 25 Days of Holiday Heat (a hot sauce-themed calendar), The Original Wine Advent Calendar, 8 Nights of Hanukkah, and the Festive Mini Cheeses Holiday Calendar.
Fans expressed their enthusiasm in the comments section of the post. One user wrote, "Need to get the cheese one this year," while another expressed, "We love the inclusivity with the Hanukkah calendar!!" Another person shared what we were all thinking: "Gimme the wine one and no one gets hurt."
Other festive calendars that will be available include Harry Potter, Star Wars, Disney, Hard Seltzer, Pokémon, and Marvel themes, among others. Full product details and exact calendar pricing will be available on Aldi's website soon.