The Restaurant: Impossible Episode That Had Fans Disappointed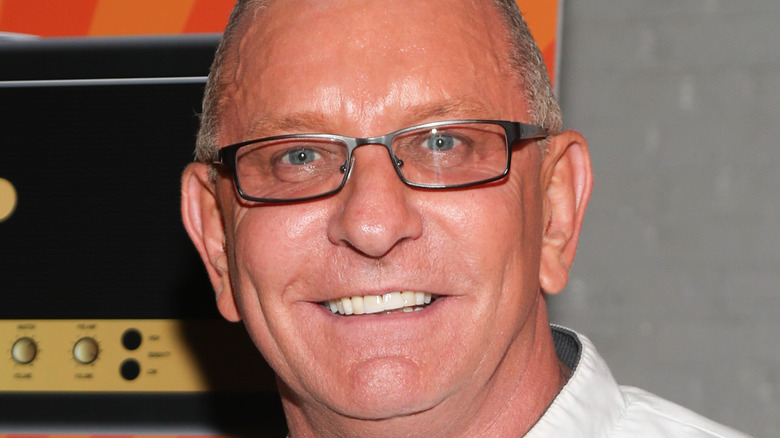 Bennett Raglin/Getty Images
There is something utterly satisfying about watching superheroes save the world. In the culinary realm, Robert Irvine wears his cape backward as an apron. His show "Restaurant: Impossible" has been entertaining fans since 2011 with some hit-and-miss episodes. A Redditor was particularly unamused after watching the Season 19 episode titled "It's Not Rocket Science." "The stories were just getting too ridiculous with the owners just being unbelievably stupid, like the guy a few episodes ago who quit his job at NASA, talked his parents into draining their retirement to open a restaurant, and then not helping them run it," they ranted. The same season delivered another episode that disappointed many fans who were pretty vocal about their opinions on social media.
The seventh episode, "Big Ego, Big Trouble," introduced fans to restaurant owner Robert Brunet who runs Momma Pearl's Cajun Kitchen in Colorado, per The Gazette. His business wasn't the only thing that needed fixing — he had a big ego that threatened his relationship with his wife and staff. Irvine had taken on two impossible tasks: revamping the restaurant and changing a man's attitude in 48 hours. He tried to accomplish the former task by leveling up the bar with a sophisticated touch, adding new tables, and setting up new lighting that gave it a homey vibe. But in the end, something about the episode left a bitter taste in some fans' mouths.
Fans were upset by the restaurant owner's behavior
Although some people seemed excited to watch the episode, various viewers commented on Facebook to express how upset they were to see that chef Robert Brunet's attitude prevailed. One user said, "So disappointed seeing the update at the end ... Had great hope that things would improve, but sadly seems like chef BB has far too much of a hold. Good luck, Becky!" Another user opined, "Disappointed in the last update. Your wife and staff deserve so much more." In the comments section of a Food Network Gossip blog about the restaurant, one user wrote in part, "I honestly feel bad for the wife because she had more experience than he did, and she obviously cared about the well-being of the restaurant."
After reading fans' comments on Facebook, chef Brunet expressed his gratitude towards the show and admitted that change takes time. "No one got Robert Irvine's message better than I did. I know I'm not perfect but I do honestly try every day to be a better person," he wrote.
With a three-star rating on Yelp, Momma Pearl's remains in business and has received mixed customer reviews since the "Restaurant: Impossible" episode aired. Many people said they loved the food, but at least one person complained that it was bland and said the service was slow. Despite everything that has been said about the restaurant and its owner, some people sounded hopeful that things will work out.