Sonic Just Dropped A New Steak Butter Bacon Burger For A Limited Time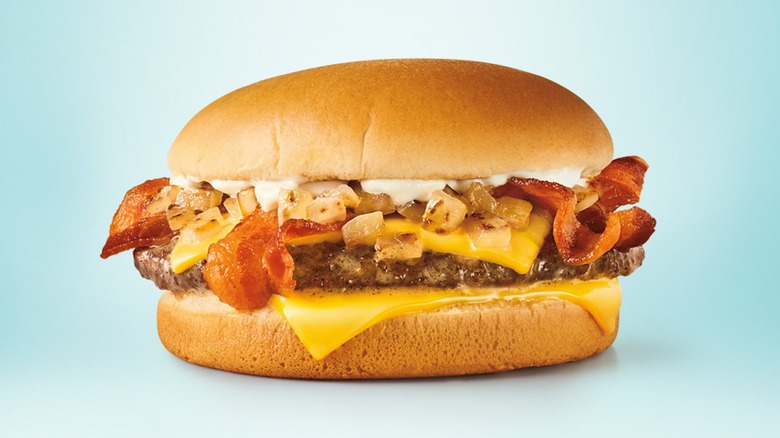 Sonic Drive-In
Plenty of delicious meals can be conveniently picked up at the drive-thru window, but let's face it: a good steak dinner probably isn't one of them. Now, that's not to say it hasn't been done before; according to Munchies, Las Nenas Steakhouse in Punta del Este, Uruguay started selling high-quality cuts of meats via drive-thru in 2017. However, on any average day, pulling up to your favorite fast food eatery more than likely isn't going to have you eating a meal on par with those served at Texas Roadhouse, which Mashed readers dubbed to be the chain steakhouse with the best meat in a survey earlier this year.
With the possibility that steak might be getting cheaper than ever in the coming months, grilling up your own filets at home isn't quite as scary of a thought as it was around this time last year. But even with this prediction, the price tag on your favorite cut of meat probably still won't compare to the prices offered at any of the major fast food chains, which is part of the reason why the latest addition to Sonic's menu is so exciting. According to Business Wire, the popular drive-in spot will be offering patrons the opportunity to dine on a steakhouse-inspired meal with its new steak butter bacon cheeseburger. The sandwich will be available at Sonic locations nationwide starting Monday, October 31 — though some lucky customers can get one before everybody else.
Sonic App users get first dibs on the new steak butter bacon cheeseburger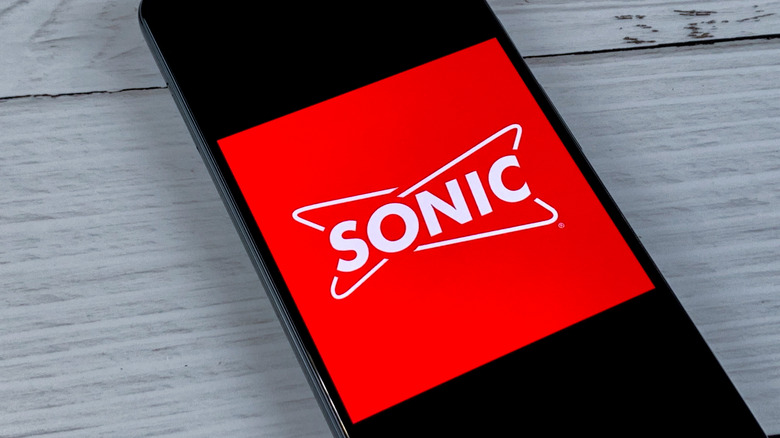 NYC Russ/Shutterstock
Sonic is raising the stakes — or should we say steaks — with its new steak butter bacon cheeseburgers. Per Business Wire, the limited-edition offering will feature a "100% all-beef patty dolloped with a rich and creamy butter infused with savory steakhouse seasonings" including garlic, black pepper, red pepper, and dill. Additionally, the savory handheld creation will also come topped with American cheese, bacon, grilled onions, and mayo, which, when combined with the patty and steak butter, gives it "all of the elevated flavors you'd expect from an upscale steakhouse," according to Sonic's VP of Culinary & Menu Innovation MacKenzie Gibson.
The steakhouse-inspired cheeseburgers will be available at Sonic restaurants from October 31 through December 25. However, as a pre-Halloween treat, Sonic App users will have early access to the hearty sando all this week. Several foodies have already taken advantage of the exclusive in-app availability, including YouTuber CoruptAI125, who reviewed the sandwich and called the addition of the steak butter a "great innovation for a burger." "It is so rich and buttery... It seeps into the meat and it kind of makes the meat almost a different texture than what a regular burger would be," they explained.
The YouTuber did note that the burger was almost too rich to finish in one sitting. However, considering that steakhouse leftovers are arguably some of the best leftovers, we wouldn't exactly call that a bad thing.