Anna Wintour Is A One-Woman Kitchen Nightmare, According To Maître D Of Le Coucou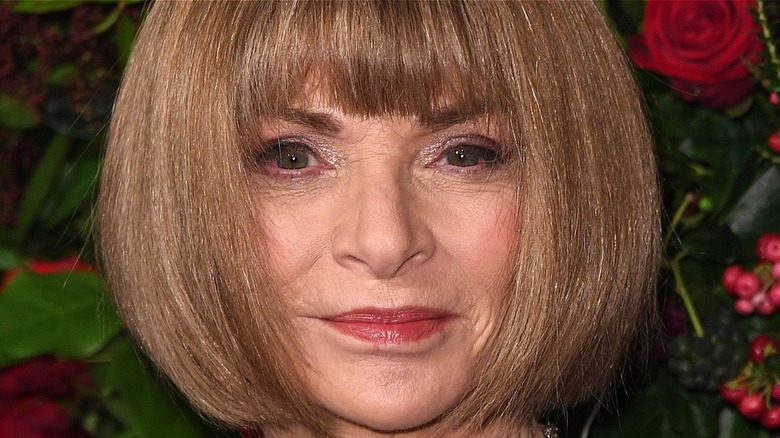 Stuart C. Wilson/Getty
If you ever watched Meryl Streep's portrayal of magazine editor Miranda Priestly in the 2005 movie "The Devil Wears Prada," you may have also heard that the character was based on a real person: Anna Wintour. The former Vogue editor-in-chief said she couldn't remember the former assistant, Lauren Weisberger, who went on to write the best-selling novel inspired by her time at the magazine. What the book and movie suggest, however, is that this character has a reputation as not only a powerful woman, but someone to fear. While there may be a lot of fiction involved in Weisberger's work, that reputation appears to be upheld in real-life reports from restaurants such as New York's famous Raoul's. 
Either there seems to be a spike in bad celebrity behavior at restaurants, or these establishments have been more willing to call out their famous guests' bad conduct. James Corden was recently banned — and then unbanned — from a famous New York eatery and received such backlash that he felt the need to talk about the incident on his show. Michael Cecchi-Azzolina, the former maître d of Michelin-starred Manhattan restaurant Le Coucou, also decided that it was time to call out bad behavior and documented his experiences in a recent book: "Your Table is Ready: Tales of a New York City Maître D'."
Calling out disrespectful celebrity diners
Michael Cecchi-Azzolina, the former maître d of Le Coucou, reports of many celebrity incidents in his book "Your Table is Ready: Tales of a New York City Maître D'" which is set to be released in December 2022. In the lead-up to the release date, Cecchi-Azzolina has shared several of the occurrences that he talks about in his book, such as a run-in with Meghan Markle and her handler in 2017. Another subject criticized in the hospitality pro's book was none other than Vogue's Anna Wintour. Eater reported that Cecchi-Azzolina deemed Wintour an "absolutely horrid" guest who treated the Raoul's staff badly. The front of house veteran said she would turn up without a reservation and expect her food to be served immediately. "God forbid it was the least bit overcooked," he writes, regarding her "very rare" steak order. "She'd look at the server as though he'd just served her rat and have it sent back and redone."
In response to her controversial behavior at Vogue and reports of racism and cultural appropriation, Wintour had this to say to the New York Times: "Undoubtedly, I have made mistakes along the way, and if any mistakes were made at Vogue under my watch, they are mine to own and remedy, and I am committed to doing the work." However, it seems this very attitude may still be bleeding over into how the former editor treats restaurant staff.