You Need These Limited-Edition Brownie Brittle Flavors For The Holidays
We may receive a commission on purchases made from links.
With the approach of the holiday season comes a slew of new baked goods, cookies, candies, and other desserts. There are homemade Christmas cookies, fresh-baked pies, candy canes, oh my! One popular sweet treat — both at Christmastime and every other part of the year — is brownie brittle. It's just what it sounds like: essentially a standard chocolate brownie with more crunch and less chewiness. One writer at Mom's Dinner described it best. In 2020, Susie Weinrich wrote, "It's like the crispy edge of a brownie in every bite!"
While you can make your own brownie brittle at home with just a few ingredients, you can also find plenty of pre-packaged options at the grocery store ready to eat. They come in a variety of flavors, from original to salted caramel. Sheila G's, which is a well-known brownie brittle brand, just came out with two new flavors that are perfect for the upcoming holidays: Peppermint and Hot Chocolate Marshmallow. Here's what you need to know about the seasonal dessert, including where to buy it.
They're only available for a few months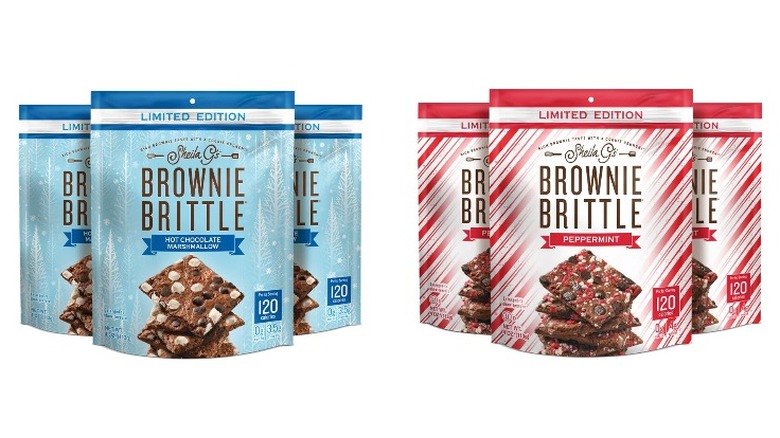 Sheila G's
If you're in search of a festive, pre-made dessert this holiday season, and you're already getting tired of cycling through the most popular Christmas cookies, you might want to consider the new flavors of Sheila G's brownie brittle. 
According to Brand Eating, both the Peppermint and Hot Chocolate Marshmallow options will be available at retailers nationwide and on Sheila G's website for a limited time only. Each four-ounce bag has a suggested retail price of $3.99 and contains four servings (which is four pieces of brownie brittle). The Peppermint-flavored bags come with chocolate chip brownie brittle, each piece of which is sprinkled with crushed-up peppermint candy pieces. Similarly, the Hot Chocolate Marshmallow-flavored packages contain the original chocolate brownie brittle studded with mini marshmallows and mini chocolate chips. 
Sheila G's brownie brittle has received hundreds of rave reviews from Amazon shoppers. "This is absolutely my favorite chocolate snack," one person says. "Not too sweet, but crunchy and delicious!" Unsurprisingly, many people say the snack is addicting, noting that it's quite easy for one or two scrumptious delights to turn into an entire sugar-coated meal.