These Two Fried Items Are A Must-Have During Diwali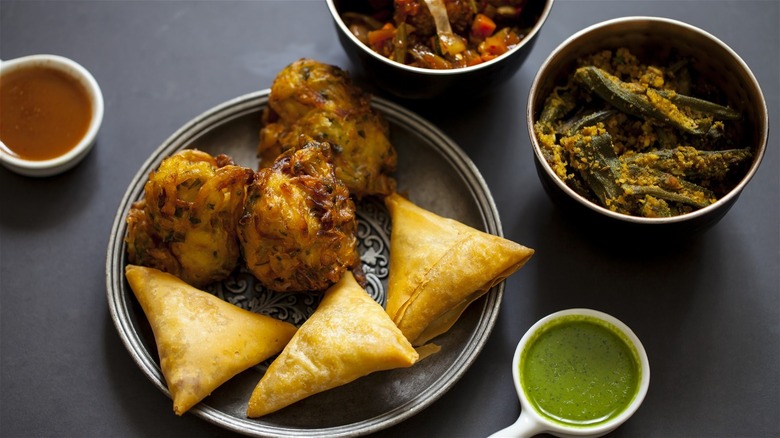 Magdanatka/Shutterstock
Primarily celebrated in India, Diwali is a religious holiday spanning a period of five days (per Parade). It's also known as the Festival of Lights, as it's often celebrated by stringing lights and oil lamps around the house and throughout the city. In Hinduism, this is done to celebrate the triumph of light over dark, which is also representative of good over evil. This year, Diwali events began on Monday, October 24.
Similar to how food is integrated into Christmas and Thanksgiving in America, Diwali has its own tasty staples. For one, the holiday is often celebrated with an overwhelming amount of sweets. According to Indian Healthy Recipes, one of this is rasgulla — a dessert made of milk and sugar syrup with a soft, spongy consistency. Another is Indian fudge known as kaju burfi, which is made of sugar and cashew nuts. As sad as it may seem, though, festive foods can't only include desserts. That's why some more sustainable foods are a mainstay as well.
Spices are the secret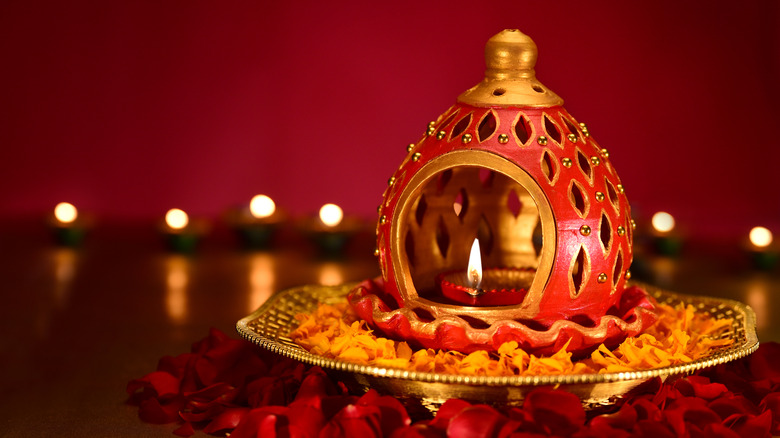 Anant Jadhav/Shutterstock
Who doesn't love a little bit of fried food from time to time? Thankfully, Diwali staples include a couple of crispy creations that you don't want to miss. First is samosa — the perfect snack food from when you want to spice things up (per Times of India). According to Recipe Tin Eats, these savory pasties are made with potatoes, green chili, flour, ghee, ginger, peas, and cilantro as well as tons of spices such as amchur and black mustard seeds.
Great with coffee or tea, another fried favorite is onion bhaji (via Times of India). This snack combines onions, gram flour, and spices to create a tasty and spicy dish that's typically deep-fried. Per Cooking Circle, common spices used are turmeric, chili powder, salt, and pepper. Though not a main meal, onion bhaji can make for a great snack or appetizer.
Even if you don't celebrate the holiday, there's nothing wrong with enjoying a taste of the culture by whipping up one of these popular delicacies.