Easy Baked Samosa Recipe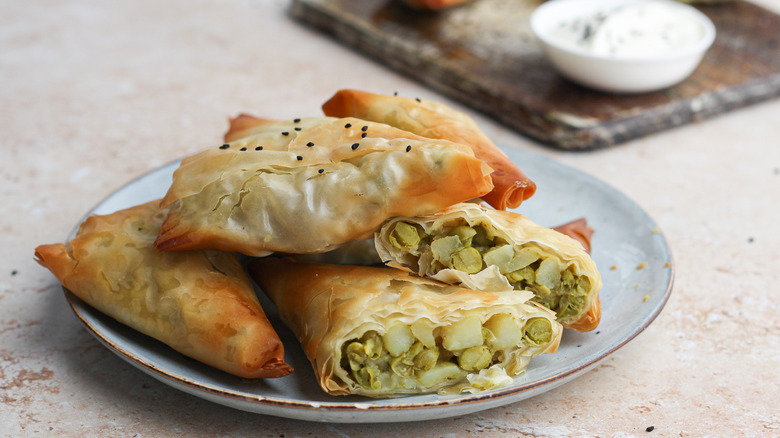 Susan Olayinka/Mashed
Who doesn't love samosas? Maybe it's that crunchy triangular crust that so satisfyingly crackles in your mouth before unleashing a burst of curry and carb-oriented vegetables like potatoes and peas. This Indian street food serves so many purposes, working beautifully as a snack, an appetizer, or part of a larger meal. Leftovers even make a good breakfast. 
If you want to experience some of that glory in your own home, you're in luck. Recipe developer Susan Olayinka offers an easy-to-make version, swapping out the customary dough wrapper with flaky phyllo sheets. "We would normally buy the ready-made store-bought ones," she says, "but I don't think we will be buying them again unless I'm short of time." Given how simple and customizable this recipe is, you'll want to make it again and again, too!
Plus, this dish has a real historical pedigree behind it. The samosa was first written about in the 11th century by the Persian historian Abul-Fazl Beyhaqi, according to the BBC. It was served in the courts of the Ghaznavid empire as a snack stuffed with minced meats, nuts, and dried fruit. Here, Olayinka uses ingredients more common in the peasant interpretations of the dish, such as potatoes and peas. But, whatever comes inside its wrapper, the samosa always delivers. All told, there's something about that crispness matched with a softer interior that is just so delicious. 
Gather your ingredients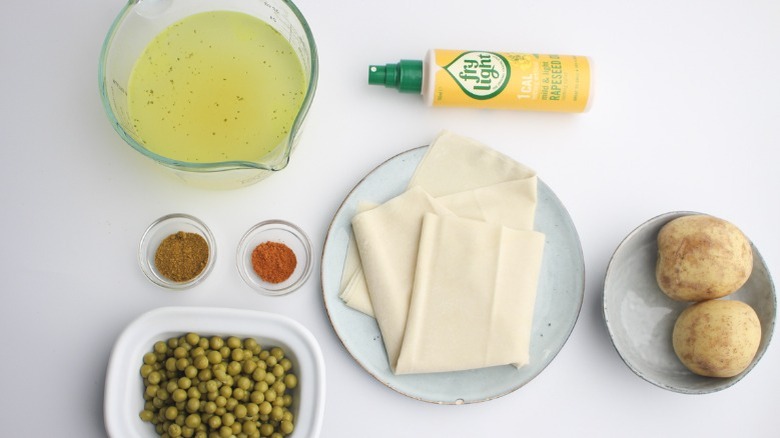 Susan Olayinka/Mashed
One of the best things about this samosa recipe is that the ingredients are common. If you don't already have most or all of them on hand, the rest of the ingredients can be easily found in just about any grocery store. To make this particular recipe, you will need potatoes, peas, chicken stock, salt, all-purpose seasoning, curry powder, phyllo sheets, and spray oil. If you've bought frozen phyllo dough, remember to let it thaw in the fridge overnight or give it an hour or two to thaw before starting your prep. This will make it far easier to handle and much less like to break into frustrating little shards.
If you like, you can top the cooked samosas with nigella seeds as well. These look like cumin or oregano and have a slightly bitter taste, almost like toasted onion or sesame seeds. And, of course, feel free to get creative with other seasonings or add-ins. Olayinka says that she loves the dish because so many flavor combinations are possible. She suggests using other spices such as garam masala, chili powder, and cumin, the last of which will lend a warm, earthy flavor. 
And, as you may well have guessed, this recipe is primed for various swaps and changes for dietary needs. For instance, it's easy to eliminate the chicken broth and use a vegetable variety to make this dish fully vegetarian and even vegan.
Add the filling ingredients to the saucepan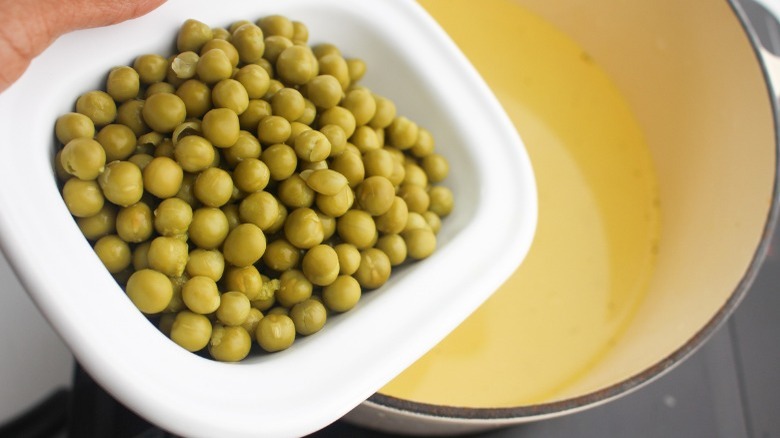 Susan Olayinka/Mashed
The first step in this dish is to peel and chop the potatoes into ½ inch cubes and place them into a medium-sized saucepan. 
Next, add the peas, chicken stock, salt, all-purpose seasoning, and curry powder to the saucepan along with the potatoes. Then boil all the ingredients for 22 minutes. Remember that you won't be getting a bland filling like with other boiled preparations, however, given all of the seasonings that are involved here. Meanwhile, it's important to make sure that the potatoes are fully cooked, advises Olayinka, as you want them to provide a nice tender center to your finished samosas. 
As your kitchen fills with the savory scent of spices and veggies cooking, take a minute to preheat your oven to 350 F. Then, you can start working with the phyllo dough.
Get the phyllo ready for filling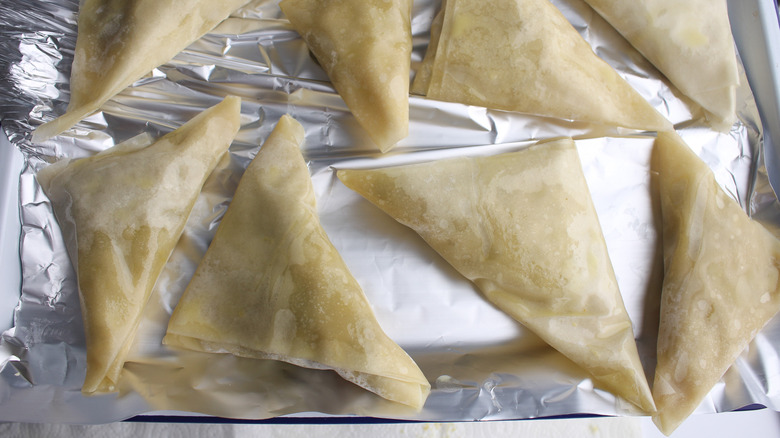 Susan Olayinka/Mashed
Lay out the thawed phyllo dough, making sure that it's sitting as evenly as possible on your work surface. After the phyllo dough is spread out, spray oil over it in a light and even layer. Repeat the process with the second and third phyllo sheets until all your dough is coated with a thin coat of oil.
Keep in mind that phyllo dough often dries out quickly and can become brittle and difficult to manage once that happens. The oil will help to mitigate that issue, though it also helps if you work efficiently at this point and move things along.
Once all sheets are coated in a thin and even layer of oil, slice them vertically into four rectangles. Then get ready to fill them with the veggie mixture that's been cooking away on your stove.
Fill the phyllo pastry and bake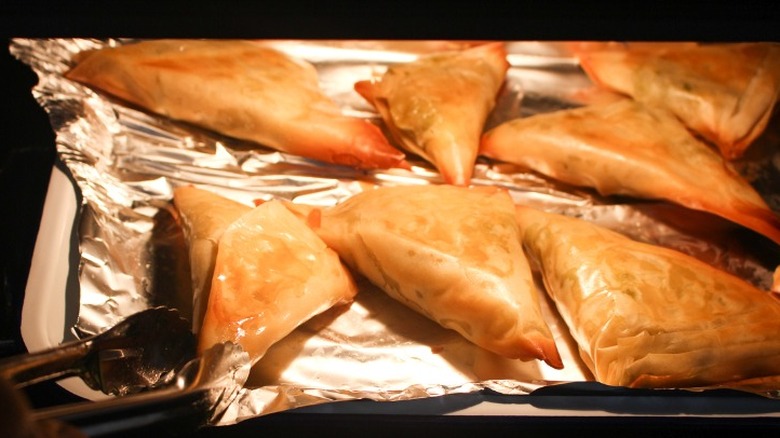 Susan Olayinka/Mashed
Once the vegetables are boiled, drain the stock. Spoon 1 tablespoon of the mixture in one corner of a cut phyllo rectangle. Then, roll it into a triangle shape until you reach the end of the cut phyllo sheet. Repeat until the mixture is all gone, which should leave you with eight samosas. Place them on a baking sheet lined with aluminum foil or another nonstick surface like parchment paper.
Bake the samosas for 14 minutes, flipping the pastries halfway. Olayinka advises checking on the samosas frequently. "Be sure to not let it burn as a phyllo pastry is ready very quickly," she says. When the samosas are out of the oven, they're ready to enjoy! Sprinkle some nigella seeds on top of the warm pastries for an additional hit of flavor and texture, if you like. 
No matter how you serve them, these samosas are bound to taste delicious. If you'd like some guidance as to what dishes best accompany these phyllo-clad treats, Olayinka suggests rice or a savory curry.
Easy Baked Samosa Recipe
This easy, oven-baked samosa recipe delivers on flavor with a savory vegetable filling and a beautifully flaky wrapper made from store-bought phyllo dough.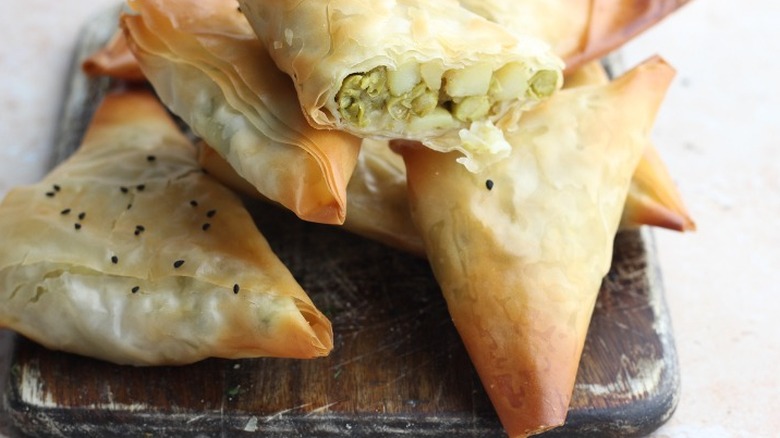 Ingredients
2 potatoes
½ cup peas
2 cups chicken stock
½ teaspoon salt
1 teaspoon all-purpose seasoning
1 teaspoon curry powder
6 phyllo sheets
Spray oil
Optional Ingredients
Directions
Peel and chop the potatoes into ½ inch cubes and place them into a saucepan.
Add peas, chicken stock, salt, all-purpose seasoning, and curry powder to the saucepan. Boil for 22 minutes.
Preheat oven to 350 F.
Lay out the first phyllo pastry sheet. Coat with spray oil in thin, even layer. Repeat with the second and third phyllo pastry sheets.
Slice the sheets vertically into 4 rectangles.
Once the vegetables are boiled, drain the stock. Spoon 1 tablespoon of the mixture in the corner of a phyllo rectangle. Roll it into a triangle shape. Repeat until the mixture is finished.
Place filled samosas on a lined baking sheet.
Bake for 14 minutes, flipping halfway.
Sprinkle optional nigella seeds on top before serving.
Nutrition
| | |
| --- | --- |
| Calories per Serving | 130 |
| Total Fat | 3.6 g |
| Saturated Fat | 0.6 g |
| Trans Fat | 0.0 g |
| Cholesterol | 1.8 mg |
| | |
| --- | --- |
| Total Carbohydrates | 20.5 g |
| Dietary Fiber | 2.1 g |
| Total Sugars | 1.9 g |
| Sodium | 303.8 mg |
| Protein | 4.1 g |