'Black Ice' Blow Pops Are The Spooky Treat You Need This Halloween
We may receive a commission on purchases made from links.
The mention of black ice can inject fear into the hearts of drivers living in colder regions. The potentially hazardous road condition happens when a transparent coating of ice appears black due to the asphalt underneath. Its transparency makes it invisible increasing the risk of catching a motorist off-guard. Black Ice is also a flavor of Charms Blow Pop, available just in time for Halloween. The candy's only potential danger might be causing a rivalry among your trick-or-treaters. 
Blackberry-flavored Black Ice is the brand's classic berry lollipop "with the flavor cranked way up," according to All City Candy. One Reddit user described the black gum encased in a transparent white lollipop shell as "spooky and tasty." The taste may transport you back to 4th grade, but it won't turn your lips and tongue a deep purple or blue. Part of Black Ice's appeal is the clear shell, so there's no bright color revealing your recent indulgence. 
"My favorite kind of bubble gum lollipop EVER!" says one user on Influenster. "The best part... it doesn't make my mouth as colored as other blue lollipops." An Amazon user called Black Ice her new favorite flavor, awarded the lolly five out of five stars. They wrote, "I love the ice pops because there is no color to stain my lips and tongue."
Black Ice to satisfy your dark side this Halloween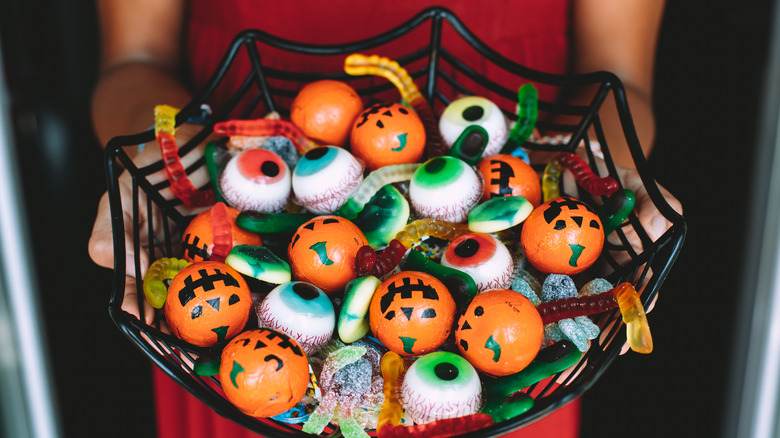 asife/Shutterstock
Unfortunately, it's going to cost you if you want to try Black Ice yourself. One fear-inducing characteristic of Halloween 2022 is higher prices. From Junior Mints with black and orange centers to fun-size Snickers in Ghoulish Green, prices increased 13.1% over last year (via Bloomberg).
However, inflation doesn't seem to be stopping consumers from buying candy, costumes, and decorations. In fact, total Halloween spending this year is expected to reach "a record $10.6 billion as shoppers plan to spend more than ever," according to the National Retail Federation (via Forbes). At the time of publication, Black Ice pops had sold out at Candy Direct and Candy Warehouse. Meanwhile, a case of 48 Black Ice Blow Pops is $11 on All City Candy's website and $10.19 on Voltcandy.com. However, you can find a deal on Amazon. Black Ice is going for $20.26 for a box of 48 lollipops. 
Unfortunately, supplies appear to be limited. The pops even appear to be ghosting its parent company, Tootsie Roll Industries. While every flavor of Blow Pop – introduced in 1973 by the Charms candy company and bought out by Tootsie in 1988 (via Snack History) — is accounted for on Tootsie.com, the mysterious Black Ice remains elusive.