Here's Why Domino's Popular Mix And Match Deal Just Got More Expensive
Of all the carryout pizza chains in the United States, Domino's is one of the most popular. In a January Civic Science survey, Domino's took second place to Pizza Hut, with 27% of people choosing it as their favorite. While Domino's is best known for its pizza (which Insider dubbed the best out there in a test of the top pizza joints), it has a whole menu stocked with takeout favorites, such as wings, garlic bread twists, and even chocolate lava cakes.  
One customer-favorite option at Domino's is the carryout mix and match deal, where you can choose any two dishes for a set price. Eligible menu items include medium two-topping pizzas, bread, chicken, pasta, sandwiches, salads, and desserts. Also available for delivery, it's long been a great combo for anyone who wants a quick meal on a budget. 
However, the best-selling deal has gotten a little more expensive. On October 17, the carryout mix and match deal increased from $5.99 to $6.99 — here's why (per Seeking Alpha).
Inflation is causing prices to increase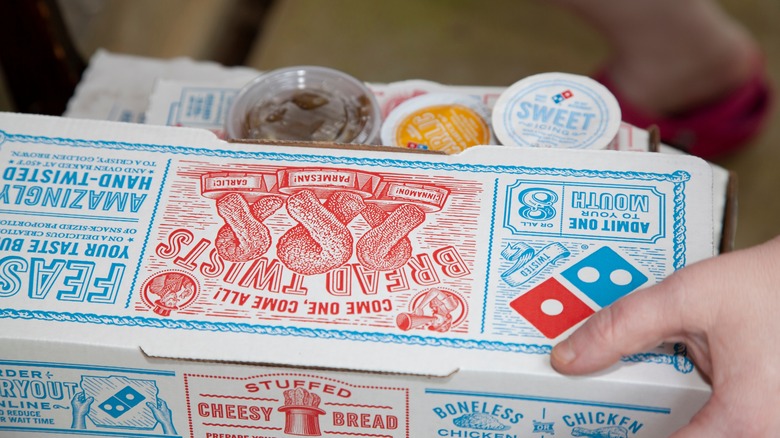 Brandy McKnight/Shutterstock
According to the transcript from the Domino's Pizza, Inc. Q3 Earnings Call, Domino's is upping the price of its carryout mix and match deal thanks to inflation in the United States. 
"Given the continued inflation we have seen our analytics now indicate we should take pricing on our national Carryout deal as well," Russell Weiner, CEO of the brand, explained (via Seeking Alpha). "We will continue to balance customer value and franchisee profitability by taking our Carryout mix and match deal from $5.99 to $6.99, starting on October 17."
The carryout mix and match deal isn't the only thing on Domino's menu that's seen an unfortunate change due to the current economic times. In January, the company announced that it would cut the size of its $7.99 carryout deal from 10 wings to eight, as the company expected to continue to face increased food prices and wage inflation (per Nation's Restaurant News).