Burger King Is Trying To Win Over Gamers With Latest Whopper Meal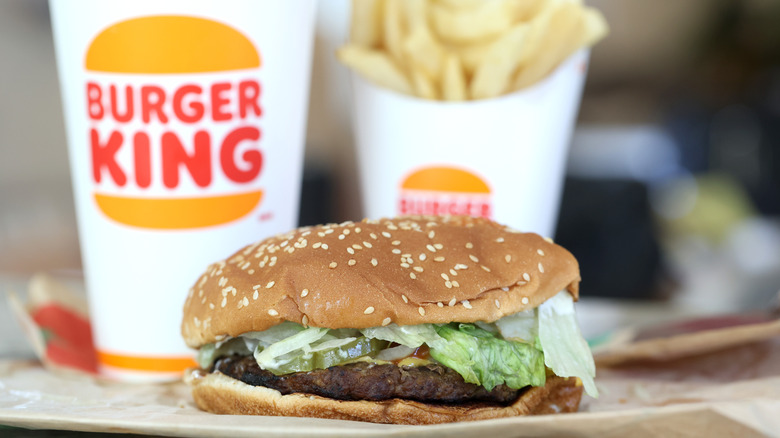 Justin Sullivan/Getty Images
Burger King is releasing a collaboration that may be of interest to foodies and gamers alike. The relationship between food and video games is a practical one: People need to eat. And if you're tied up in a riveting game, the quicker the meal the better. That's something Doritos, Mountain Dew, and Mountain Dew Game Fuel knew upon partnering with Activision for the release of "Call of Duty: Black Ops Cold War" in 2020 (per PR Newswire). Along with updating its packaging, Doritos unveiled its twisted lime flavor during the celebrations.
That's also what Pizza Hut did in 2012, when the brand released a special pizza to celebrate "Halo 4" (via The Drum). This collaboration integrated fans into the mix as well, calling on game blogger FlawlessCowboy for a helpful review of the special pie. The year before, the same blogger reviewed a previous Pizza Hut Halo pizza, which garnered more than 300,000 views.
Today, October 28, The Drum reports that another highly anticipated video game has hit the market, and Burger King is hoping you choose to chomp its new meal during the action.
Fans will unlock in-game rewards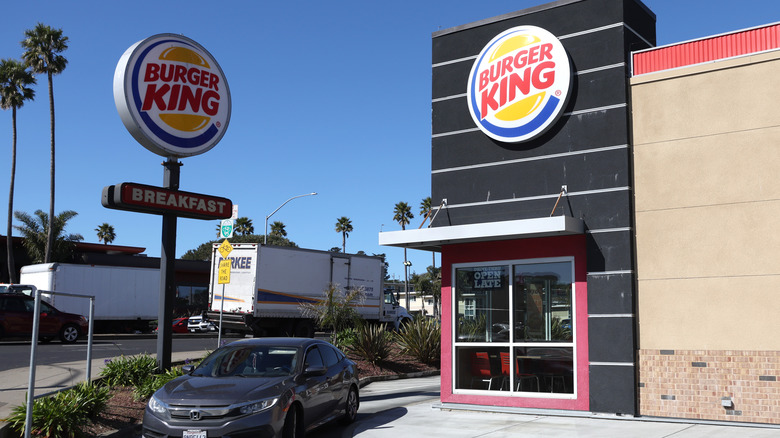 Justin Sullivan/Getty Images
According to PlayStation, Activision's newest game "Call of Duty: Modern Warfare II" was released on Friday, October 28. To celebrate, Burger King has created a Call of Duty Whopper Meal that holds the key to in-game rewards (via YouTube). Revealed at the end of an ad that mimics actual gameplay, the meal will come with a Call of Duty "Operator Skin" as well as one hour of 2XP. Immersive experiences are also part of the collaboration — but only if you live in one of a few specific locations. According to Adweek, Burger Kings in Paris will have the game integrated into the store's kiosk from October 29 to 30. In South Africa, a game will be added in which players must use night-vision goggles to seek out QR codes.
"Many gamers are already customers of quick-service restaurants and, by bringing them Call of Duty: Modern Warfare II rewards, we are able to meet our guests where they are and tap into what they are really passionate about in an authentic and innovative way," senior director of global brand marketing Iwo Zakowski said. Some fast food ordering kiosks can already feel sort of like a video game, so might as well make it official.