What Anne Burrell Is Like Behind The Scenes, According To Jeff Mauro - Exclusive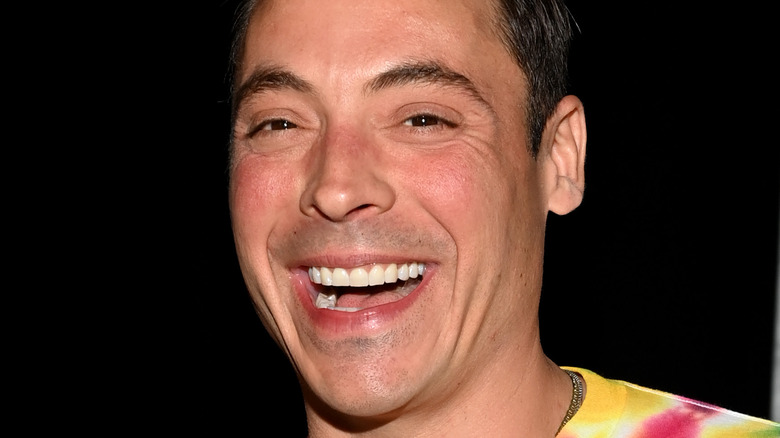 Dave Kotinsky/Getty Images
It's no secret that Jeff Mauro can always be counted on for a laugh in the kitchen. Whether you're catching him on the weekends with the cast of "The Kitchen," tuning in to "Kitchen Crash," or streaming any of his other Food Network appearances, one thing is clear — Mauro brings the party wherever he goes, proving that cooking can always lead to a good time.
And it seems that Mauro may have found his match in fellow Food Network chef Anne Burrell. The two go way back, but they have recently been working together as co-hosts on the last few celebrity seasons of "Worst Cooks in America." Burrell has more than 20 seasons under her belt hosting the show and is arguably largely to credit for its long-standing success, given her incredible skill paired with a heavy dash of sass. Put her and Mauro together, and some fun and games are bound to ensue.
When we got the chance to catch up with Mauro recently at the New York City Wine & Food Festival, we were sure to get details about their dynamic on the set of "Worst Cooks." Speaking exclusively with Mashed, Jeff Mauro opened up about his experience co-hosting with his longtime friend and shared some fun insight about what it's like when you get the two of them together behind the scenes.
Jeff Mauro and Anne Burrell are great friends
Jeff Mauro calls Anne Burrell "one of [his] best friends." As such, he took it very seriously when he got the chance to step in with her to host the celebrity seasons of "Worst Cooks in America." As he put it while speaking to Mashed, "It's someone else's home, and you're coming and you're stepping into that home, not only to work alongside somebody else but also compete with them." Adding to that pressure is the fact that "Anne is a fierce competitor," said Mauro, "but luckily we're good friends, and that trumps all. So at the end of the day, we can hang up our chef coats and remain friends."
And that dynamic is the only thing that makes the long days on set not only tolerable but also memorable, said Mauro. "What you don't realize is those days can be about 15, 16, 17 hours long. So by the end of it, you need to find inspiration and energy," he said. And according to him, that's exactly what Burrell brings to the set every day.
Anne Burrell keeps the energy high and the music loud
Jeff Mauro recalled one particularly long day on set: "Anne brought out her Bluetooth speaker. I'm like, 'What are you doing?' She's like, 'Trust me.' She started playing this song, 'Cruel to Be Kind,' by Nick Lowe — we both love that song. We've gone to karaoke together." Mauro went on to say that her spontaneous spirit in that moment "changed [and] shifted the entire energy of that last hour we needed to shoot and got us through." 
Adding to that fun energy is Mauro's playful nature. Anne Burrell herself told Mashed recently that Mauro "is always game for anything, up for a good time," and always cracking jokes. If you ask us, that sounds like the perfect combination for a great time that makes a lot of hard work feel like play.
For the latest from Chef Jeff Mauro, follow him on Instagram. Plus, learn more about the annual Food Network New York City Wine & Food Festival, presented by Capital One, and be sure to check out the highlights from this year's event.