Dunkin' Has Hot Cocoa Bombs And Chocolate Candy Coming To Shelves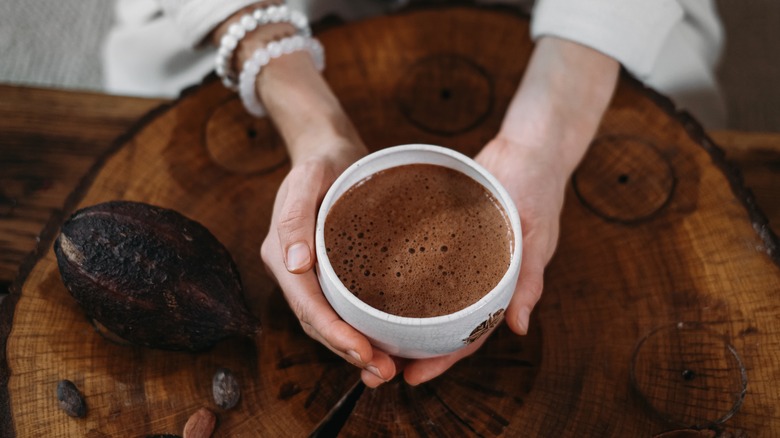 Nina Lishchuk/Shutterstock
Hot chocolate has been a cold weather staple for decades. What The Institute of Culinary Education notes originated as a Mayan drink made with cocoa seeds and "spices and flowers" has gone on to become the beloved hot, creamy, sweet beverage we know and love today. But despite how popular classic hot cocoa is, connoisseurs have continued to try to find ways to make it even better and more exciting. Thus, the hot chocolate bomb was born.
According to the Washington Post, hot cocoa bombs, which were trending on TikTok last year, "are the perfect storm of viral food trends," due to their "visual element" — rather than a standard mix, you place a chocolate orb in the milk of your choice and watch it go from solid object to liquid chocolate. And since hot cocoa bombs first started popping up on the scene, many companies have expanded their inventory to include them on shelves, from Target's Valentine's Day shaped cocoa bombs to cocoa bombs you can DIY at Costco. Clearly, the limit does not exist. And here to prove that point even further is Dunkin', which first introduced hot chocolate bombs to its repertoire in 2021. And this year, the coffee and donut chain is adding some new cocoa bomb options to its menu.
Giving new meaning to the bomb!
According to a press release from late October, Dunkin' is teaming up with a company called Frankford Candy to bring even more hot cocoa bombs to the masses, along with a few other confectionary goodies. These new treats will be "inspired by fan-favorite Dunkin' beverages and donuts," and include chocolates in flavors like Boston Kreme, Brownie Batter, and Chocolate Creme. 
The selection of hot chocolate bombs coming to Dunkin' play it a bit more safe, with only two flavors, "Dunkaccino™ and Spicy." As a Dunkin spokesperson said, the bombs and chocolates can serve as a "simple pick-me-up treat" or a gift depending on the occasion. 
But make note, you won't be able to buy these in your local Dunkin, and locations will vary by flavor, so be sure to do your research on where to buy what. The original Mint and Hot Chocolate BOMBs will still be available at select stores too, as well as on Amazon and the Frankford Candy website. A writer for Mass Live reviewed the original line of cocoa bombs when they first came out in December 2021 and found them "underwhelming," but noted that they're "a good entry point if you're looking to try out hot chocolate bombs." Perhaps these new options will pack more of a punch?